Shin-Edogawa Garden
The Former Residence of the Hosokawa Clan
Add to my favorite places
Shin-Edogawa Garden, also called in Japanese Higo-Hosokawa Teien, is located on the bank of the Kanda River, in Bunkyo Ward in the north-west of Tokyo. Its typical stroll around a pond is embellished by the seasons' flowerings and ends at the traditional residence Shoseikaku.
Also known as the Higo-Hosokawa Teien, the garden formerly belonged to the Hosokawa clan, whose lords were ruling over the former Higo domain, now Kumamoto prefecture in Kyushu Island. The family owned a secondary residence surrounded by an artfully arranged green space on the bank of the Edo River (now Kanda River) in the heart of the feudal capital (now Tokyo). Shin-Edogawa Koen means "new Edo River garden." In 1961, the place's ownership is acquired by the city and the Japanese garden of Shin-Edogawa park opens to the public.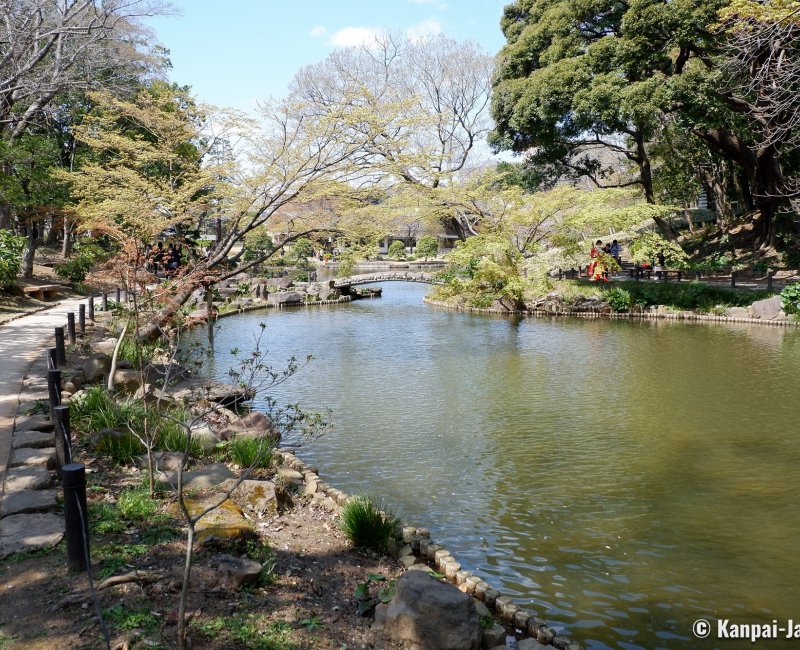 Flowered stroll around a pond
There are two possible accesses: from the main gate in the west or by another one in the south. The large pond and central element of the garden immediately welcomes visitors who can take a stroll around it. The miniaturized landscape was staged on a rather small superficies to allow for various views. The stroll is enlivened by a hill, a waterfall, an islet, a 3-legs lantern 🏮, a 13-stories small pagoda, bridges and Japanese stepping stones. The decor doesn't feel man-made thanks to its harmoniously arranged and maintained elements.
On warmer days, the Japanese garden is used as a beautiful traditional landscape for wedding photo shootings or other occasions to wear a kimono 👘. Benches are arranged along the path and slightly elevated to offer the ideal height for contemplation, surrounded by nature and the birds singing in the heart of Tokyo.
Flowerings refresh the garden following the seasons:
From spring with cherry blossoms, camellias and peonies;
To summer with irises; and,
Until autumn with the reddening foliage of the maple 

🍁

trees and the flowers of Camellia Sasanqua, a fall camellia species.
In winter, the pine trees are clad in umbrella-shaped straw protections called yukitsuri.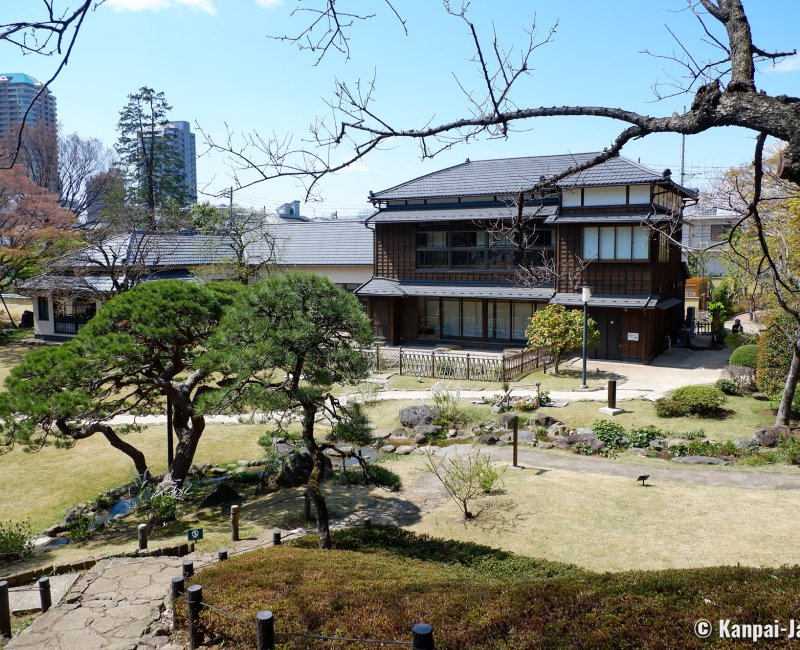 Traditional residence Shoseikaku
Shoseikaku is a traditional architecture house overlooking Shin-Edogawa Garden. It was used as a place for studying by the Hosokawa's, and sustained heavy damages in the 1923 Great Kanto Earthquake. The last large scale renovation was achieved in 2014 and it is now possible to visit inside the house.
Upon entering the house, take off your shoes and put on slippers to walk in the rooms decorated in the time's Japanese tradition. No sign of modernity in view except for a screen showing a short documentary video about the residence. From the upper floor balcony, the elevated view on the park is particularly enjoyable.
People who want to explore other Japanese gardens in Tokyo may consider going to the nearby Chinzan-so luxury hotel 🏨 whose garden is opened to the visit.