Sunshine 60
Ikebukuro's Observatory
Add to my favorite places
Sunshine 60 is a skyscraper located in the heart of the Ikebukuro shopping district in Tokyo. This business building is also home to the entertainment facility Sunshine City. The new panoramic viewing platform Tenbo Park (opened in April 2023) is on the 60th floor, 251 m above sea level. This observation deck combines a 360° view over Tokyo and an indoor vegetated relaxing area.
In the basement and the first floors of the Sunshine 60 tower, you will find dozens of shops, and restaurants part of Sunshine City entertainment complex, like "a city under the city" spreading to several neighboring buildings.
A romantic view on Tokyo
The building was constructed around 1977, on the site used formerly for Sugamo Prison, where war criminals were jailed. Funnily enough, the place's most prominent feature today is its observatory, with its... romantic atmosphere!
You'll meet a lot of young Japanese couples dating, especially in the evening. The 360° view on Tokyo is impressive and allows you to admire Ikebukuro and northwest of Tokyo quite closely. But you can also contemplate Tokyo SkyTree, which emerges from the endless cityscape with panache.
Sunshine 60's indoor observation deck is located at the uppermost floor of the tower, and completely enclosed by large windows.
Its central area is used to receive installations that have frequently changed over the past years, to keep the observatory attractive for Tokyo inhabitants and tourists.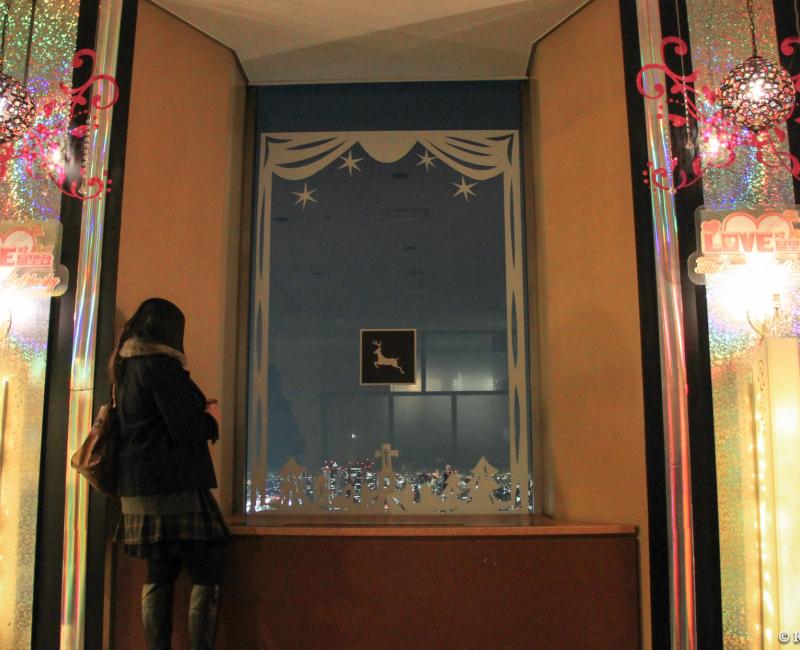 The observatory's installations over time
In 2012, the central part of the observatory floor, made of two crossing lanes, was an exhibition space for time-limited events on Japanese popular culture. Our pictures below for example were taken at the occasion of a One Piece exhibition devoted to the release of the movie, One Piece: Z.
Sky Circus and virtual reality, 2016 - 2022
The Tenku 251 observatory was refurbished and reopened on April 21th, 2016, under its new name: Sky Circus. Along with a panoramic view over Tokyo, the upper floor now offered seven areas of sensory activities, including kaleidoscopes, 4D simulators, distorting mirrors, giant touchscreens and virtual reality experiences. A visit to this technological wonderland that pleased both children and adults.
The main theme of this interactive space was the sky, and you could find different activities. For example, couples came here to test their love compatibility. While standing under two umbrellas in front of a screen, lovers, hand in hand, received their relationship forecast. Moreover, an entire wall is covered with kaleidoscopes, set to various heights so that children of all ages could enjoy the activity.
The most interesting were the virtual reality games, such as the human cannonball: thanks to the full headset, you could experience being ejected into the sky above Tokyo. The funniest attractions were unfortunately charged separately, and the lines could be quite long.
In the summer of 2019, it was possible to try a temporary sensational attraction: a Tyrolean traverse from Sunshine 60's roof, 231 m above Tokyo.
Opening of the green Tenbo Park in April 2023
In October 2022, the observatory closed again for several month to give way to a new project. The RV facilities have been removed to create a new indoor "green space" with artificial turf.
The newly renovated Tenbo Park opened up to its first visitors on 2023, April 18. it is aimed at families and couples looking for a romantic date, and offers a green stroll with a panoramic view on the capital.
Playgrounds and rest areas have been laid out for children, as well as a nursery table and a nursing room. Visitors can grab a snack at the cafe. There are numerous benches, armchairs and even a swing arranged to sit for a moment. It is also possible to lay down on the artificial lawn. On a side note, the admission fee is less expensive than during the period when the observatory offered virtual reality games.