Daikanransha
Odaiba's Ferris Wheel
Add to my favorite places
Daikanransha is a 115 meters high Ferris wheel part of the entertainment area "Palette Town," located on the artificial island Odaiba in Tokyo. It gives an unobstructed view on the bay, with Minato ward at the background in the south-east of the Japanese capital.
🚧 Definitely Closed
Will close down on 2022, August 31
Odaiba does not spare its efforts to be the reference entertainment island in Tokyo and these include its iconic Ferris wheel. It takes great advantage of the polder and of the island's location in Tokyo bay.
The second biggest Ferris wheel in Japan
Adjacent to Palette Town shopping mall, Odaiba's Ferris wheel is called Daikanransha in Japanese. The ride is impressive by its dimensions: with a 100 meters diameter, and 115 meters high on its base, it is the second biggest in Japan after Kasai Rinkai Park's wheel a few kilometers to the north-east. When it was inaugurated in 1999, however, Daikanransha was the biggest in the world. A title it lost a couple of months later to the famous London Eye near the Thames.
But Odaiba's Ferris wheel can certainly still hold the comparison with its rivals. On the outside, its elegant structure is adorned with red and white. The cabins are painted to imitate the colors of a rainbow. A few gondolas with see-through flooring allow for an even more impressive experience. In the latter, seating is limited to four persons, whereas six persons at the same time can use the normal cabins. Depending on the affluence, and provided you avoid weekends and holidays, couples can often ride alone, and enjoy this romantic moment that the Japanese love.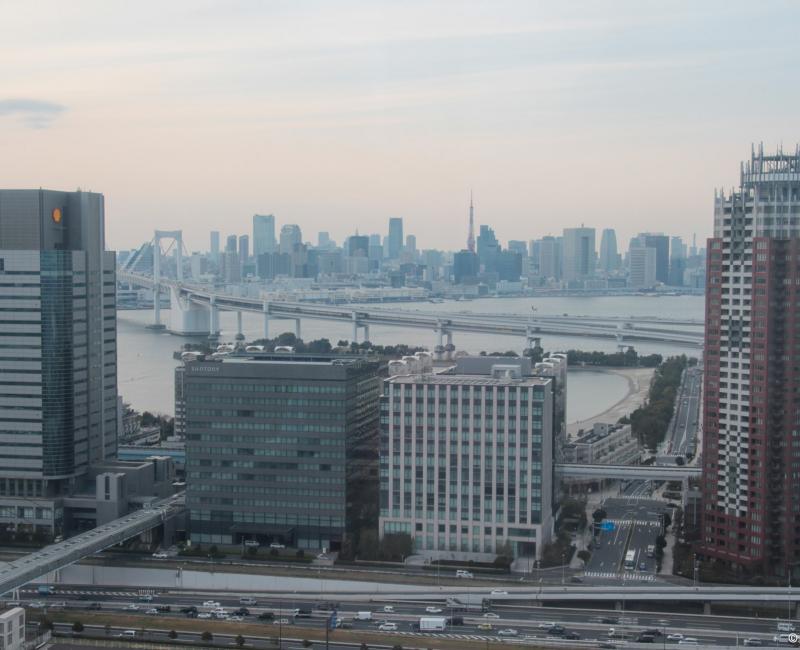 A stunning view on the Japanese capital
From the capsules, as expected from such an attraction, the view is absolutely fabulous on:
The ride lasts 16 minutes day or night. After sunset, the great wheel is wonderfully lit up by the 120,000 neon tubes attached to its structure.