Imado Jinja
A small shrine for soulmates (and cat souls)
Add to my favorite places
Imado Jinja is a small Shinto shrine located close to Asakusa station, in Taito ward, northeast of Tokyo. Known to be dedicated to the Maneki Neko cat, this shrine is also appreciated by Japanese couples who come here to pray and wish for good luck in love and in marriage.
When discovering Imado Jinja, most travelers will first remember Gotokuji. Indeed, this Buddhist temple, in Setagaya, totally dedicated to the famous Maneki Neko, shares with Asakusa's Shinto shrine its display of cats 🐈.
However, Imado possesses its own small specificity as it celebrates love, which is why couples go there to favor a good marriage. Therefore, at the shrine, Izanagi and Izanami, two essential figures of Japanese mythology, are worshipped. Soji Okita, one of the most famous Shinsengumi members during the Edo period, also lived there until he died of tuberculosis.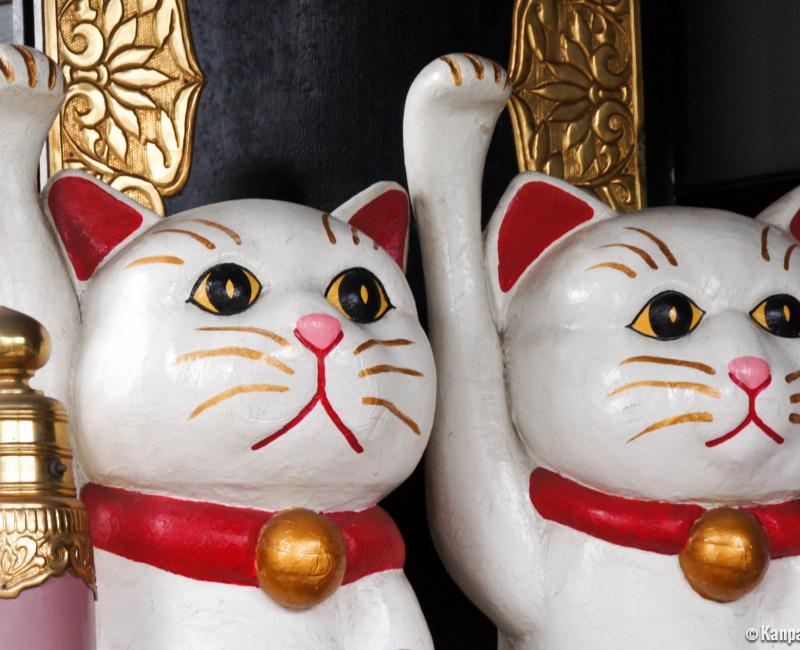 Maneki Neko birthplace
Imado Jinja dates back to 1063 and seems to be the origin of Maneki Neko. In Asakusa district, the northern part of the touristic crossroad, it is not especially indicated, and its residential surroundings protect it from crowds of foreign tourists. However, some rickshaws tours from Sensoji include its discovery.
The inside of the shrine itself is not huge but hosts a lot of decorations of lucky cats, most of the time in pairs (they are called enmusubi), up to the back altar. In its center, a big display of ema reveals numerous wooden plaques full of wishes.
A few meters away, a kiosk acts as a small charming store where it is possible to purchase several kawaii souvenirs.