Mukojima Hyakka-en
Edo's Ancient Hundred Flowers Garden
Add to my favorite places
Mukojima Hyakka-en is a great flower garden stretching over more than two acres in Sumida ward, in the north-east of Tokyo. It was developed by its wealthy owner in the 19th century and includes many and various flowers and bushes species, ensuring a pleasant visit all year long.
Mukojima Hyakka-en officially opened on 8 July 1939, but its history can be retraced to a more distant past. It was initially built by Sawara Kiku, an antiquarian who had a keen interest in flower blossoms. The name "Hyakka-en" means "the hundred flowers garden of the four seasons." With a nearly 11,000 sq.m total superficies mainly dedicated to the garden, it is the last remaining example of an Edo period garden not connected to a local dignitary or lord.
In the beginnings, the garden displayed almost solely plum trees (about 360!), but it was planted with numerous other species over time. Submerged by the Sumida river's big flood in 1910, its ownership was transferred to Tokyo municipality in 1938 to ensure its preservation and it was opened to the public on the following year. It was destroyed by bombings during World War II, but nonetheless reopened in 1949, with additional autumn 🍁 collections. Lastly, it was designated Important Historic Site by the Japanese government in 1978.
Mukojima Hyakka-en is divided into two spaces. All along the easternmost part, a long stretching pond and its two bridges are home to ducks and koi carps. The scenery is completed with a view on the recent Tokyo SkyTree in the background. The rest of the park enjoys an impressive variety of vegetation: 870 large trees, 570 bushes, 230 plant species and more than 600 different flowers blooming successively throughout the seasons.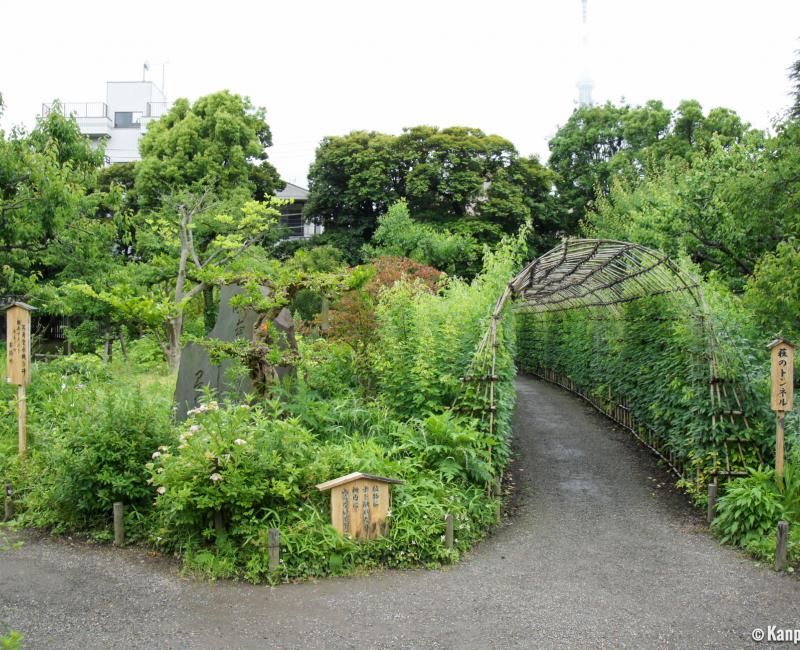 Yearly flower calendar
Therefore, the garden is lively almost all year long:
Due to its location slightly off Asakusa and the fact that it is not directly served by the transportation network, Mukojima Hyakka-en is seldom listed by guides and sightseeing itineraries, which is quite enjoyable as it maintains a quiet and enjoyable atmosphere.