Nippon TV Odokei
Miyazaki's Giant Clock in Tokyo
Add to my favorite places
Nittere Ohdokei is the Japanese name of Hayao Miyazaki's giant clock hanging at the front of the second floor (2F) of Nippon Television's building, in Shiodome district in the south of Tokyo. This artistic jewel embodies the unreal atmosphere of Studio Ghibli's animated movies.
The giant clock could be summed up as another creation of the famous director Miyazaki. It is easy to have a glimpse of it from the train 🚅, but it is also a place to visit. This artwork was designed by Hayao Miyazaki himself to reproduce the art of his movie Howl's Moving Castle 🏯 and made by sculptor Kunio Shachimaru with an abundance of details that unconditional fans will be thrilled to find.
The clock does not seem so big from the bottom of NTV (Nippon Television Network Corporation)'s building. Its real size is to be appreciated a lot closer. It was inaugurated in December 2006, with the following characteristics:
Height: 12 meters,
Width: 18 meters,
Depth: 2,5 meters,
Color: covered with copper sheets,
Characteristic: 32 embedded automata.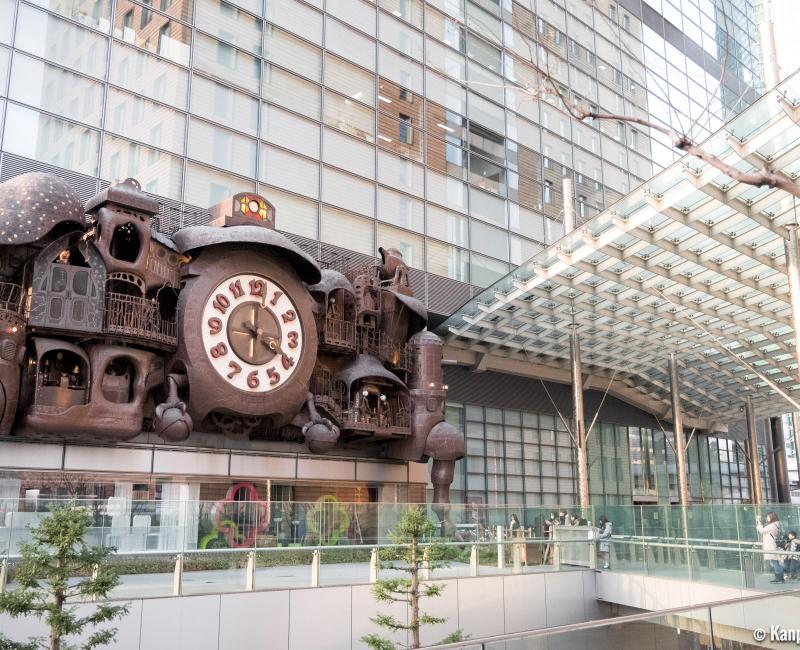 The clock's mechanical aspect is highlighted by the daylight, while it takes a more poetic charm at night thanks to a warm lighting. Nittere Ohdokei works like a classical clock, and the interest of the visit lies in its animation. Several times a day, the characters move during about three minutes on a lovely Ghibli-style tune.
Nittere Ohdokei can thus be considered a (minor) alternative for all of those who could not visit Ghibli Museum in Mitaka, in Tokyo's western suburb. The visit can be combined with a shopping trip in the official Donguri shops of the capital to collect memorable souvenirs.
The surroundings of the clock are not overtly attractive as it is settled in a rather stern business area of modern and tall office buildings. During Christmas illuminations, we recommend stopping by Caretta Shiodome shopping mall, renowned for its abundant sparkling decoration and a mini light and sound show that plays every twenty minutes between 5 p.m. and 11 p.m. from mid-November to mid-February.