Shinjuku Gyoen
The National Imperial Garden in Tokyo
Add to my favorite places
Shinjuku Gyoen National Garden is a large park located in the west of Tokyo, between Shinjuku and Sendagaya stations. Formerly the residence of Naito family, it is nowadays very popular among tourists and Tokyo inhabitants. It includes three gardens of Japanese, English and French styles, as well as 1,500 cherry trees blooming marvelously in spring.
Shinjuku Gyoen is 58 hectares (144 acres) wide, and one of Tokyo's largest parks, along with the Imperial Palace Garden and Yoyogi Park. It is a national park managed by the Japanese Ministry of Environment. Located a few hundred meters away from Shinjuku's electric heart, it spreads up to Sendagaya. The park was built on feudal clan Naito's estate, and among other things became a botanical garden, then an imperial garden at the end of the 19th century. The present day's setting was completed in 1906, and the park opened to the public in 1949.
More than 20,000 trees grow in the park, but it is renowned for its 1,500 cherry trees of three different sakura 🌸 species, selected to offer a prolonged blooming season starting from the end of winter. At the same time, Japanese plum trees are the first to display their flowers, that can be enjoyed by early March's visitors in a sort of advanced ohanami.
The other seasons are not to be neglected either: hydrangeas bloom in summer, autumn displays the red momiji 🍁 leaves and chrysanthemums, and winter welcomes narcissus and indigos.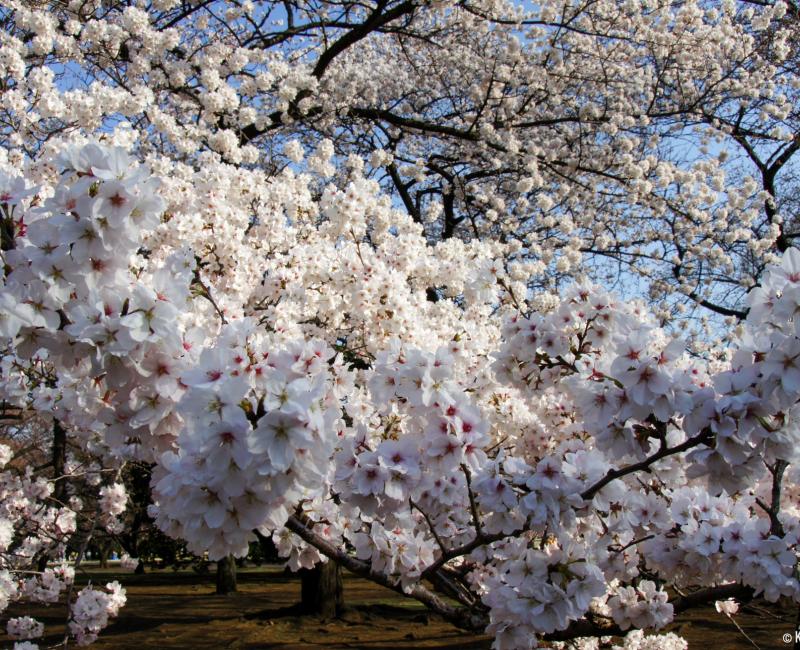 A beautiful Meiji Era garden
This wonderful garden arranged at the end of Meiji Era (1868 – 1912) states its Western influences and Asian heritage. Shinjuku Gyoen indeed displays:
A traditional Japanese garden, in which a large chrysanthemum field grows,
A French style garden, with a rose garden, designed at the end of the 19th century by garden landscaper Henri Martinet, intendant of Versailles palace gardens,
And an English landscape garden, with vast lawns.
The diversity of trees and flowers species growing throughout the park offers a somehow unexpected sight in the heart of Tokyo, in any season.
Beyond the walk on the lawns and around the ponds, two teahouses welcome visitors in the Japanese garden, as well as restaurants and several rest houses. There is also an interesting architectural display, with :
The Greenhouse and its surprising subtropical plants, remains of its botanical garden past,
The Old Imperial Rest House Kyû-Yôkan-Gokyû-sho, once used by the emperor, it became a National Important property in 2001,
And the extraordinary Taiwan Pavilion, Kyû-Goryôtei, built in 1927 to commemorate Showa emperor's wedding, and one of the few examples of Chinese inspiration building in Japan. It stands on the shore of a pond and provides nice views on the Japanese garden.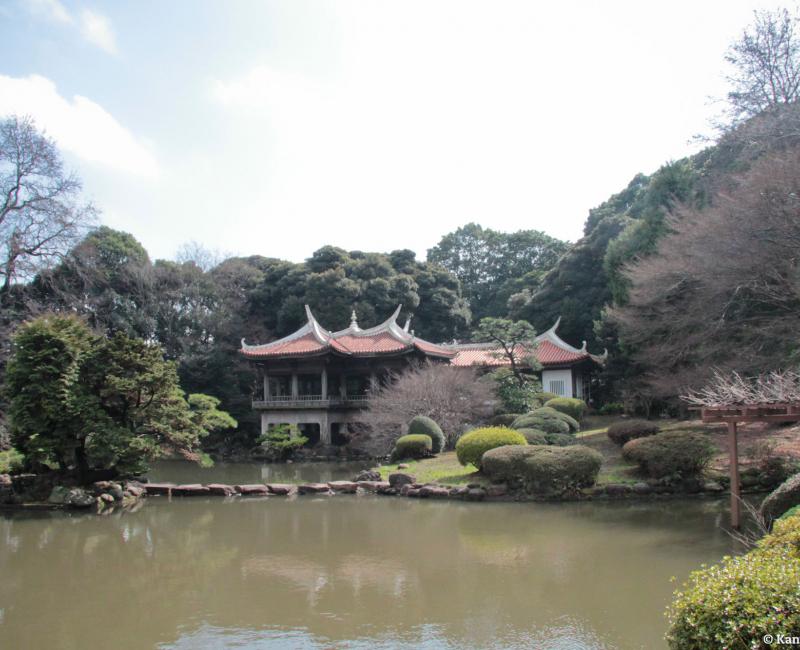 One of the most popular parks in Tokyo
The park is an integral constituent of several Japanese pop' culture works. For example, it appears in:
The medium-length animated movie Garden of Words (2013) by Makoto Shinkai,
The animated movie City Hunter: Shinjuku Private Eyes (2019).
For the anecdote, the municipality discovered that one of its employees selling entrance tickets, aged 73, let foreign visitors enter for free between 2014 and 2016 as he feared miscommunication. He was just asked to resign. From an audit carried out in 2018, the estimated unpaid tickets amount to 125,000, incurring a ¥25 million (~US$169,443) loss.
In March 2020, the ageing café at the center of Shinjuku Gyoen was refurbished to become a Starbucks.
A must-see green space in the heart of the metropolis
Shinjuku Gyoen is a green lung spreading between Shinjuku's buildings. It offers a possibly long and relaxing visit, a real break in the never sleeping Tokyo and especially in such a bustling area.
Families with children greatly appreciate the park as children can run to their hearts' contents. Sakura season is the most frequented period, but Shinjuku Gyoen is a lot quieter on the rest of the year, offering one to two hours long walks, that can be interrupted by a picnic for an interesting luncheon the grass.
Shinjuku Gyoen's perfectly maintained grounds are renowned for spring blooming and make for a must-see visit all year long.