Some no Komichi
Nakai Area Traditional Fabric Dyeing Festival
Add to my favorite places
Some no Komichi is a festival dedicated to Japanese fabric dyeing in Nakai district, in Ochiai in the north-west of Tokyo. The traditional textile dyeing craftsmanship, used to create kimono and noren curtains hanged at stores' front, is celebrated on the last weekend of February. Thousands of curious onlookers come each year to admire fabric strips strung above the river and unique artisanal creations in Nakai's streets.
After WWII, Tokyo, Kyoto, and Kanazawa became the three main regions to produce dyed fabric. In the capital city, the water of Myoshoji River, flowing near Nakai station, was renowned for its quality among dyers who naturally established their workshops along its banks. At the peak of the areas' activity and until the end of the 1960's, up to 300 master dyers used the stream to rinse their freshly dyed fabrics.
Today, about a dozen of traditional dyehouses remain in activity and benefit from Some no Komichi festival to promote their art and display their manufacturing techniques to an audience of curious visitors. This annual even is held for three days, from Friday to Sunday, on the last weekend of February.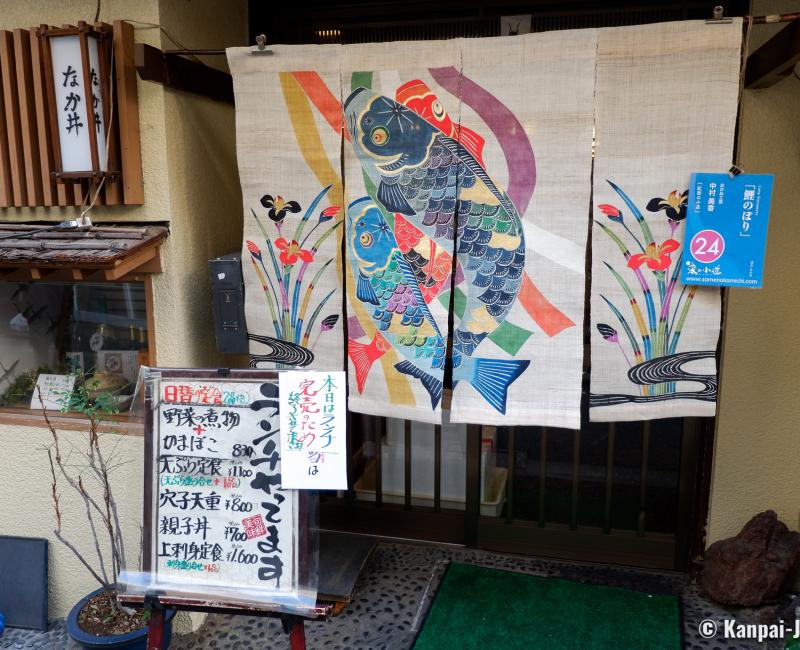 A treasure hunt in Nakai's streets
At the exit of Nakai train 🚅 station, visitors are handed a map to find the 90 noren curtains specially made each year for the event. Thanks to this walk itinerary, visitors can enjoy the friendly atmosphere of the street exhibition and discover a quiet, residential neighborhood of Tokyo with old-fashioned architecture. The route passes by restaurant and small stores' fronts, as well as local facilities such as schools or gyms. On the way, it is possible to attend to a demonstration of iaido a traditional Japanese sword fighting with a katana sword.
The walk on Myoshoji riverbanks is certainly the most interesting landscape of the festival. Numerous fabrics are hanged above the stream of water. These are called tanmono and are made of fabric strips of 12 meters long and 40 centimeters wide. They display colorful designs inspired from traditional motifs as well as contemporary ones. A very pleasant stroll in an open-air art gallery.
A little bit further, Futaba-en, one of the dyehouses still in activity, opens its workshop, a small exhibition room and a shop to the public. The factory proposes a small workshop where it is possible to create one's own artistic fabric dyeing. On Saturday and Sunday only, the area's elementary school opens to hold other creative workshops, as a manner to sustain the weekends higher demand. On a side note, the numerous restaurants and small eateries of all genres of the area are reasonably priced for the capital.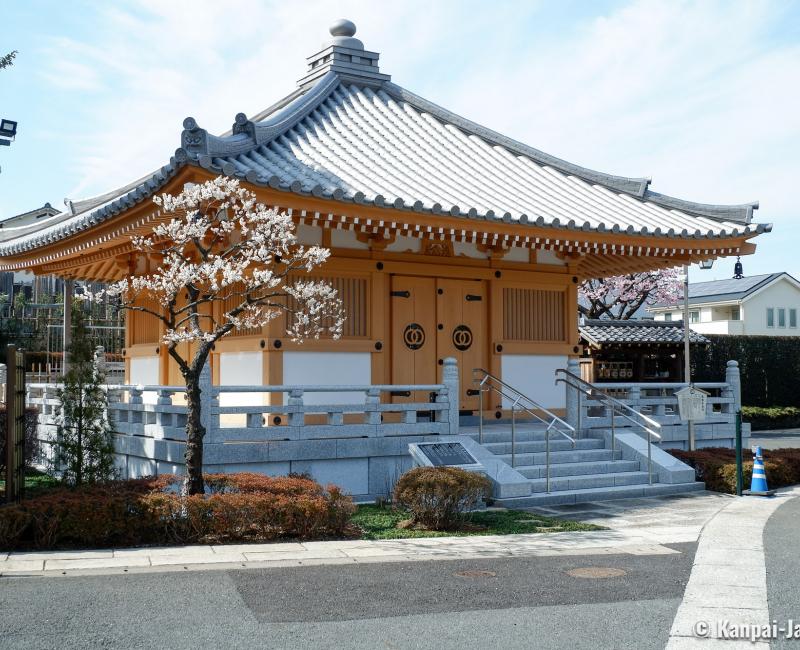 Ochiai, the residential background
The most adventurous can walk beside the limits of Some no Komichi festival to discover Nakai and its surroundings (up to Takadanobaba) preserved from mass tourism by their status of residential area. The Buddhist temples and Shinto shrines, for example Goryo Shrine and Kongo-ji, Jinsoku-ji and Saicho-ji temples, seem deserted. In the same manner, Ochiai, Otomeyama or Seseragi no Sato Parks offer a nice flowery break in spring 🌸 with the neighborhood's inhabitants.
Lastly, for a cultural complement, take a detour by Saeki Yuzo and Nakamura Tsune's museums, who were two famous Japanese painters influenced by European modernism and fauvism in the early 20th century. Their style is called "Yôga" and is distinct from the classical Japanese-style current "Nihonga."
The small area of Nakai is the ideal place for a travel back in time, where time passes slowly by the rhythm of the river and Japanese ladies wearing kimono 👘 to celebrate Some no Komichi.