Shakujii-gawa
The Cherry Trees River in the North-west of Tokyo
Add to my favorite places
Shakujii-gawa is a 25km-long river crossing several wards in the north-west of Tokyo. All along its course, from its source in Koganei Park in the west to Horifune district in the north of the capital where it flows into Sumida River, Shakujii-gawa provides unobstructed views on cherry blossoms in spring.
The north of Tokyo is a rather quiet residential area, suitable for leisurely walks in the heart of its inhabitant daily life. Between Oji and Itabashi JR Stations, a pleasant stroll on the banks of Shakujii-gawa River unfolds, in a wonderful scenery in spring when cherry trees' fully flowered branches bend beautifully above the stream.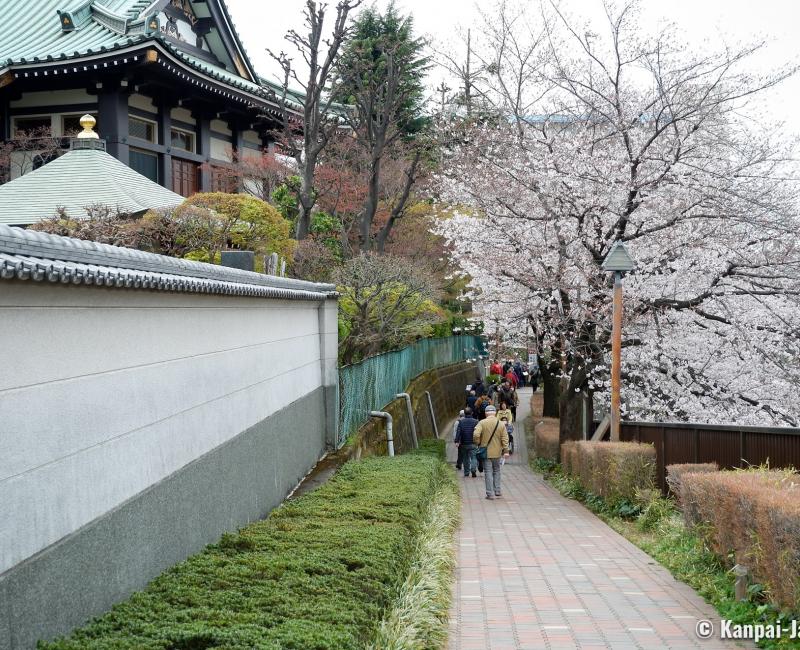 Walking path along Shakujii River lined with sakura
The discovery follows the stream of water starting from Oji toward west with several green spaces as well as a few neighborhood temples and shrines to visit along the way:
Otonashi Sakura 

🌸

Ryokuchi (音無さくら緑地 Otonashi Sakura Green Park) is a small semi-circle park of a dozen of meters, hugging a former part of the river course. Its original wooden bridge is suspended with ropes and gently sways when people cross it.
Kongo-ji (金剛寺) is a small Buddhist temple with a cemetery nicely sheltered by pink cherry blossoms in spring. The massive wooden gate protects the main hall Hondo, in front of which a small garden displays a stone with Buddha's sculpted imprints. There is also a strange statue of monk Kobo Daishi and smaller statues of lucky gods Ebisu and Daikokuten.
Otonashi Momiji 

🍁

Ryokuchi (音無もみじ緑地 Otonashi Momiji Green Park) is a green space arranged to provide nice views on Shakujii River in spring with the sakura and in autumn with the koyo, the maple leaves turning red on the shore.
Yatsu Daikannon (谷津大観音) is a statue of Buddhist deity Kannon seated at a fork between two residential streets. Its remarkable dimensions, 8.5 meters high and a five tons weight, contrast with its location. This statue is a foreshadow of Jutoku-ji. This temple, located a few meters away, belongs to the Shingon branch of Japanese Buddhism, named Shingon-shu Buzan-ha and was founded in the 16th century by monk Senyo Sojo. From the bridge facing the statue a nice view opens on the cherry trees hovering over the river, a landscape common to most of the bridges on Shakujii-gawa.
Otonashi Kunugi Ryokuchi (音無くぬぎ緑地 Otonashi Kunugi Green Space) is a small park for children where the neighborhood's families and young pupils of the nearby LFI Tokyo international school come to play.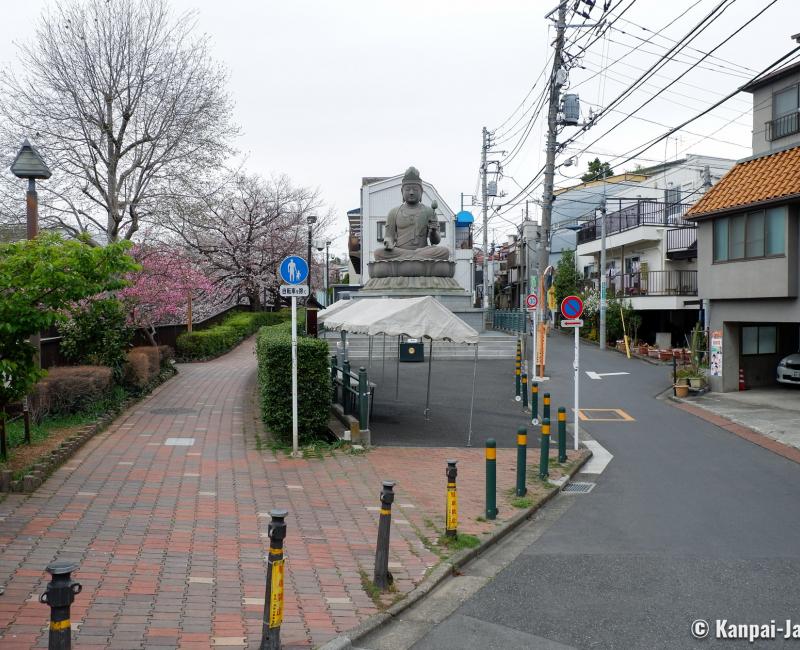 Discovery of Takinogawa residential area in Tokyo
The walking course along Shakujii-gawa and its blooming cherry trees in spring spreads in Kita ward and especially in Takinogawa neighborhood in Tokyo.
Now characterized by a growing French community, during Edo period (1603 – 1868) this area was one of the feudal capital's landscapes that inspired Hiroshige, the great ukiyo-e painter. Hiroshige drew many times Shakujii River and its sceneries in his etchings, that are now reminders of the atmosphere of "Oji Takinogawa" in the middle of the 19th century.
Lastly, the walk can continue toward west in the capital, to enjoy other popular sakura spots along the river, such as the former Toshimaen Attraction Park in Nerima or up to the wide Koganei Park.