Asukayama Park
The Sakura Viewing Spot in the North of Tokyo
Add to my favorite places
Asukayama Park is a public green space located near Oji station, in Kita ward in the north of Tokyo. The place is renowned among Japanese people for its pleasant landscape displaying about 600 Japanese cherry trees. Foreign tourists usually prefer the parks of Ueno or Yoyogi, but Asukayama is a good alternative to enjoy the local festive atmosphere during the season of cherry blossoms in the beginning of spring.
Asukayama Park dates to the early 18th century, when, Yoshimune Tokugawa (1684 -1751), the eighth shogun of Edo period, decided to build a pleasure ground opened to Edo's inhabitants, the Edokko. As soon as 1720, there were up to 1,270 cherry trees, and in the beginning of Meiji Era (1868 - 1912) Asukayama was designated as one of the first public parks of Japan's new capital.
A wonderful hill in the heart of Tokyo
The park is located on a hill named Asukayama (literally "mount Asuka"), surrounded by the city and bordered on its northeastern part by railways. Several entrances are available, but the most interesting is probably the one located near Oki Station central exit and Toden Arakawa tramway.
It features a small cable car 🚙, the Asukayama Park Monorail 🚝, which transports visitors for free to the highest part of the park and set the pace of the visit. The cable car is a unique transportation method in a large city like Tokyo and it offers a first share of wonder with a dynamic view on the urban landscape during the ascension.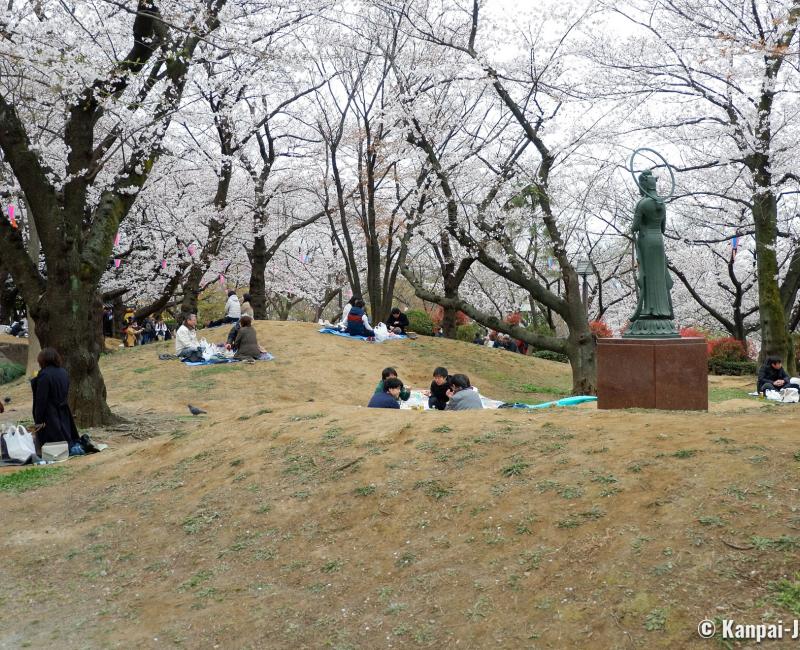 Sakura viewing in a light-hearted ambiance
Inside the park, walking paths unfold under the trees that transform into a corridor of white and pinks petals during the sakura 🌸 blooming season. Japanese people come to practice ohanami, the cherry trees' flowers viewing and picnic, sometimes in large groups, in a laid-back and joyful atmosphere. Everybody gathers here, from the salarymen who enjoy a slower pace than usual, elderly visitors, as well as families and youngsters who savor their holidays before the nearing new school year (school starts in early April in Japan).
While the adults celebrate, the younger ones monopolize a playground in the heart of the park. They can climb on a huge cone-shaped structure and slide on toboggans, and more surprisingly, explore a big old steam locomotive, that was used between 1943 and 1972 and still in good shape. Next to it, a car of Toden Arakawa's tramway that was used between 1949 and 1978. The two old machines are both displays and playgrounds for children.
A park dedicated to Eiichi Shibusawa's memory
Cherry blossoms viewing is one of the numerous interests of Asukayama Park, and a couple of steps from the playground, three museums will also please amateurs of local cultural heritage:
Kita-ku Asukayama Historical Museum, the biggest of the three, shelters artworks by local artists on a time ranging from prehistory to Edo period;
The Paper Museum, created in 1950 by Kiyufusa Narita, who worked for one of the biggest paper manufactures in Japan located in Oji district, initially founded in 1875 by Eiichi Shibusawa and destroyed in 1945. Kiyufusa Narita collected all that could be salvaged and created the basis of its collection that grew overtime to become one of the most comprehensive paper museums in the world. Visitors can participate in recycled paper making workshops;
Shibusawa Memorial Museum was built on the residence of Eiichi Shibusawa (1840-1931) and is dedicated to the life and achievements of this Japanese businessman and industrialist considered "the father of Japanese capitalism" and the face of the new ¥10,000 bank note to be released in 2024.
Two other significant constructions were built on Shibusawa's former estate, and sheltered his memorial museum when it first opened:
Bankoro, a beautiful cottage of Japanese and Western style, built in 1917 by Shimizu Group to celebrate Eiichi Shibusawa's 77th birthday. It was a reception pavilion for his numerous high-ranking guests;
Seien Bunko, with a Western style, reinforced concrete structure completed in 1925 and ornamented with beautiful stained-glass windows and colorful tiles. It was first a library, but quickly converted in a reception room for its owner's guests.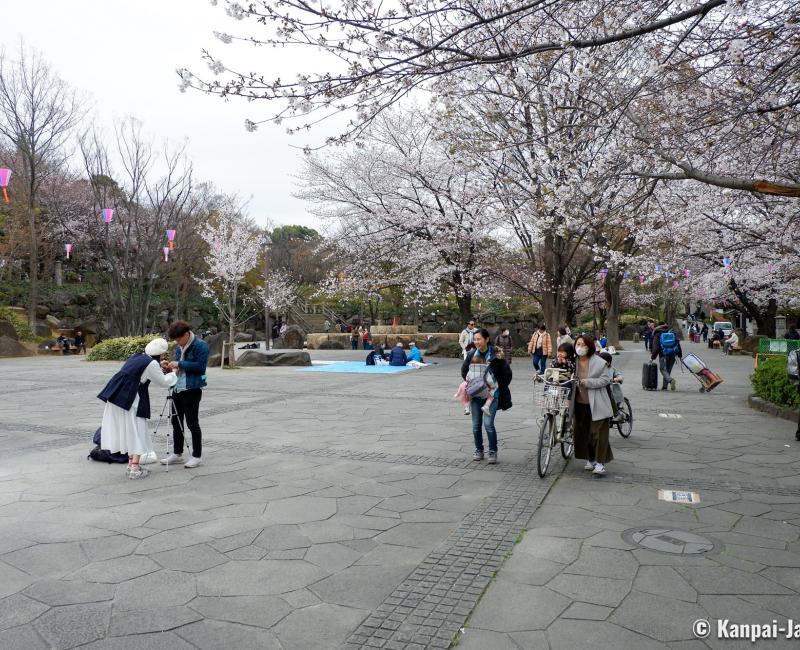 An authentic green lung in a residential neighborhood
Asukayama Park is thus a popular spot for cherry blossoms viewing, but not only that. Its other attractions offer entertainment at any time of the year. In summer, a small aquatic playground space is even arranged for children and their parents to cool down under a small waterfall and be relieved of the stifling heat. The park's location, a little bit off in the north of Tokyo, helps preserving an authenticity that may have disappeared in the other more touristic parks of the capital.