Rikugi-en
The Momiji Gardens in Tokyo
Add to my favorite places
Rikugi-en is a large Japanese garden in Bunkyo ward, in the north of Tokyo. It was built in the 18th century and displays landscapes inspired from the traditional waka poetry. The park was designated Place of scenic beauty and is the especially wonderful in autumn for its red maple trees foliage.
Rikugi-en is among the capital's most renowned Japanese garden, along with Koishikawa Korakuen, another Edo period (1603 – 1868) garden, located near Tokyo Imperial Palace.
Rikugi-en is a typical example of a daimyo garden (feudal lord garden), built in Komagome by Yanagisawa Yoshiyasu, for shogun Tokugawa Tsunayoshi, between 1695 and 1702. After a long time of neglect ensuing its designer's death, the garden was bought in 1878 by Iwasaki Yataro, the founder of the Mitsubishi group, who restored it and settled his residence there. It was later bequeathed to the municipality of Tokyo and opened to the public in 1938.
A traditional strolling garden
The garden was arranged as a kaiyushiki style promenade garden: several trails cross man-made landscapes, and circle around a central pond and its islets, that are connected with lovely little bridges. Several sceneries were created to materialize 88 famous landscapes, based on existing views or inspired by waka poetry, from which originates the garden's name, "Rikugi" meaning "the 6 principles [of waka poetry]" of which Yoshiyasu was a fine connoisseur.
Nowadays, 32 stone steles mark the notable landscapes. The most popular views are:
Togetsukyo bridge, made of 2 long stone slabs and connecting the eastern side of the garden to the main islet,
The main islet, reminding a famous landscape of Wakanoura (Wakayama prefecture). The top of Fujishirotoge, its 35 meters high hill, offers an overview on the garden,
Tsutsuji Chaya tea house, built during the Meiji Era (1868 – 1912).
The present day's park extends on a quite large 87,8 hectares superficies, but it was thrice this size on its heyday. As all traditional gardens, it is naturally planted with cherry trees 🌸 (yoshino and shidare-zakura weeping cherry trees), plum trees, hydrangeas and camellias. However, the maple trees are its true gem, when autumn seems to set ablaze their foliage.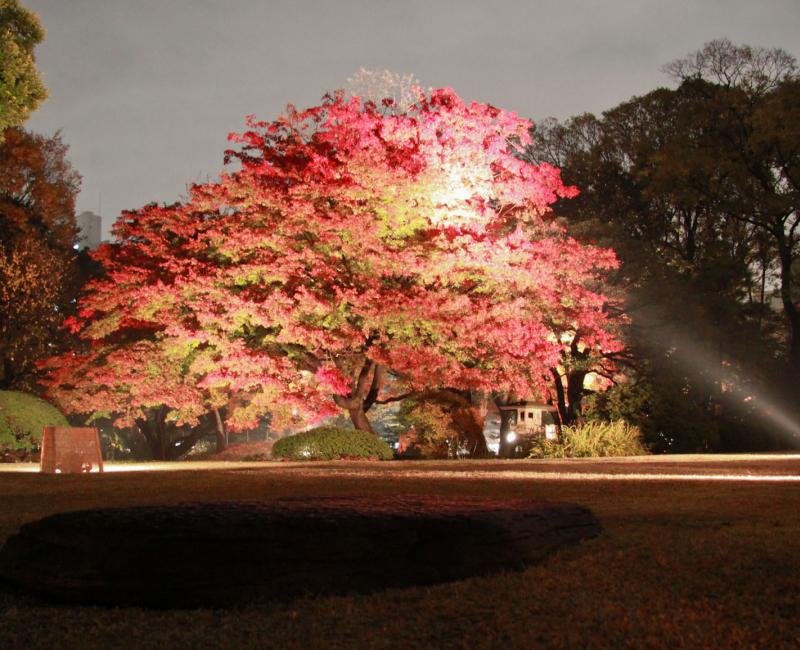 Momiji viewing in autumn
The maple trees are essentially located to the north of the garden and around the lake's western shore. With the night illuminations, staged in November at the peak of the momiji 🍁 foliage, the garden uncovers a new aspect for an unforgettable visit.
The night stroll circles around the pond, with a light-up focusing on the main islet. Consequently, Togetsukyo bridge and Fujishirotoge are not accessible. In return, the lighting effects proceed to hide Tokyo's skyscrapers from the background, and in doing so enhance the Zen atmosphere of this beautiful landscaped garden.
Rikugi-en and its lovely panoramas are naturally delightful all year long and at any time of the day. One can even enjoy a matcha at the tea house Fukiage Chaya.