Torikizoku Shinjuku Kuyakusho-dori
A Popular Yakitori Restaurant
Add to my favorite places
Torikizoku Shinjuku Kuyakusho-dori is a yakitori restaurant near Shinjuku station, in the west of Tokyo. It is one of the shops of the eponymous well-known restaurant chain that settled in the largest Japanese cities to offer a large range of grilled meat skewers at a good price for value.
With their characteristic yellow and red signs, the Torikizoku (鳥貴族) restaurants are easy to spot, especially at night when the neon lights are up to attract customers. The restaurant chain indeed specialized into yakitori grilled meat skewers and caters to the nightlife of large cities such as Tokyo, Yokohama, Osaka or Nagoya, with restaurants opening only in the evening and until early morning.
Torikizoku's restaurants usually don't have their storefront on the street, and are often located in a building's basement or upper floor, so do not hesitate to take the lift or the stairs to find its entrance, even if it seems like entering in a residential building. That is where you will find Torikizoku Shinjuku Kuyakusho-dori, which is settled at the B1 floor.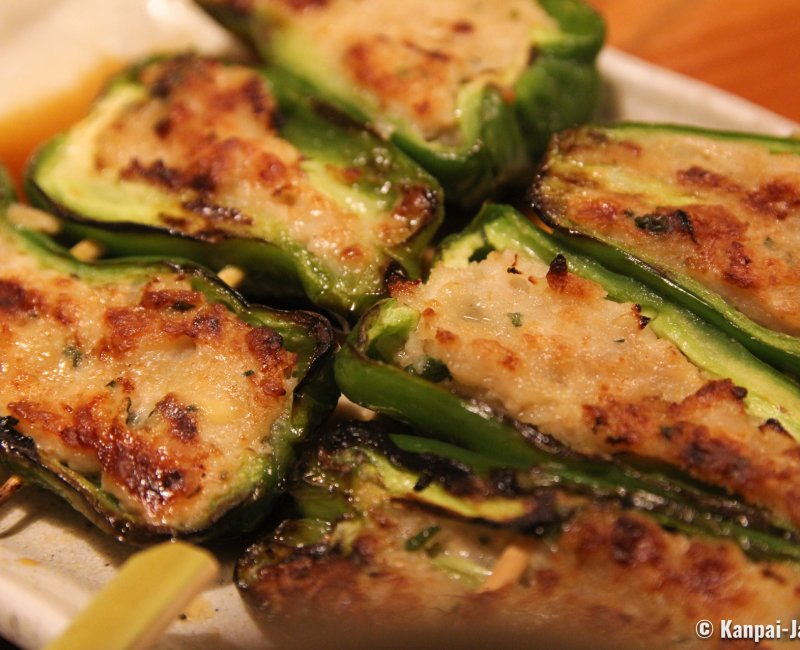 A convivial and affordable Japanese canteen
The atmosphere at Torikizoku Shinjuku Kuyakusho-dori is convivial and relaxed, with tables around which groups of friends, students and many salary-men seat for an after-work. The restaurant can be quite busy on the end of the week and on the weekends, and you will sometimes have to wait in line before being seated. Note that it is possible to book in advance, but only in Japanese: by phone or on the restaurant's website.
One can almost say that Torikizoku's restaurants are victims of their own success, as they serve good and affordable food, in satisfying quantities. Decoration is the same in all the restaurants, with cubicles defining a space for 2, 4 or more than 6 persons around a rustic wooden table.
A large choice of meat and vegetables skewers
As required for the shop's specialty, the yakitori skewers are a major part of the menu. At the Torikizoku Shinjuku Kuyakusho-dori, the dish choice is displayed on digital tablets that can be set to English language for an easier ordering process. Additionally, each of the thirty skewer types is illustrated by a picture.
The usual beef, pork and naturally chicken (the 鳥 tori kanji in Torikizoku means "poultry") are available. Then, you can choose how you like them, either with:
A tare sauce, based on a thick and slightly sweet shoyu soy sauce; or,
Shio, which means only salted.
As for Shinjuku's restaurant, we recommend trying the following skewers:
つくね塩 tsukune shio: small salted chicken meat balls;
手羽先 tebasaki: chicken wings;
ピーマン肉詰 piman nikuzume: peppers stuffed with chicken meat;
むね貴族 mune kisoku: asparagus and chicken breast;
牛串 gyukushi: beef.
They satisfy 2 to 3 mouthfuls and are always served in pairs, at a single price per plate. Torikizoku's skewers size is famous for being slightly bigger than the average in Japan, hence more interesting for the gourmands.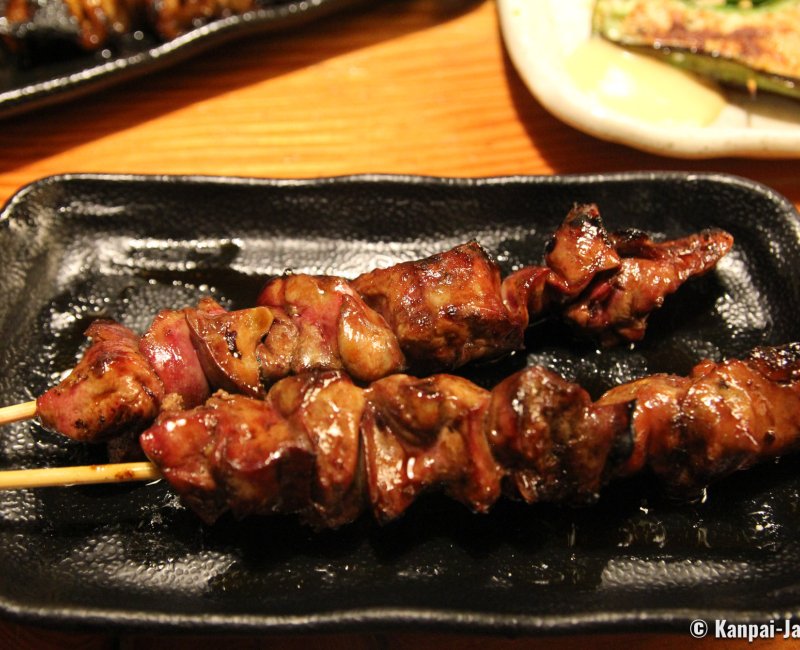 Limited recipes following the seasons are available such as breaded skewers, small ramen 🍜 noodles bowls or specific drinks. By the way, aside the light Japanese beer 🍺, we recommend the Mikan-shu (みかん酒), a very good, sweet mandarine wine served with ice cubes (rokku or "on the rocks") to drink with the yakitori.
Once your belly is full, you can know how much you ate by counting the wood skewers placed in a pot for this purpose. Then you can ask for the check and pay. Like the izakaya pub were classical yakitori are also served, Torikizoku restaurants are easy to find places to gather in group and spend the evening eating and chatting.