Alex Kerr's Country Houses (Review)
Comfortable Minka Farmhouses 
Add to my favorite places
Alex Kerr's country houses are traditional farmhouses located on the heights of Ochiai Village, in the east of Iya Valley on Shikoku Island. These thatched-roof lodgings were finely updated and refurbished for seasonal renting. Only reachable by car, these houses ensure visitors a lovely stay in the Japanese countryside.
Alex Kerr is a well-known American writer and lover of a traditional, rural and somewhat forsaken Japan. He specialized, among other things, in the renovation of old farmhouses, starting in 1973 with the one now named 篪庵 Chiiori, House of the Flute. This building, dating back to the 18th century, is known as one of the oldest built on the side of Iya Valley, in the heart of Tokushima prefecture. Recently renovated in 2012, it is available for rent to travelers sightseeing in the area.
Concomitantly, Alex Kerr founded two organizations to collect funds and expand his project: Chiiori Trust and Chiiori Alliance. Consequently, there are now nine mountain cabins available for rent, all located in Iya, especially in Ochiai Village, which is attached to Miyoshi City.
Despite their remote location far from the cities, these lodgings are quite successful. It might be explained by the choices made for renovation: keeping the outdoor charm of the ancient construction, but fitting the inside with modern and comfortable amenities. Thus, visitors can enjoy all the conveniences of an urban accommodation in the countryside: fitted kitchen, floor heating, air conditioning, bathroom 🛁, toilet 🚽, washing machine, television, Wi-Fi connection, etc.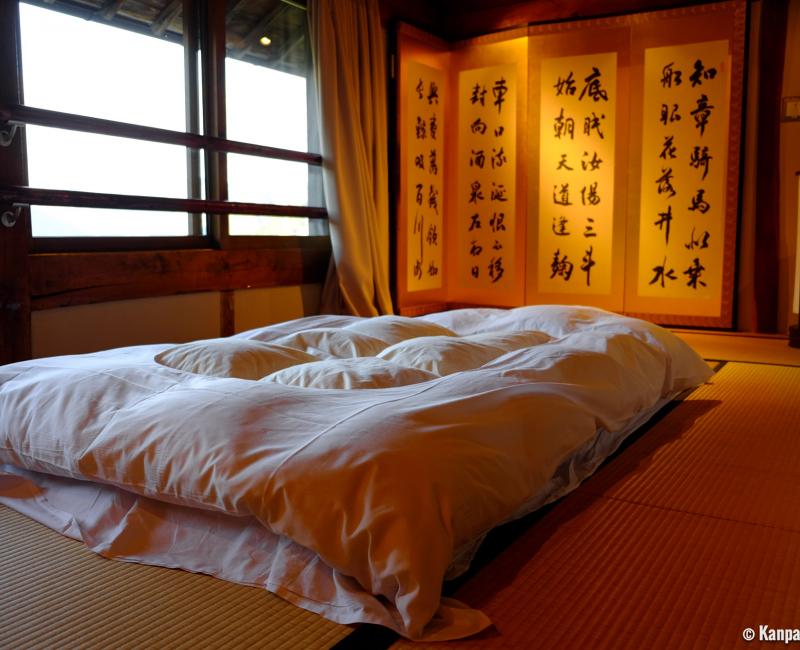 The only thing to think ahead is food. Visitors must either arrive with their groceries or book their meals in advance, for the locals to prepared them according to the seasons and available harvests.
The indoor layout is traditional and simple, with wood as the main feature. These houses are quite large, with a great living room whose big windows open largely on the mountain landscape; some even have kept their irori, the ancient central hearth. However, there is no spiritual alcove nor butsudan altar for the ancestors worship. Also, bedrooms are not necessarily separated: one sleeps on futon to unfold each night. This kind of accommodation is better suited to families or friends who don't mind sleeping together in the same room.
Alex Kerr's farmhouses offer an accommodation solution that is convenient in a natural environment that is not. They are a good alternative for those traveling in groups and wishing to discover the area over several days. Iya Valley's suspended bridges are not far away. A car 🚙 is necessary to move around and it is advisable to envision a stay in autonomy as mountain roads can be difficult to navigate. The key point here is to enjoy the local dolce far niente and to slow down one's own pace.
This article was written after a tour sponsored and organized by Tokushima Prefecture Tourism Bureau. Kanpai has been invited and guided but keeps a total freedom of editorial content.