M's Hotel Gojo Naginatagiri (Review)
Automatic Room Rental in Kyoto
Add to my favorite places
M's Hotel Gojo Naginatagiri is a 3 stars business hotel located in Shimogyo, a residential area in the north of Kyoto station. The facility is sitting in a narrow building, typical of the city center and customers can access their rooms in complete autonomy, after checking-in on the contactless check-in machines placed at the entrance.
In Kyoto, renting a full apartment with self check-in, without staffed reception, is quite frequent, but this service is also available in hotels, such as the M's Hotel 🏨 Gojo Naginatagiri located in the central Shimogyo ward, 1,5 kilometers (1 mile) north to the JR station.
The business hotel is nestled in a small, ancient and typical residential building. The lobby is simple and convenient, and while the check-in can be performed on an automated kiosk only the process has some limitations that it is important to know:
Access to the room is impossible before 4 p.m. , which is the check-in hour by default;
Luggage storage is quasi non-existent: there is only a lock on a frame at the entrance, and for every one to view;
Validation at check-in generates several codes to memorize correctly, especially to enter the room which is locked by a pin code;
If any problem or misunderstanding arise, one must wait for M's Hotel's staff touring the many facilities owned by the chain in Kyoto.
M's Hotel Gojo Naginatagiri is targeting tourists and people on business trip in the former imperial capital, and is suitable for resourceful customers who are not interested in any particular quality of service and are happy with an automated reception. As check-out and payment are also made on the self-service devices, you may never meet someone from the staff during your stay.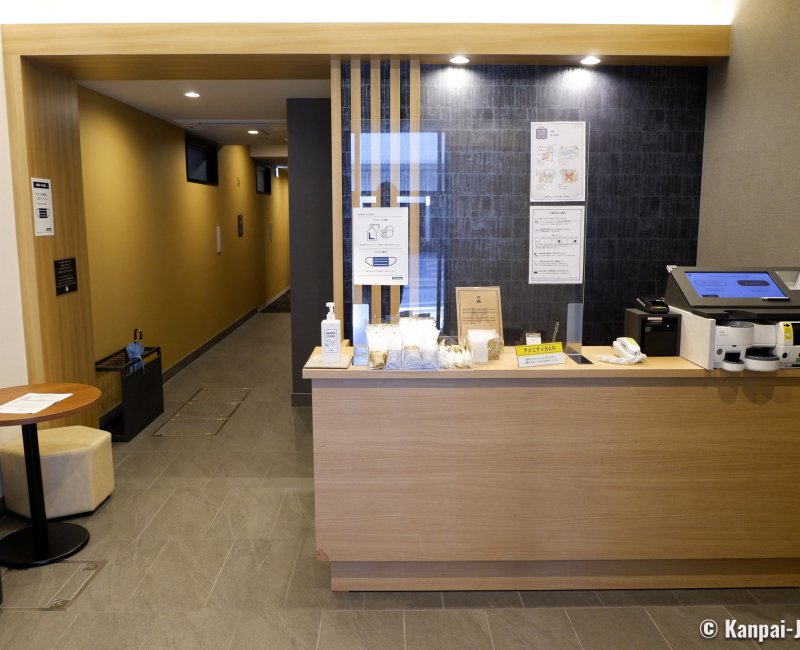 A convenient base to visit the former capital
The hotel is within walking distance from Kyoto station and also accessible by metro (only 1 station), making its location convenient to roam the city and explore its surroundings by train 🚅. The residential area is quiet, and a Ministop konbini is conveniently located in front of the hotel, to purchase food on a daily basis as M's Hotel Gojo Naginatagiri does not have a restaurant service. Rooms are nonetheless fitted with a mini-fridge and a kettle with tea (no coffee).
The rooms, not very large but of an adequate superficies, are all suited with:
A Western-style bedding, except for 4 rooms that have a tatami space;
A private bathroom 

🛁

with a bathtub;
A Japanese style washlet-type toilet;
A Wi-Fi connection;
Air conditioning;
A flat screen TV set, hanged on the wall to preserve space.
This hotel is a comfortable base to stay in Kyoto if not staying for leisure. The place is also more enjoyable when traveling light, without heavy or cumbersome luggage.