Sendai Royal Park Hotel (Review)
The Charm of Countryside in a Luxury Lodging
Add to my favorite places
Sendai Royal Park Hotel is a four-stars lodging in the north of Sendai, in Miyagi prefecture in Japan. Nestled in a quiet environment close to the countryside, the luxury hotel resort provides unforgettable relaxing and peaceful moments. With an outstanding service quality, it also provides its customers a wide array of seasonal leisure activities.
Sendai Royal Park Hotel 🏨 is away from the city center, about half an hour by car 🚙 from Sendai JR station. A free bus shuttle is also arranged on a fixed schedule to pick up customers at Sendai station (JR trains 🚅 and metro), and at Izumi-chuo subway 🚇 station (Nanboku line).
Izumi Park Town, a green urban village
When arriving at Sendai Royal Park Hotel, new residents happily discover another downtown named "Izumi Park Town". This half-urban, half-rural village was created in 1974 on a forestry estate and offers a completely different atmosphere from the very busy and not so green Sendai downtown.
The architects of this new village endeavored to imagine a place where people could be close to the nature. Consequently, many green spaces alternate with more prominent constructions. The pressure that could be felt in many of Japan's largest cities is absent and one can't help feeling like being in a small unconquerable village, amidst a city of more than one million inhabitants.
The hotel infrastructure is perceptible from the road, standing majestically and displaying a charming European architecture style. Nearby, two large shopping areas, Tapio and Premium Outlets, provide convenient and relatively high-end window-shopping opportunities.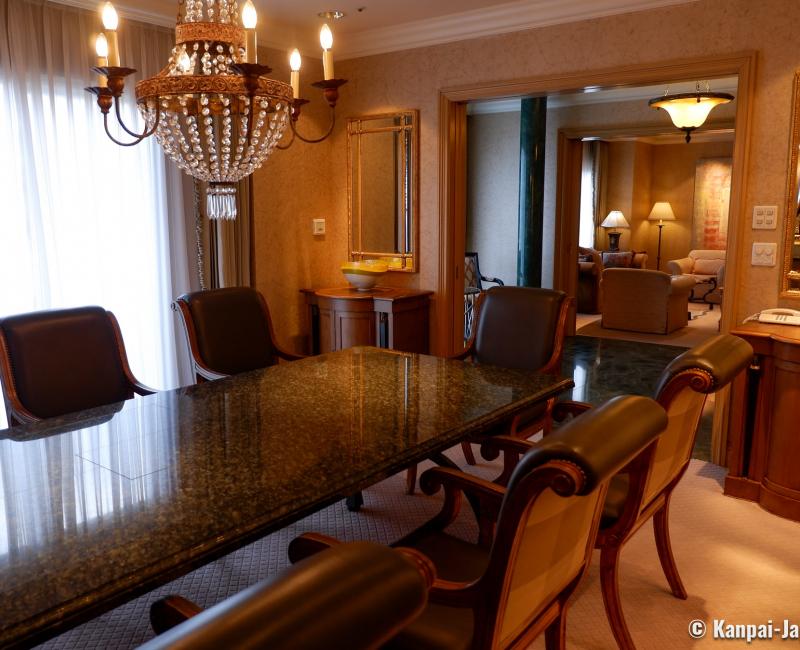 Refined and spacious western style rooms
The hotel has 110 air-conditioned rooms and suites with superficies comprised from 23 to 62m², and even up to 153m² for the most upscale. All provide a high level of comfort with luxury materials:
Western-style bedding for most or traditional futon bedding,
Bathroom fitted with hairdryer, toothbrushes, toothpaste, shavers, shampoo, and shower gel,
Private toilets,
Desk,
Television,
Closets.
The rooms are wide and well-maintained, with a clear and refined decoration. There are no individual washing machines, but the hotel provides a dry-cleaning and laundry service. On a side note, one of the suites was arranged to look like a small Provencal house, with tiles on the floor, wrought iron doors, a cozy lounge with stones on the walls and many plants to enhance its pastoral aspects.
Some rooms have a balcony with a beautiful view on the hotel's wonderful garden, that includes a pond and a chapel. The latter therefore makes Sendai Royal Park Hotel the favorite destination for Japanese couples wishing for a western-style wedding ceremony.
This vast private green space is accessible to the hotel's customers. In winter (November to March), it is highlighted by lavish night illuminations: 400 lanterns 🏮 and 65,000 lights provide a fairytale scenery.
Many of the hotel's numerous furniture were made at the workshop of Kinichi Ogata, a local designer and artist with an international reputation. Interior architecture amateurs can visit his house located along a stream in the woods, about half an hour by car from the hotel. This unusual home, with a round shape and the unique design of its rooms, is sure to delight visitors, even more as the artist and his spouse are gladly welcoming curious travelers. They like talking about the local life in Sendai as well as about their design directly inspired by their passion for nature.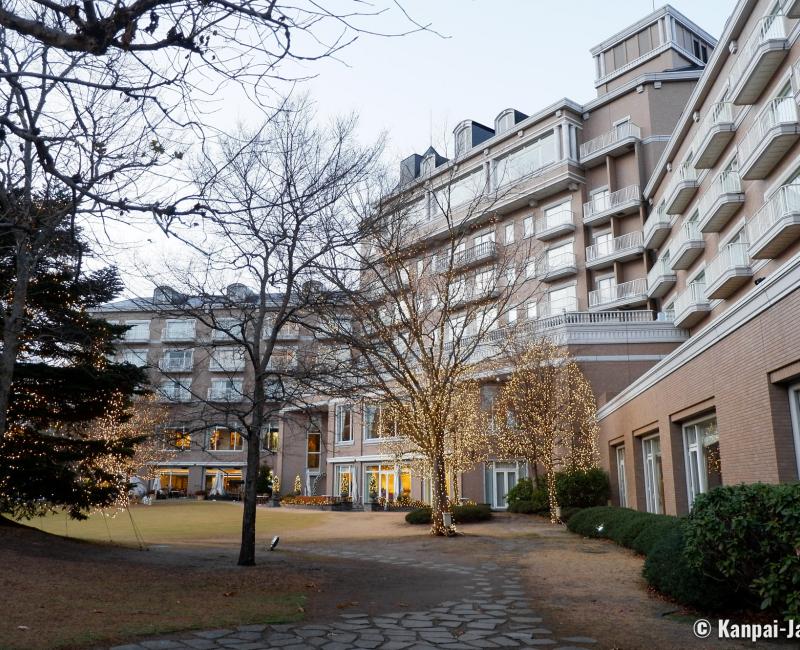 Food delicacies and garden dinner
Food choice at the Sendai Royal Park Hotel is also another strong point of the establishment, with three types of cuisine:
A Japanese teppanyaki restaurant where the chef cooks delicious Sendai beef on an iron griddle,
A Chinese restaurant, serving Cantonese cuisine customized with a touch of French cuisine, and,
The restaurant "Chef's Terrace," open all year long and serving excellent seasonal menus prepared with local products.
Eating in the garden at any time of the year thanks to dedicated outdoor amenities. In winter, do not hesitate to try the "glamping" course, offering an individual service in a tent fitted with a kotatsu, the Japanese heating table and its blanket. Thanks to a transparent igloo-shaped dome, you can have dinner under the starry sky lighted by candles.
Breakfast is served in a generous buffet, with a large choice of savory dishes and sweet delicacies to cater to all customers' tastes, Japanese as international. The calm and serenity, with the view on the landscaped garden under sunrise are particularly enjoyable. When the weather is fine, breakfast is also available on the terrace.
Outdoor activities and family leisure
The Sendai Royal Park Hotel has activities ready for its clients all year round. Inspired by nature, outdoor and sports activities are plenty, such as:
Morning yoga sessions in the garden,
Therapeutical walks especially at the golf course located less than 5 minutes ride by car,
Bicycle rides through rice paddies, woods, and bamboo groves in the surroundings.
Customers are mainly couples and families who came to relax and enjoy the green settings. The youngest adults are particularly attracted by the hotel's atmosphere, which is both romantic and dynamic. Many Japanese celebrities stayed at the Sendai Royal Park Hotel, which highlights the hotel's guarantees: a high-end offer, from the facilities to the outstanding service quality performed by the staff and the capacity of organizing private and convivial events.
Sendai Royal Park Hotel is also a convenient stopover for those who would like to partake in the Yamadera pilgrimage or contemplate the wonderful Matsushima Bay. Lastly, Sendai Daikannon the large statue of the Buddhist deity of compassion located nearby is certainly worth the visit.
This article was written after a stay sponsored and organized by Sendai Royal Park Hotel. Kanpai has been invited and guided but keeps a total freedom of editorial content.