Canal City Hakata
The Central Shopping Mall in Fukuoka
Add to my favorite places
Canal City Hakata is a shopping center located near Fukuoka's main station, in Japan southern island Kyushu. A central pond organizes the repartition of hundreds of stores, restaurants, entertainment places and even two high-end hotels.
There are not so many shopping centers in Fukuoka and the first that comes to mind is generally Marinoa City. Famous for harboring a Ferris Wheel, and its "outlets" clothes stores, the prices are rather on the expensive side and the place is not easily accessible to tourists.
Its downtown counterpart Canal City on the contrary has several advantages compared to Marinoa, the most obvious being its location, a couple of minutes from Hakata's Shinkansen 🚅 station. It is quite easy to spot when treading on the main avenue thanks to its characteristic design contrasting with the rather bland urban landscape.
This unconventional design was created by Jon Jerde, a Californian architects office, also responsible for Roppongi Hills in Tokyo and Namba Parks in Osaka. Canal City is immense (235,000m2), imagined like an American shopping mall, but with an opening on activities not related to retailing: there are several cafés and restaurants, cinemas and concert venues, one theater and two hotels (including the Washington Hotel 🏨).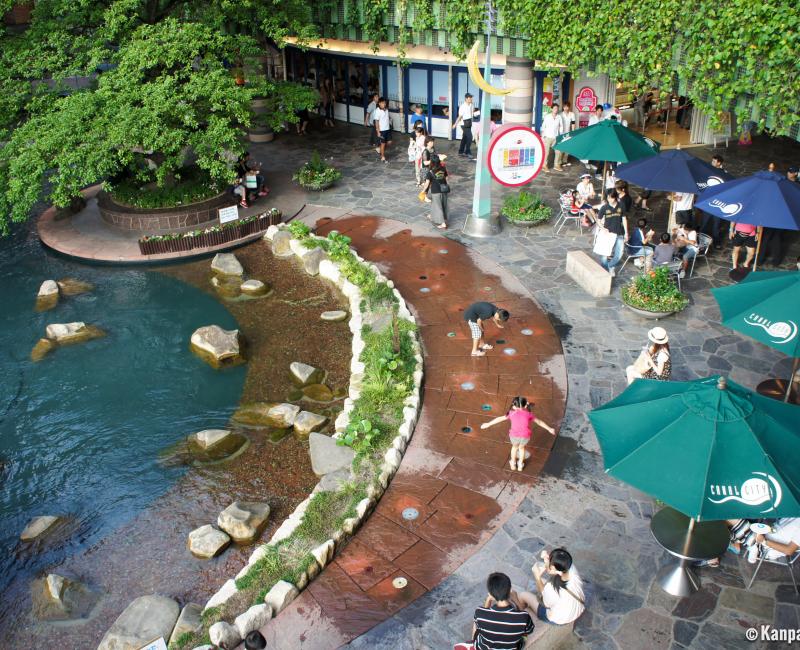 The centerpiece is the stream of water, from which the place's name derives, that flows through Canal City on its ground floor, breaking into various smaller ponds where children can play. A sound and light show starts every half hour around the fountains.
As for the shopping aspects, Canal City can boast several stores dedicated to Japanese popular culture, and especially official stores for Jump (One Piece, Naruto, Dragon Ball…), Ghibli's Donguri Kyôwakoku, Hello Kitty, Monster Hunter, etc. About 250 shops of all kinds are distributed on the center's five floors and basement.
At the top floor, lastly, is the "Ramen 🍜 Stadium" area, with eight restaurants serving only the famous noodles. It is the ideal place to taste the delicious local dish: the notorious pork-flavored Hakata ramen.