Yusentei Park
The Contemplative Garden of the Kuroda Clan in Fukuoka
Add to my favorite places
Yusentei Park is a Japanese garden located in the south of Fukuoka downtown on Kyushu Island. It offers a well-arranged stroll around a pond, in a calm and quiet atmosphere. The tour of the garden ends by the visit of a large tatami room, where it is possible to take a break and drink a matcha green tea.
Yusentei Park was initially the property of lord Kuroda Tsugutaka (1703 - 1775) who has established here a secondary residence. When it opened to the public in 1981, it became the first Japanese garden to offer a stroll around a pond in Fukuoka. Along with Shofuen, Rakusuien as well as Ohori Park, Yusentei is one of the most beloved Japanese gardens of the city.
A leisurely walk is hugging a stream of water, sourced from the nearby Hiikawa River. Samples of Japanese gardens' typical elements unfold, such as views on:
• Trees, like maple trees (with red foliage in autumn 🍁), and Japanese pine trees;
• Stone lanterns 🏮 scattered throughout the garden (including a rare one called Kirishitan in reference to Kuroda Yoshitaka, who was a christian daimyo lord of the end of the 16th century;
• A waterfall; and,
• Koi carps swimming under the surface of the ponds and patiently waiting to be fed.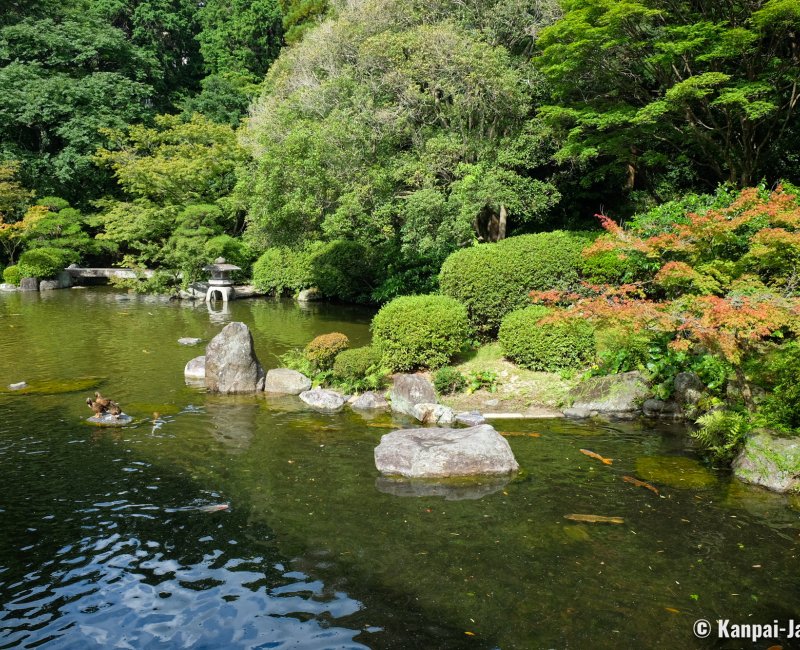 The landscape combines greenery and minerals, with a few flowery bushes that enliven the view at each season. You'll frequently encounter Japanese visitors donning kimono 👘 who take the opportunity of the place's scenic beauty for nice pictures.
Traditional break with matcha tea and pastries
In the purest tradition of the Japanese gardens, it is possible to enjoy a cup of matcha green tea served with wagashi confectioneries. In the main building dating to the Showa Era (1926 – 1989), a wide 17,5 tatamis room, called Ohiroma, welcomes visitors for a well-deserved gourmet and contemplative break. The room is large, with a simple decoration and more importantly a wonderful unobstructed view on the pond. The serene and rather subdued atmosphere of the place makes its visitors forget for a moment its location in the heart of the city.
The tea is usually served hot, but in summer however it is served cold with an ice cube. The Japanese pastries on the side frequently change to match the season.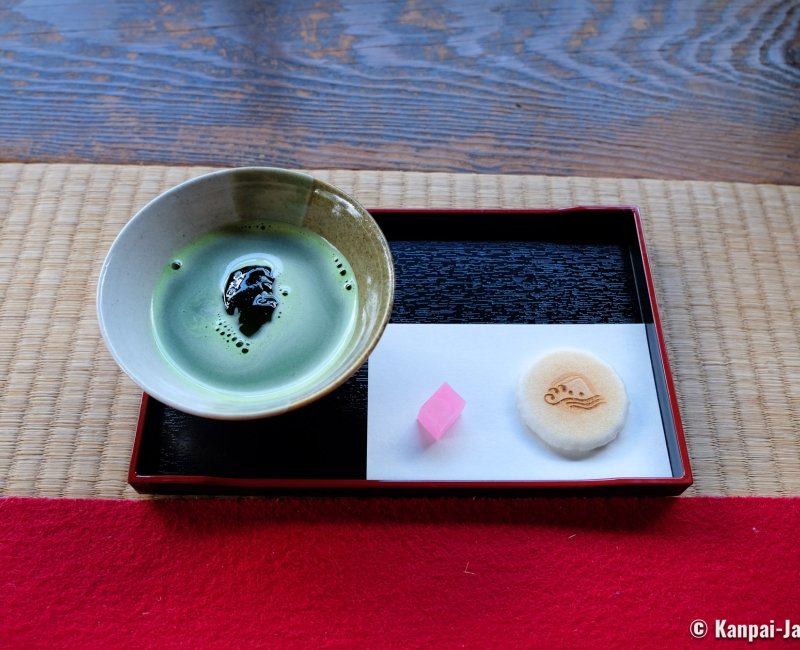 There are overall 4 tea rooms in the park, that can be booked for private events. Away from the main building and hidden under the trees, the small Josui-an tea house is remarkable for its traditional thatched roof architecture.