Fukuoka Tower
The Great Tower of Hakata Bay
Add to my favorite places
Fukuoka Tower is a 234 meters-high tower built in 1989 in Momochihama district, in Sawara ward in western Fukuoka, on Kyushu Island. As the tallest seaside tower in Japan, it offers a wonderful view on Hakata Bay.
When in Fukuoka, on Kyushu island, do not omit the visit of Momochihama, the western part of this large city. This waterfront area harbors two of its most interesting features: nice artificial beaches 🏖 and the symbol of the city, Fukuoka Tower.
The construction, culminating at 234 meters above sea level, was built in 1989 and has undergone huge renovation works for its thirtieth anniversary. While Fukuoka Tower cannot compete in height with Tokyo SkyTree, it still gives an interesting 360° view on Fukuoka, Hakata Bay and Nokonoshima Island, from two observation decks:
The first one located at 116 meters above sea level;
and the second at 123 meters of altitude.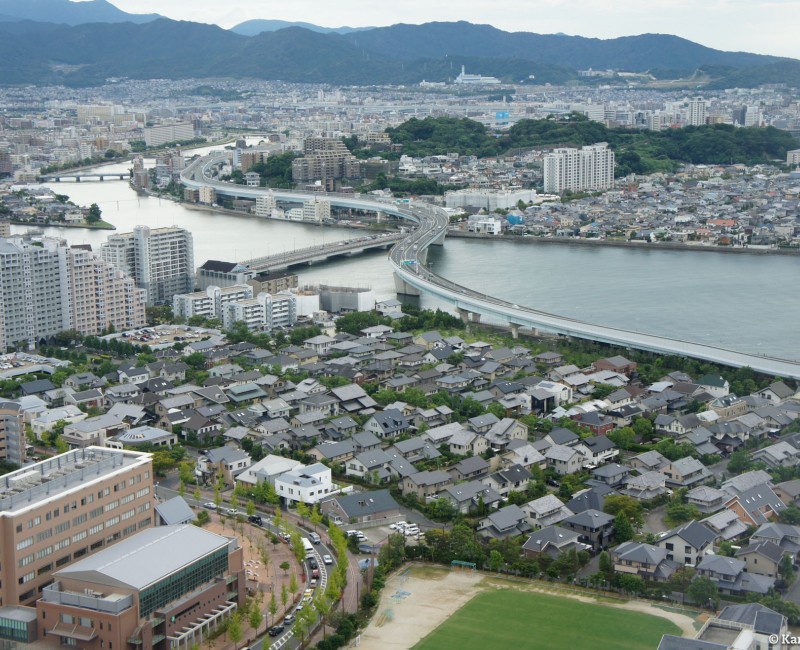 Once a year, it is possible to try climbing the 577 steps of the emergency stairs to the observation decks. The elevator usually takes visitors there in 70 seconds. Of a triangular shape, the tower is covered with 8,000 mirrors, and surprisingly, except for its upper three floors, is totally empty!
Fukuoka Tower offers illuminations on a regular basis, thanks to the 2,700 LEDs lights embedded in its outer walls. The light-ups are arranged to always display a different appearance, and are particularly enjoyable in summer from 8 p.m. Lastly, a restaurant, the Refuge, is located on the floor between the two observatories.
On a side note, the construction of Fukuoka Tower cost 6 billion Yens 💴 (~56.2 million US$). Science-fiction amateurs may also recognize the tower that was destroyed in the movie Godzilla vs. Space Godzilla!