Tocho-ji
Fukuoka's Great Buddha
Add to my favorite places
Tocho-ji is an old Buddhist temple located in Fukuoka City, in the north of Kyushu island in Japan. Built in the 9th century by Shingon monk Kukai, since 1992 it is home to Japan's tallest wooden sitting Buddha: a statue measuring 10.8 meters high and weighing more than 30 tons.
Tochi-ji temple benefits from a good location in Gion district, close to Hakata JR station, and its outward appearance does not give any hint on what it is sheltering. The temple, except for its beautiful five-story vermilion pagoda, does not stand out and is indeed easy to pass by.
The temple of the Shingon school was founded by the famous Kobo-daishi (Kukai). The construction was achieved in 806, which makes Tocho-ji the oldest Buddhist temple in Fukuoka and even of the whole Kyushu island.
Therefore, Tocho-ji's appearance is relatively classical. Its small cemetery nonetheless shelters the graves of Fukuoka's feudal lords of the Edo period (1603-1868).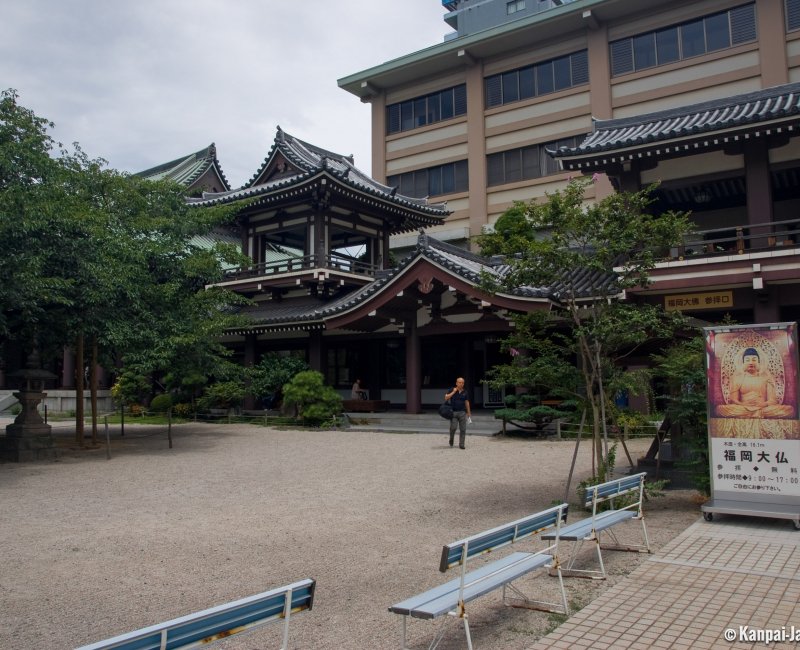 Fukuoka Daibutsu
However, the heart of the temple's visit is a hidden gem. Its main hall is indeed protecting a majestic statue of Kannon, the Bodhisattva of compassion, of which taking pictures is strictly forbidden. Yet, it is the highest wooden representation of the deity in Japan, and one of the largest Buddhas of Japan.
Quite logically known as the "Fukuoka Daibutsu", the sculpture was only achieved in 1992, after 4 years of construction. It towers at almost eleven meters high (sixteen including its base) and weights an impressive thirty tons.
At five o'clock in the afternoon, the temple's bell rings the closing of Tocho-ji. Also don't miss the occasion to admire one of the most famous cherry trees 🌸 of Fukuoka, in full bloom in spring.