Ohori Park
Fukuoka's Great Park and its Japanese Garden
Add to my favorite places
Ohori is a large public park in the heart of Fukuoka City on Kyushu Island. A beloved leisure area for the inhabitants, many of them enjoy running around its pond or take a boat ride on it. The park includes the ruins of the city's castle and a Japanese garden.
In the heart of Fukuoka, Ohori Park's many pleasures are well-known from the city's inhabitants. The park was built in 1929 based on the West Lake of Hangzhou (China) traditional landscape type.
The park's main strolling course is a pleasant 2-kilometer long walk on a cobbled pavement around the large pond which spread on half of the park. Visitors are numerous, either for walking their dog, up to a running session or a bicycle excursion. Distinctive lanes for walkers, runners and bicyclers are materialized on the roads to facilitate their cohabitation.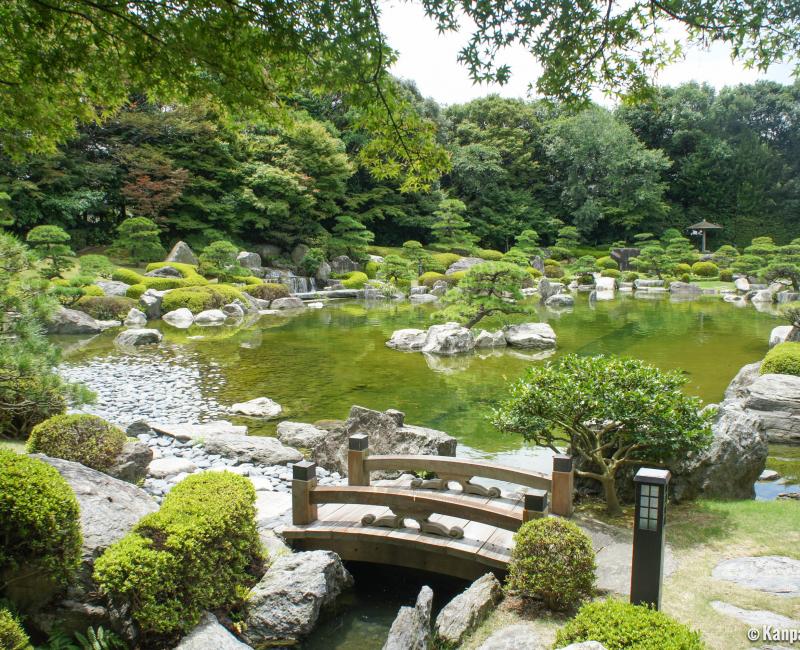 A traditional style pond
Other visitors just enjoy relaxing near the pond. As for couples, they might greatly appreciate a short boating excursion on the water or in swan-shaped pedal boats.
Ohori-koen is the largest park of the city, and its pond arranged from the remains of the castle 🏯's moats is crossed by a series of small charming islands connected by bridges. At the south-east of the pond, the wonderful Ohori Teien Japanese garden displays beautiful waterfalls in a green scenery on a 1,2 hectare size. Next to it stands the Fukuoka Art Museum.
The eastern part of Ohori Park is adjacent to Maizuru Park, where the ruins of Fukuoka Castle remain. Going south, you will find Gokoku shrine with its impressive golden architecture. However, feel free to skip the Starbucks as it is often crowded.
Until summer 2018, the city held a yearly firework festival, a Hanabi Taikai, in early August in Ohori Park, the Nishinippon Ohori Fireworks 🎆 Festival.