Momochihama
🏖 The Beach in Fukuoka
Add to my favorite places
Momochihama is a one kilometer long artificial beach part of the "Seaside Momochi" leisure resort built in 1989. It stretches along Hakata Bay, in the west of Fukuoka, on Kyushu Island in Japan. Young locals love the place for a relaxing time, sports activities, swimming in summer or going to Marizon, a stilt facility sheltering restaurants, shops and a wedding venue.
The capital of Kyushu Island is not necessarily the first place that comes to mind when looking for a beach 🏖 resort. However, when staying in Fukuoka on a nice weather day, a few hours break at Momochihama Beach are more than enjoyable.
More precisely, the beach is part of the "Seaside Momochi" complex (Umippi Beach), a modern area built in 1989 on Hakata Bay, encompassing the baseball stadium Fukuoka Dome, Fukuoka Tower and residential buildings.
A popular waterfront area
Momochihama Beach is a man-made, one-kilometer stretch of sand beloved by younger visitors. Various sports activities are available on the daytime, either on the sandy area (soccer, volley or rugby) or in the still waters (jet-ski, wakeboard or banana boat).
Swimming is authorized only two months in summer, but is not the locals' favorite activity, maybe due to the not-so-clear water, or to the few small jellyfish occasionally floating.
Families prefer strolling on the embankment along the sand, and beach huts on the sand provide shelter for particularly popular barbecue parties. At the end of the day, indeed, grills are lit up and people enjoy drinking, to the sound of a relatively bearable J-pop music.
As the sun sets, the beach and its surroundings, especially Fukuoka Tower, are enlightened with beautiful light-ups to admire in a pleasant atmosphere.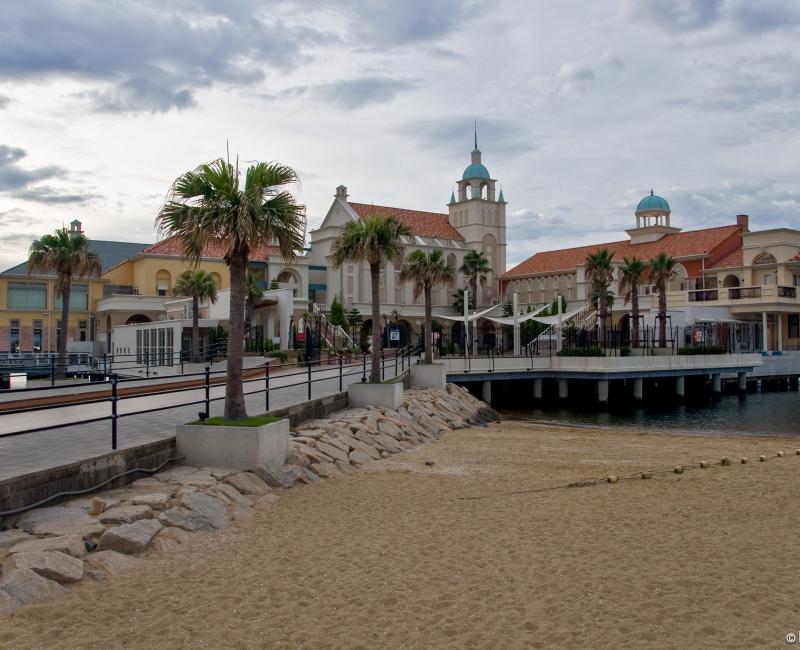 Marizon
A bridge connects Momochihama Beach to Marizon, a massive Western-style building that is mainly a wedding venue, but also includes restaurants and shops.
It is also the boarding pier for ferries departing to Uminonakamichi, the floral park located opposite, on the peninsula closing Hakata Bay.