Wakayama Castle
Kishu Domain's Crouching Tiger
Add to my favorite places
Wakayama Castle is a fortified keep at the mouth of Kino River, on Kii Canal in the heart of the eponymous city. Primarily built in the late 16th century, the construction was nicknamed the "crouching tiger castle" due to its animal-like appearance viewed from the sea. This local landmark is now still surrounded by a park and part of its former moats and makes a pleasant visit in any season.
In 1585, daimyo lord Hideyoshi Toyotomi annexed the land of Kishu (former name of Wakayama prefecture) and ordered his brother Hidenaga to build a brand-new castle 🏯. The fortified building's construction was placed under the responsibility of the Kuwayama clan, who completed a first version in a couple of years.
At the very beginning of the 17th century, warlord Asano Yoshinaga settled at the castle and added a main residence or Honmaru, a secondary residence Ni no maru and a third pavilion in the west Nishi no maru. Lastly, about twenty years later, Yorinobu, the tenth son of Tokugawa Ieyasu, also added two other residential areas named Suna no maru and Minami no maru and gave the castle its final look: the silhouette of a crouching tiger ruling over its domain.
Wakayama city was not spared by World War II bombings, and its castle was razed to the ground in 1945. The present days' concrete reconstruction was only inaugurated in 1957 at the request of the population. It is one of the city's must-see when visiting for the first time.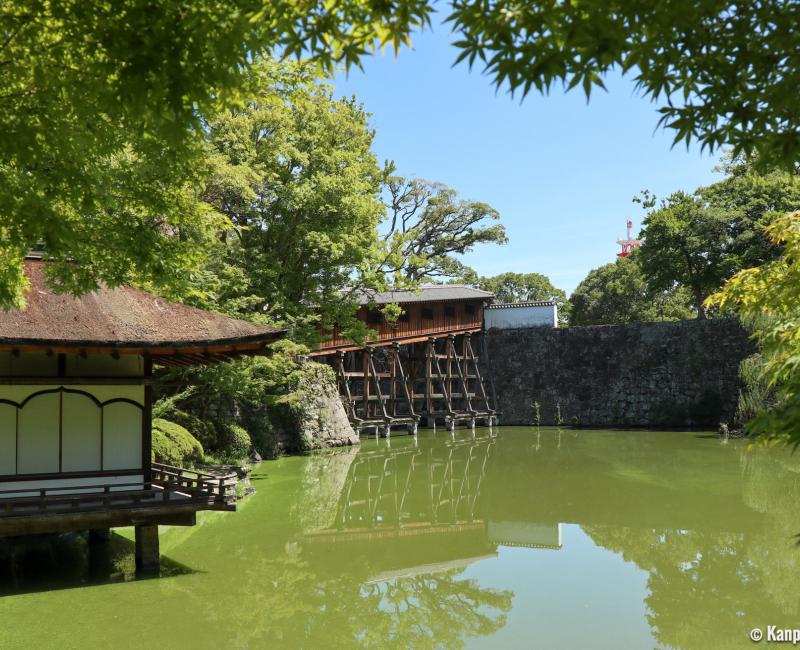 Reconstitution of the keep and its traditional park
When coming from Wakayama JR station, the visit starts at Ichinobashi bridge and the eastern Otemon gate, rebuilt in 1982. The park surrounding the keep offers nice walks through the green space of Ninomaru, renowned for its cherry blossoms in spring 🌸, and Momijidani Teien garden which, as its name involves, is especially beautiful in autumn 🍁. The Ohashi Roka is a particularly photogenic covered wooden bridge that makes crossing the moat memorable. Additionally, at the south of the grounds' limit, a small zoo offers a mild entertainment for a family outing.
Going upwards leads to the keep and its top floor. The indoor visit starts with a video documentary on the last mid-20th century's reconstruction. Then a collection of samurai armors, katana swords, banners, palanquins, and ancient maps illustrate the castle's daily life in its heyday. The last floor opens on a panoramic view on the city, the sea, the mountains and up to Mount Koya on a clear weather day.
Visiting the castle is a good introduction to Wakayama and its feudal past. You can try spotting the many names of famous historical characters who had important roles here, throughout the streets and other sightseeing places in the city. It is also possible to just walk in the park, without entering the keep, whose actual interest only lies in its observatory.