Aoi Matsuri
Heian Aristocracy's Procession
Add to my favorite places
Aoi Matsuri is one of the three most important festivals in Kyoto, and is held on May 15 each year. Several hundreds of participants clad in Japanese traditional costumes participate in the historical reenactment of a Heian period's imperial ritual. The procession perambulates from the north of downtown Kyoto, between the Imperial Palace and Kamigamo and Shimogamo shrines.
Aoi Matsuri is a historical reenactment and ritual reviving Heian-kyo, the former imperial capital, for one day. Some key figures:
A 1,400-year-long history;
2 ancient shinto shrines;
A 800-meter-long procession;
3 important performances;
500 participants, all donning traditional costumes, and especially wonderful kimono.
The origin of Aoi Matsuri is said to date back to Japanese Antiquity. To end a bad harvests period, emperor Kinmei (539-571) arranged for a spectacular celebration of the Thunder god and his family. The event provided the basics for the ceremony that is still held today: a parade led by two important characters. The one opening the march is the imperial power's messenger, mounted on a horse. He is followed by a Saio, a young women then chosen among the nobility, who will serve Kamo shrines' deities as a priestess. Her gown is particularly impressive: made of several layers of kimono, it weights 30kg and about three hours and the help of two persons are necessary to don it.
The current name of the event originates from aoi, the hollyhock, whose leaves adorn people and animals attires. Moreover, according to the legend, the mother of Kamo Wakeikazuchi, the Thunder god enshrined in Kamigamo, offered hollyhock flowers to be allowed to see her son again.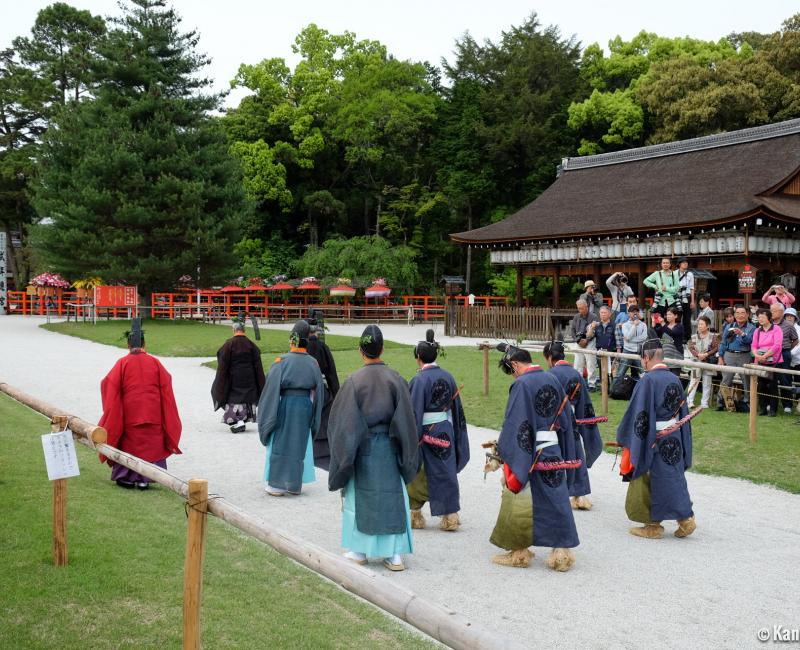 The procession's route
On May 15, at exactly 10:30 a.m., the festival begins at Kyoto's Imperial Palace. Its vast esplanade can host thousands of spectators who come to admire the first procession. Reserved seats are available behind fences, or it is possible to wait standing. Note that paid seats are available on a "first come, first served" basis. It is thus not recommended to book at the last minute as the only remaining seats will be on the last rows. Moreover standing up to take pictures will be frowned upon. It is thus strongly recommended to arrive early so as to secure a good place.
The first procession sees an animal parade with horses and an ox cart, a quite rare view in Japan nowadays. In a quiet and solemn atmosphere, participants proceed to the palace grounds' exit, and they leave in about 20 minutes.
The procession then continues in Marutamachi-dori and Kawaramachi-dori streets, along the Kamo River. It crosses the river at Aoi-bashi Bridge to reach the second meeting place: Shimogamo shrine, a little bit before noon. The second procession begins and develops in the sacred grounds.
The celebration stops for a short lunch break and resumes at the beginning of the afternoon for its final part, when the third procession leaves Shimogamo to walk to Kitaoji-dori avenue, crosses Kamo River two times and arrives in Kamigamo shrine.
The itinerary can thus be summed up this way:
10h30 a.m.: Start of the first procession from Kyoto Imperial Palace Gosho south gate;
10h50 a.m.: Parade in Marutamachi-dori and Kawaramachi-dori streets and Aoi-bashi Bridge;
11h40 a.m.: Second procession starting from Shimogamo Shrine;
2h20 p.m.: Resuming of the second procession and departure from Shimogamo-jinja;
2h40 p.m.: Parade in Kitaoji-dori street, Kitaoji-bashi and Misono-bashi Bridges;
3h30 p.m.: Final stop at Kamigamo Shrine.
As the day passes, the convivial aspects of the festival take more importance and help appreciating it. The crowd in thinner than in the morning, which allows for a good view on the participants, who parade only on foot. A short rest on a bench at a yatai street food stall is then very welcomed. Accompanied by Japanese traditional music, the procession somehow becomes a private Shinto ceremony. Aoi Matsuri is more of a testimony of the past rather than a popular festival.
Paid seating is available at the three places where the procession stops, but watching it for free is possible when standing in the streets along its itinerary. It is however recommended to choose one of the two shrines to attend to a historical performance in a realistic and authentic setting.
Other events are organized before May 15 as part of Aoi Matsuri:
A yabusame show (Japanese horseback archery), on May 3 in Shimogamo Shrine;
Two horse races on May 1 and 5 in Kamigamo Shrine;
And an archery contest on May 5 in Shimogamo Shrine.