Hiroshima Castle
The Carp Castle
Add to my favorite places
Hiroshima Castle is a Japanese fortified construction surrounded by a park and moats, located at the heart of the capital of Chugoku area. First built in 1591, it was almost completely destroyed by the atomic blast in 1945. The keep and a part of its secondary enclosure were reconstructed in 1958. Today, the castle is home to a museum and an observatory on the city.
Mainly and sadly known due to its nuclear bombing at the end of World War II, the city of Hiroshima nonetheless shelters ancient vestiges, especially from the Japanese feudal period. One of the most symbolic is probably its castle, nicknamed "Carp Castle," listed among the hundred most beautiful castles in Japan.
Its construction began in 1589, on the order of powerful lord Mori Terumoto, one of shogun Hideyoshi Toyotomi' s main vassals, and ended around 1599. The castle always played an important role in the development of the city and its economical power. On the contrary to others Japanese castles 🏯, Hiroshima's was characteristically built in the center of the city, in the middle of Hiroshima plain. Castles were indeed usually built on a height, on the top of a hill or of a mountain, for strategical reasons. Fukushima and Asano clans were the most influential in the city's history and lived here for twelve generations from the establishment of Tokugawa shogunate.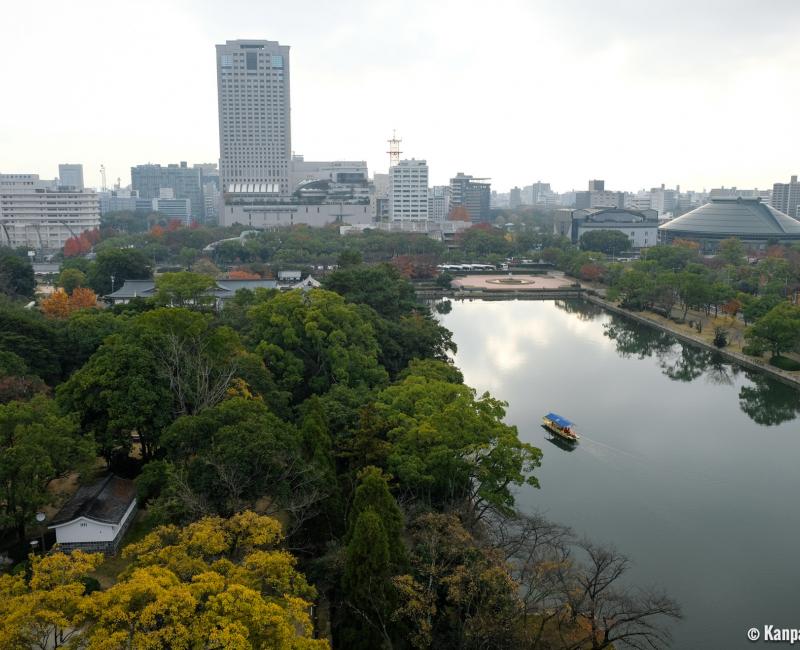 A Modern Reconstruction after WWII
Although it survived the dismantling of numerous castles during Meiji Era, Hiroshima Castle could not escape to the atomic bomb, that leveled it down almost completely. Thirteen years later, in 1958, its main keep was reconstructed in reinforced concrete, with wooden siding. As for its secondary enclosure, the Ninomaru, its main gate and its two turrets were also reconstructed, but with traditional techniques and materials.
The keep was renovated in 1989 and became a museum dedicated to Japanese feudal castles' culture and social classes in Japan's Middle Ages. Important to note: pictures are forbidden in most of the indoor parts, where swords, samurai attires and military objects are exhibited.
Hiroshima Castle is not very popular with Japanese tourists, and even less with foreigners, but the modest edifice is still a typical example of its times' constructions, whose features are enhanced by the nice hues of the changing of seasons. Moreover, the city frequently organizes activities to inform the public on an older and more attractive history than the 20th century's one.