Fuji Shibazakura Matsuri
The Most Famous Pink Moss Festival
Add to my favorite places
Fuji Shibazakura Matsuri is a flower festival held near Lake Motosu, at the foot of Mount Fuji, located in Fujikawaguchiko, in Yamanashi prefecture in Japan. The 2.4 hectares park amazes visitors in spring with 800,000 shiba-sakura flowers blooming during one month from mid-April.
In the Five Lakes area, Lake Kawaguchiko is renowned for its autumnal views of Mount Fuji surrounded with Japanese red maple trees. Although more confidential, Lake Motosu is also a sight to behold in spring with its vast flower lawns, hued in rose, violet and white in a vernal tribute to the sacred mountain.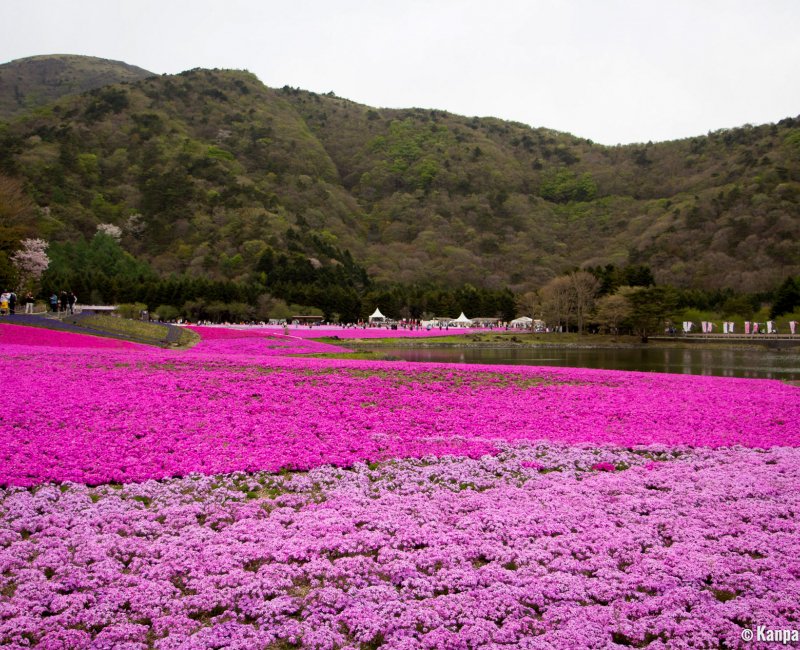 Shibazakura blooming and Mount Fuji
Shiba-sakura's scientific name is phlox subulata. It is a hardy plant also called "moss phlox" or "pink moss" for its creeping characteristics and vivid colors. Shibazakura bloom just after cherry trees, during April to late May. Its flowering is the occasion for a second o hanami, except you can't spread blue tarpaulin underneath!
Several different species of moss phlox are on display, as well as tulips, anemones, and muscaris, all adding a pleasant touch to the landscape. This festival is by the way an excellent spot for photographers. The park's maps are even marked with the best shooting spots to capture the flower scenery with Mount Fuji in the backdrop.
After filling your eyes with marvelous landscapes, you might need to fill your stomach: numerous street food stalls are gathered in a special area of the park. We recommend trying Yamanashi prefecture's specialty dishes, made of noodles and meat. Besides, Japanese classic deserts are all flavored with sakura for the occasion.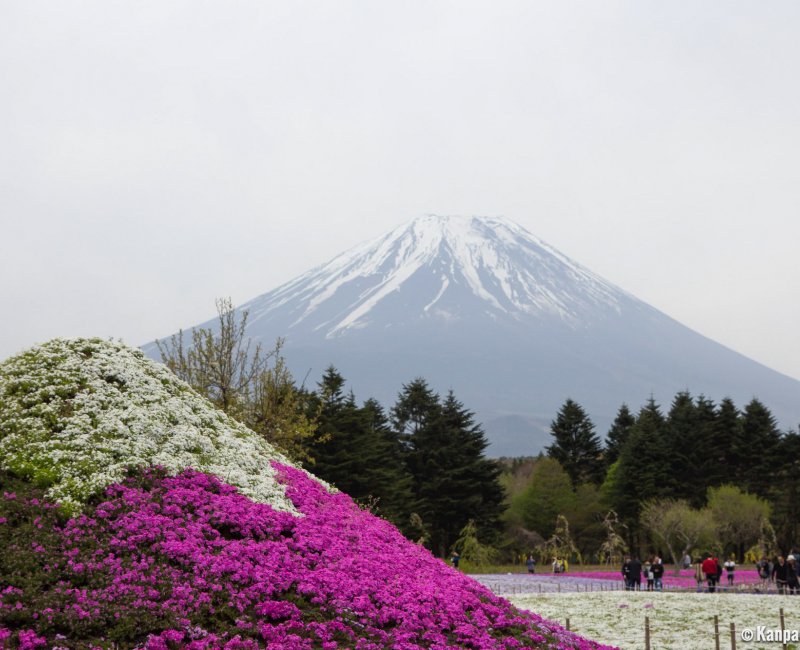 Visiting the Five Lakes area in spring
Shibazakura Fuji Matsuri is really worth the visit when traveling in the Five Lakes area in spring. It is a thoroughly thought touristic attraction, including path accessible to visitors with reduced mobility. Lake Motosu is laying on a plain, so the view on Mount Fuji is guaranteed, even though clouds may hide its snowy top.
This visit can be combined with Fuji-Q Highland amusement park, then Arakurayama Sengen shrine and the famous Chureito pagoda, offering another beautiful panorama on the region.