Kasuga Taisha
Nara's Lantern Shrine
Add to my favorite places
Kasuga Taisha is a Shinto shrine and Fujiwara clan's mausoleum located in Nara. Enlisted in the Unesco World Heritage, the religious complex is famous for its numerous suspended bronze lanterns and its stone lanterns that line up its main path.
It is often said that a trip is not so much about reaching the destination than the journey itself. This is quite true about Kasuga Grand Shrine whose aura can be felt well before you reach its actual premises.
The long path leading up to the shrine takes you through a fascinating landscape of woods interspersed with thousands of tall stone lanterns 🏮 covered in moss and lichen. In the midst of this sublime atmosphere, you may also stumble across shika deer, a typical sight around Nara, to the visitors' delight, as they love roaming the woods.
The scenery is however spoiled by the necessity of protecting the lanterns and the century-old roots from mass tourism and disrespectful behaviors from visitors. Therefore, several secondary paths have been closed and the sides are lined with ropes and multi-languages panels to forbid access or touching the lanterns.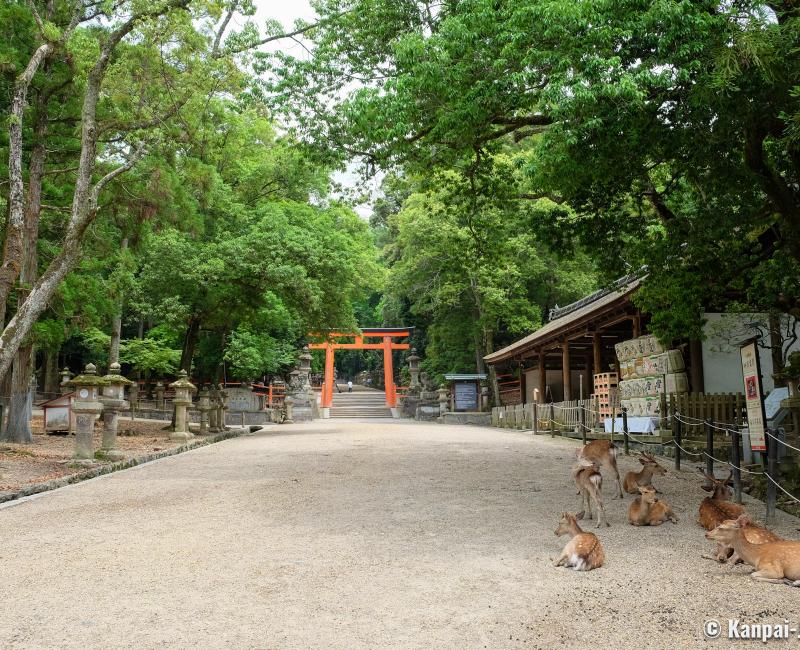 Thousands of lanterns for enlightenment
Walking through the entrance gate, you are faced with a set of delightful Shinto buildings that radiate serenity. The small bronze lanterns hanging by the hundred, a present from the shrine's worshipers, adorn the vermilion hue of the shrine's buildings.
Even though construction dates back to 768 and the middle of Nara period, the buildings have been largely rebuilt over the centuries. The shrine is dedicated to the protective deity of Nara and is a Unesco World Heritage site on account of the historic monuments of ancient Nara.
Two other particularly noteworthy places in the vicinity of the Shinto buildings are:
The botanical gardens of Shinen Manyo where wisteria reigns supreme in spring, and,
The primeval forest of Kasugayama (unfortunately closed to visitors) which stretches out behind the shrine in the direction of Wakakusayama.