Tamukeyama Hachiman-gu
The Shrine Protecting Nara's Great Buddha
Add to my favorite places
Tamukeyama Hachiman-gu is an old Shinto shrine located next to Todai-ji, at the limit of Nara Park and Mount Wakakusa, at the easternmost side of Nara's downtown. Built in 749, the site is closely related to Kyushu's Usa-jingu, the head shrine of Japan's Hachiman shrines. The visit is particularly enjoyable in autumn, under the crimson maple trees' foliage.
Tamukeyama Hachiman-gu is a secondary shrine, attached to a more prominent shinto site: Usa-jingu, located in Oita prefecture in Kyushu. Both worship the kami Hachiman, deity of war and protector the Japanese people.
The legend tells that the gods of Usa Hachiman-gu shrine came to Nara to support and protect the construction of Todai-ji temple and its Daibutsu-den (Grand Buddha Hall). Tamukeyama Hachiman-gu was built in 749 to thank these gods, and the deities are said to come back ever since on a yearly pilgrimage.
The annual festival of Tamukeyama Hachiman-gu partly retraces this peculiar story, and a mikoshi (portable shrine) procession is held for the occasion each October 5 to symbolize the visit of Usa gods in Nara.
Characteristic example of the 8th century syncretism, the shrine was originally named Todai-ji Hachiman-gu. It was only several centuries later, during Meiji Restoration in 1868, when the state enforced the separation of Buddhism and Shintoism, that the site was renamed from Mount Tamuke-yama on which it was built.
In addition to Hachiman, several members of the imperial family are also worshiped:
Emperors Ojin, Chuai and Nintoku,
Empress Jingu and Princess Okami.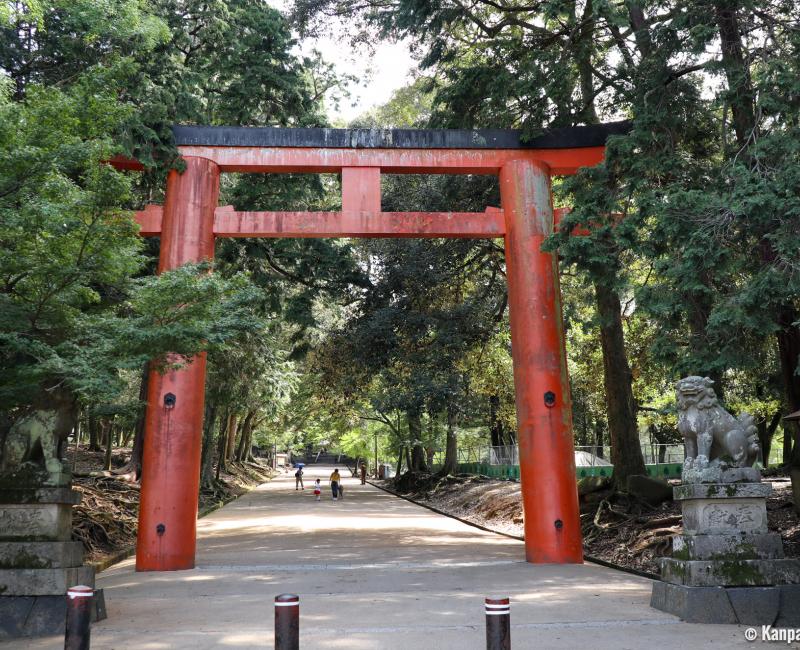 Contemplation of the maple trees during the koyo season
Mount Tamukeyama has long been renowned for its beautiful autumn landscapes, when the foliage of Japanese maple trees turns red and orange. Famous poet Sugawara no Michizane (845 - 903) made a reference to it in one of his waka Japanese classical poems, collected in the Ogura hyakunin isshu ("one hundred people, one poem [each]") anthology:
このたびは, Kono tabi wa
幣もとりあへず, Nusa motori aezu
手向山, Tamuke yama
紅葉の錦, Momiji 🍁 no nishiki
神のまにまに, Kami no mani mani

What can be freely translated as:
Just coming back from a travel,
I haven't brought nusa offerings yet,
However Mount Tamuke's autumn leaves,
Which are as beautiful as brocade,
Might be to the gods' taste…
(Nusa is a kind of wooden stick covered with long paper stripes for Shinto rituals)
Tamukeyama Hachiman-gu is not among the must-sees of Nara, and its buildings do not boast any spectacular architecture. It is conveniently located between two prominent historical sites, just behind the Todai-ji and towards Kasuga shrine, but many visitors just pass by without noticing it. So why not stopping by a few moments to pay your respect to the former emperors and empress worshiped here, and write a wish on an ema plate to have it granted by the shrine's gods?