Wakakusayama
On the Heights of Nara
Add to my favorite places
Wakakusayama is a 342 meters high hill located in Nara in Japan. All its walking trails lead to the summit from which unfolds a panoramic view of the former imperial capital and its park. The hill is set on fire in winter during the Yamayaki festival. In spring, it is drown in cherry blossoms.
Discovering Nara can be easily done on a single day trip, from Kyoto or Osaka for example. The counterpart is that many visitors limit their tours to some very touristy spots, often located around the large city park (Nara-koen) in its center. Nonetheless, it's easy to get outside of this area to reach a whole new perspective on the ancient capital. Wakakusa-yama may be the perfect example to this end.
To get there, walk to the park's eastern end: the entrance of the hill is located between the famous Todai-ji temple and Kasuga Taisha shrine. A traditional shopping street, lined with sakura 🌸 cherry trees, opens towards the entrance. Wakakusa is divided into several levels and an important number of visitors seem to choose not to tread the walking trail, but rather stay on this vast expanse of steep grass just past the entrance.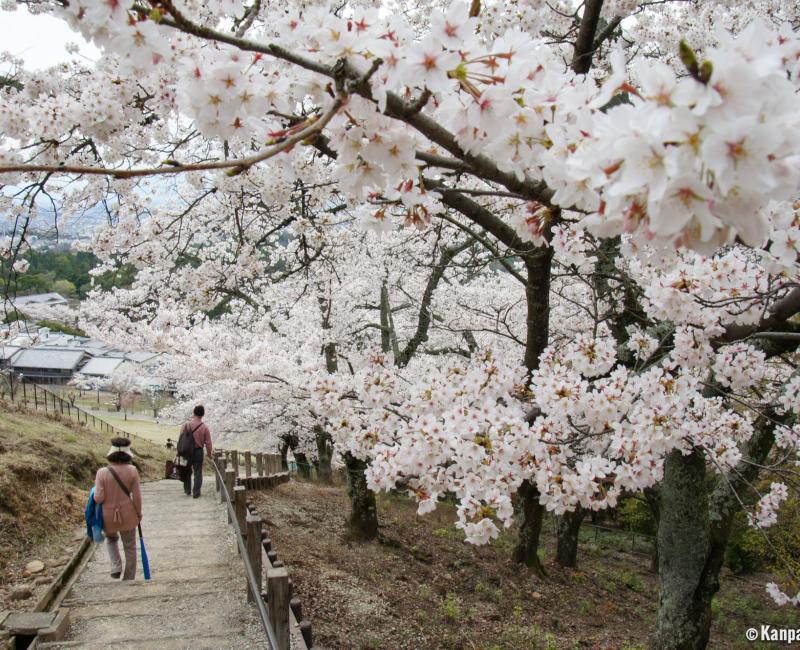 An easy hike for an unusual point of view on Nara
Our advice is to start the ascent, which is quite easy. In about twenty minutes, you'll have arrived at the first level from which the panorama of Nara is striking. The city's different main attractions are available in a new light and one can easily recognize all of its hot-spots, probably visited shortly before or after the ride.
From there, two routes are available: either complete the loop back to the starting area, or continue climbing away from the city center to reach other mountains.
A small warning though: access to Mount Wakakusa is possible only half of the year, during spring and fall 🍁, to protect its grasslands which are burnt every year on the 4th Saturday of January after some fireworks 🎆 are lit.