Doug's Burger
Miyako-jima's Authentic Burger
Add to my favorite places
Doug's Burger is a Japanese restaurant chain whose main shop is located on Miyako-jima Island, in Okinawa prefecture. Specialized in burgers filled with tuna or wagyu beef, it also offers delicious fried onion rings as a side dish.
Doug's Burger is a fast food restaurant chain specialized in hamburger dishes, created on Miyako-jima island in 2011, whose founder is an American of Japanese descent. An aviation and fishing passionate, he fell in love with the culture of Okinawa and decided to create his own company there. He then opened his first burger restaurant and started to source his ingredients to local farms and fisheries working in the archipelago's waters.
Tender beef or tuna patty
The menu is simple and clear: a few variations are offered in the burger's choice, served with a side dish and a drink. Doug's Burger's signature is its patty that can be based on meat or fish. Therefore, there is a choice between:
A tender wagyu beef burger, made with meat sourced from Japanese black cattle from the neighboring Tarama-jima (多良間島) island. In the same way as wagyu Kobe beef, this meat is officially labeled "Tarama-beef"; or,
A yellowfin-tuna burger, from fish caught in the tropical water of the area. Its flesh is red, firm and particularly delicious after cooking.
The quality and freshness of the ingredients naturally have an impact on the dishes' prices: allow on average from ¥1,400 (~US$10.36) to ¥2,500 (~US$18.49) for a burger in the upscale category.
The sauce for the tuna patty is seasoned with shoyu (soy sauce) and wasabi, and reminds of the basic flavors of Japanese traditional cuisine. Likewise, instead of the usual chips, we highly recommend trying the fried onion rings, that are particularly delicious and have a subtle taste of the dashi used to make the fritter batter.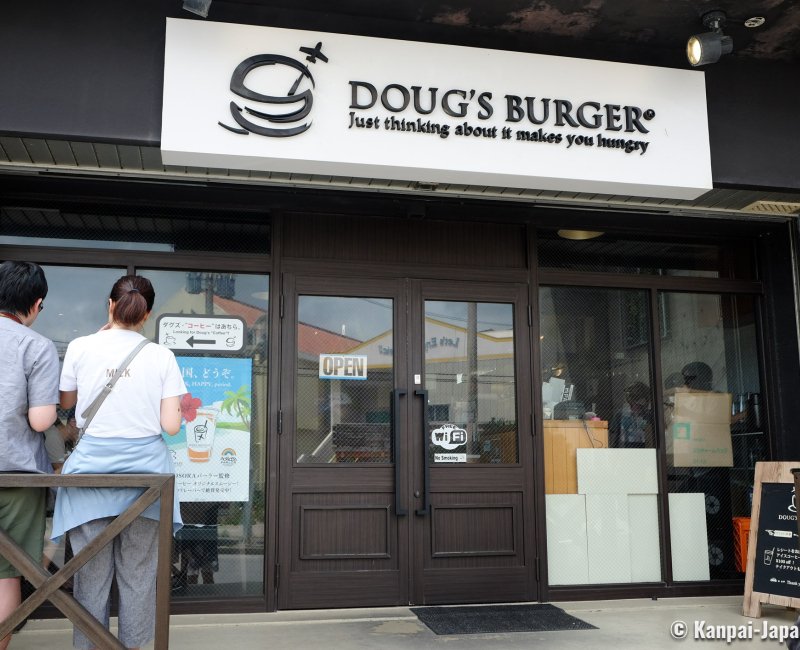 Local and quality fast-food
Located between Miyako-jima airport and Hirara downtown, the main Doug's Burger restaurant is easy to reach by car 🚙. Takeout is available and the service is fast and efficient. Fast-food amateurs can eat a good and local menu, at a slightly more expensive average price than the other fast-food chains.
Note that the brand, which is owning restaurants in Ishigaki, Naha, Hiroshima, Nagoya and Taichung in Taiwan, belongs to the Doug's Group that is also operating the Doug's Coffee and Doug's Grill venues.