Fraser Residence Nankai Osaka (Review)
Apartment-hotels in Namba
Add to my favorite places
Fraser Residence Nankai Osaka is a serviced apartment type accommodation solution, located at the exit of Nankai-Namba station, in the south of Osaka downtown. Its fully furnished apartments with minimalist decoration are very convenient when traveling for business or with children.
Saying that Namba was greatly transformed over the last few years is an understatement. From the nightly entertainment district of Kansai' s large city, the area quickly transformed into an open air supermarket for Asian customers who are not always selective of what they buy, considering the countless drug-stores that opened in stead of the former historical shops.
However, Fraser Residence Nankai has a range of premium apartment-hotels with a bird's eyes view on Namba Parks. Located a few minutes' walk from the station, the area is particularly well supplied with small restaurants for a casual meal and shops for daily purchases.
In the lobby, a bar (often very noisy) is contiguous to the reception and shares the place with the hotel 🏨. International customers (many Chinese visitors, as in the rest of the area) gather there, especially for themed parties. We stayed at the eleventh floor, so we cannot guarantee that the noise did not trouble the lower floors, but the only crossing of the lobby to enter or exit proved an uncomfortable experience.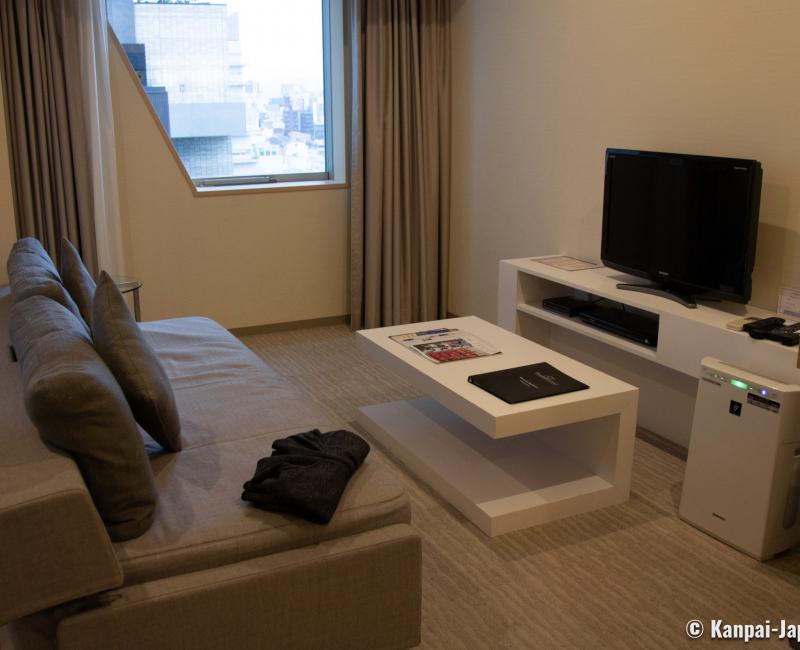 Large, pleasant and well furnished apartments
Fortunately, the service level regarding accommodation helps to forget this drawback. There are three types of apartments:
The 28m² studio with a bathroom and a kitchenette,
The ~42m² apartment, with one bedroom + dressing and bathroom and a small kitchen (the one we stayed at),
The 77m² apartment, with two bedrooms with closets, bathroom, shower room and kitchen space.
The building, while not so old, was nonetheless spoiled by outdated details. Thus, the bathroom 🛁 without window (except in the largest apartments) was furnished with a cheap shower curtain, and the faucet's pipes were so narrow that water gushed and it was difficult to have hot water. Spots on the walls and the carpet showed the place was used. Lastly, the air conditioning was rather loud.
Other services, however, were more interesting. The apartment was wide enough to allow moving around easily. Bedding was comfortable, and the room service allowed to chose what linens should be replaced or not. An Android smartphone 📱 with Internet 📶 access was furnished, and national calls offered. The flooring was a mix of parquet (in the kitchen and the entrance) and of carpet (in the living-room and bedroom).
Nankai Fraser Residence mainly targets families and it offers an overall good service despite the few critical drawbacks we mentioned.