Konjakukan Museum
The Evolution of Osaka Cityscape Over Time
Add to my favorite places
The Osaka Museum of Housing and Living or Konjakukan (in Japanese) is at the northern entrance of the long Tenjinbashi-suji street in Osaka. Opened since April 2001, the institution provides an experience of the daily life in Osaka from the end of the Edo period (1603 – 1868) and throughout the Meiji, Taisho, and Showa eras.
Mainly known under its English name The Osaka Museum of Housing and Living, the Konjakukan Museum offers a realistic and real-life insight of the living and the housing in the old Osaka, and more precisely between the 1830 and the 1950s. The exhibition is divided into 2 large areas:
The first one is the reconstitution of a lively street in 1830 Tenjinbashi district and during the Tenjin Matsuri festival,
The second one displays the evolution of the living spaces and lifestyles in Osaka, from the beginning of the Meiji era (1868) to the Post-war period (1950).
For a more immersive experience, it is recommended to rent a yukata 👘 at the museum to walk in the exhibition dressed in a Japanese traditional attire. This activity is as pleasant as popular, and it is not unusual to wait for wait a couple of minutes before choosing a festive outfit and donning it. It is however possible to start the visit while waiting for being called by the staff.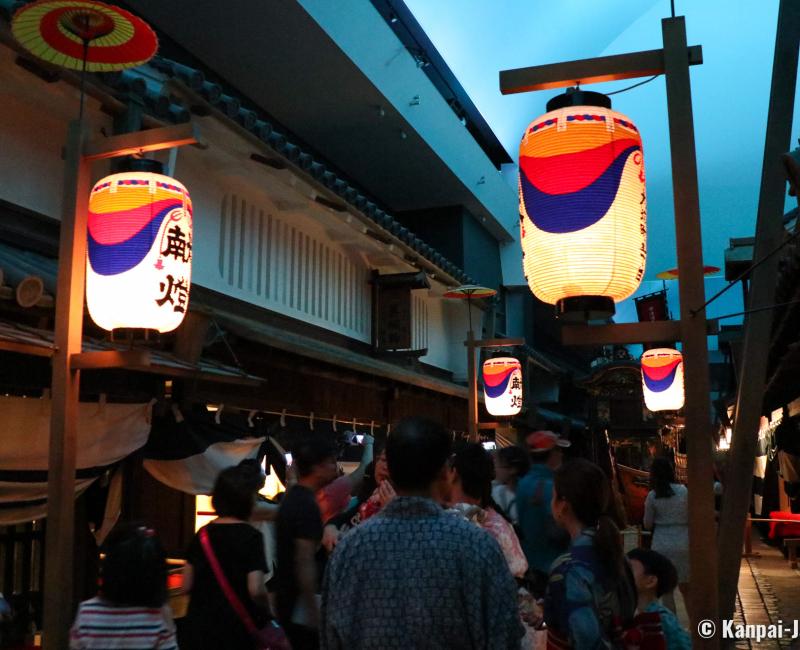 Reconstitution of a Japanese street during a popular celebration
The discovery thus begins in a typical street of Osaka, bustling with the city's summer great festival: Tenjin Matsuri. The daytime and the night, as well as their related ambiance are recreated in a very well-done manner by lighting. The background music, the firework projections on the ceilings and the crowds of visitors clad in yukata feel like living the real event and one almost forget being in a museum.
Decors include a traditional toy shop with real toys to play with, public baths (with projections every 45 minutes), an ancient Chinese medicine store and traditional merchants shops built in the times' construction techniques.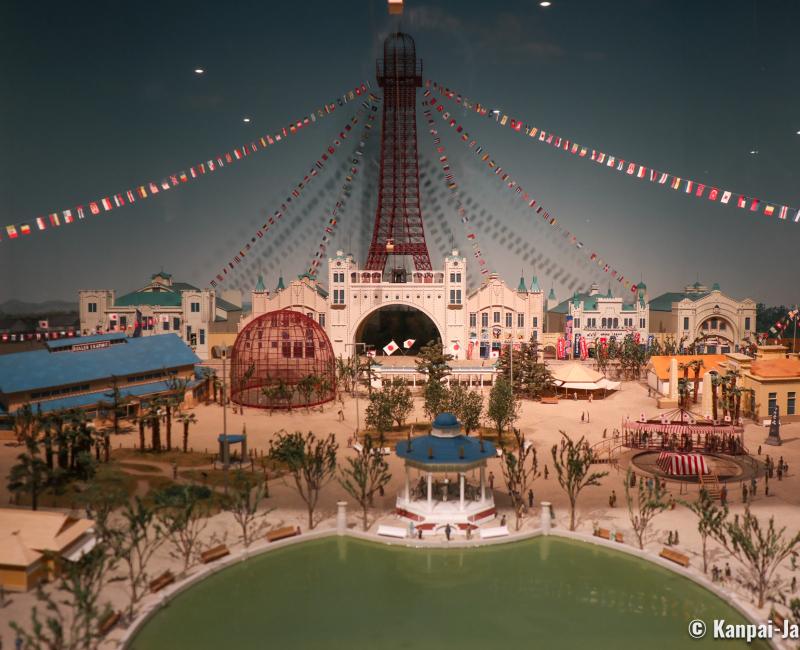 What was life like in past-time Osaka?
The lower floor displays an exhibition themed on Osaka's more modern housing. The evolution of the city's 4 large districts is described:
Shinsaibashi (central district),
Umeda (in the north),
Nipponbashi and Shinsekai (in the south).
Dioramas provide miniature reconstitutions of 6 Osaka typical living spaces from 1868 to the end of the 20th century, with as a specific example the Sakai-suji avenue and the modern houses of commuter towns.
In the last part, daily life items and household appliances of the 1950-1960s (fridge, toaster, sewing machine, etc.) are on display.
Short but informative explanations in English are available all along the course in this museum of local history, sometimes under QR Codes to scan. The lively and self-explanatory visit is a brief escape from the present time and will delight explorers of all ages.