Ishiyama-dera
The Temple of the Sacred Stone
Add to my favorite places
Ishiyama-dera is a temple of the Shingon Buddhism, located in Otsu, at the southern shore of Lake Biwa in Japan. Its buildings are scattered among an opulent nature that offers new beautiful landscapes at each change of season, and are to be discovered during a steep hike on the mountainside.
Along with Hieizan Enryaku-ji, Ishiyama-dera is one of the two Buddhist gems of Otsu. Located in the south of the city, along Seta River that wells from Lake Biwa, the temple was built on a massive formation of wollastonite, a type of white stone, for which the place was designated Special Natural Monument of Japan. Many cultural events of importance are also part of its history.
Founded in 747 by Roben, on the order of Emperor Shomu, Ishiyama-dera developed mainly during Heian period (794-1185) when it became a place favored by the worshippers of Kannon, the Bodhisattva of compassion, a cult quite appreciated by Heian's aristocrats. It is the thirteen temple among the 33 to visit to perform the Saigoku Kannon Pilgrimage throughout Kansai.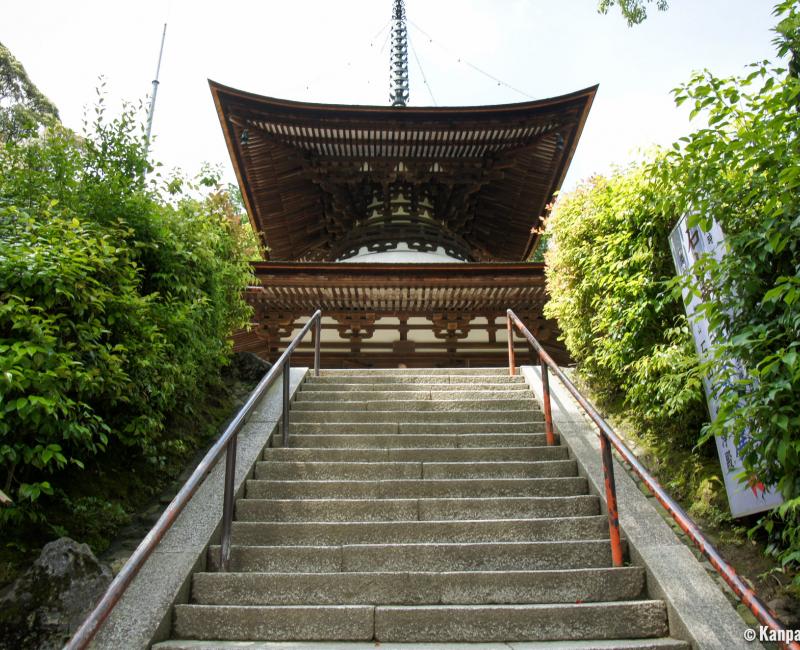 Literature's temple
It is said that in August 1004, Murasaki Shikibu confined herself at the temple during seven days. While she was viewing the full moon one night, she imagined the storyline for The Tale of Genji, the oldest novel in the world. One room of the temple's main building was afterward named "Genji-no-ma" and dedicated to this legend.
This building, Hondo, is by the way the oldest building in Shiga prefecture and designated National Treasure of Japan. It is surrounded by Tahoto, a splendid pagoda built in the 12th century as well, by feudal lord Minamoto no Yoritomo, and an old bell, dating back to a thousand years.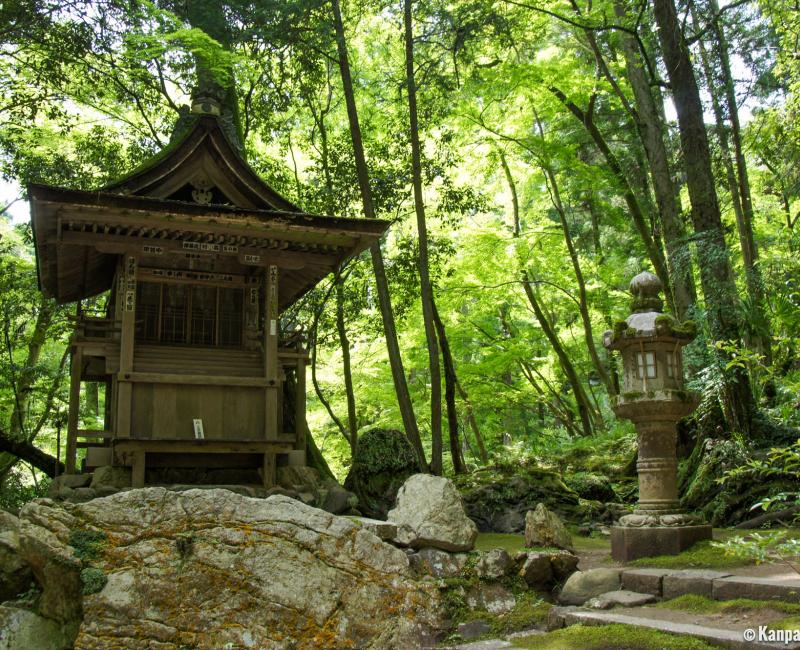 A picturesque trail and natural environment
Ishiyama-dera is the ideal place to walk on the mountainside, among ancient pavilions and pagodas preserved in a wonderful natural landscape. The temple grounds cover about 12 hectares! And some stairways are steep but the environment is so varied and rewarding that it is a pleasure to make a few efforts to enjoy its serenity.
The temple's master piece is a 5-meters high statue of Buddha, dating back to Heian period, which is only shown to the public every 33 years, by imperial decree. It last occurred in 2016, so the next ceremony will be held in 2049! On a more frequent basis, Ishiyama-dera, also known as "the temple of flowers," sports vivid seasonal colors such as:
The blooming of the sakura 

🌸

, after the flowering of its 400 plum trees at the end of winter and the beginning of spring;
The vibrant red of the momiji 

🍁

maple leaves in fall.
In 2016, the temple announced the release of an animated short film to illustrate its legends, allowing to discover the original story of its creation, as well as the story about Genji. This movie is shown each year in Rennyo Hall during the autumn festival.