Matsukiya
The Omi Beef Restaurant in Otsu
Add to my favorite places
Matsukiya is a restaurant specialized in meat and its main store is located in Otsu, in Shiga prefecture. The restaurant serves Omi beef, one of the oldest wagyu cattle in Japan that can be enjoyed raw as well as cooked.
Omi beef (Omi is Shiga prefecture's former name) has long been overshadowed by its neighboring counterpart from Kobe. Amateurs consider Omi beef the oldest and best wagyu beef in Japan, and it is said that it had greatly contributed to Kobe beef's reputation, partly due to historical misconception.
The origins of Omi Beef
The origins of Omi beef can be traced back to the 16th and 17th centuries and the country's unification. It was then first introduced to feudal lord Toyotomi Hideyoshi's table. Likewise, this luxurious dish was greatly appreciated during the Tokugawa shogunate.
During Meiji era (1868 - 1912), Omi beef consumption democratized, and the meat was shipped by boat from Kobe port, to supply especially the Japanese capital. At the time, the products had frequently their origins labelled from the name of their shipping port. That is why Omi beef was not distinguished and included under the appellation "Kobe beef." This name, that gained national and worldwide fame, benefited from Omi's meat quality, and people ate it without knowing nor being aware of the difference.
It was only from the end of the 19th century and the completion of the first railways connecting the area that beef trading could be done directly from Shiga prefecture, and Omi beef could recover its original name. However, the reputation of regional Wagyu was already established. Since then, the label Omi is struggling to be recognized as a genuine Japanese beef cattle. There is presently about eighty Omi beef farms.
Unlike Kobe beef, whose meat shows a strong marbling, Omi beef's meat is well-marbled with a rich and powerful flavor. Moreover Omi beef can be prepared in several ways, whereas Kobe beef is only eaten grilled or in fondue.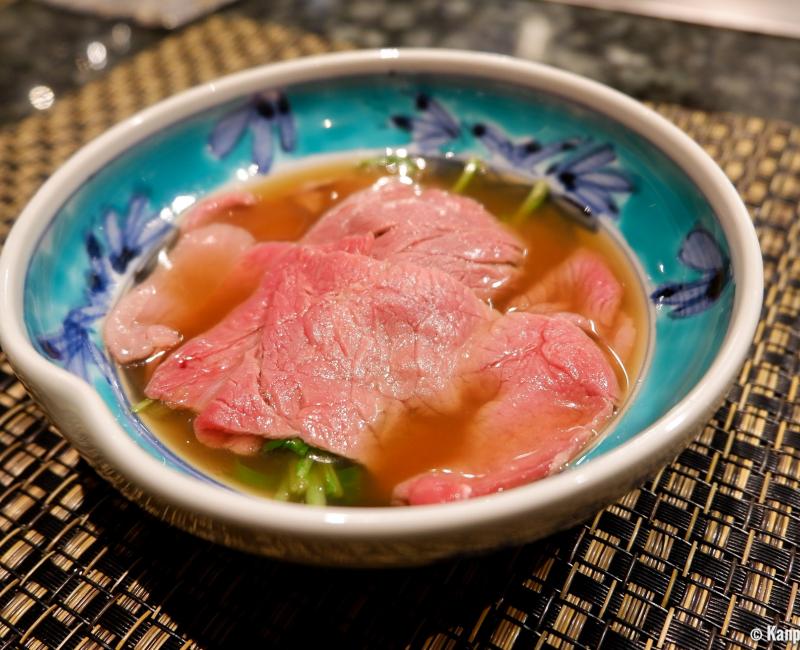 At Otsu Matsukiya's
Thanks to excellent chefs, Matsukiya offers a discovery of Omi beef's unique flavor. Kyoto can boast a secondary establishment, but the main restaurant Honten is in Otsu, close to Seta River's mouth connecting to Lake Biwa.
The restaurant spreads on three floors, one of which can be partitioned off for privacy. There are several menus to enjoy Omi beef in different cooking styles:
Sukiyaki or shabu-shabu Japanese fondue,
Grilled as a steack, or,
In Kappo discovery menu that we particularly recommend, with variations in four other sub-menus.
Obune Kappo menu is certainly the most impressive. Each of its dishes stimulate the senses, and the plates parade with explanations from the chef. Naturally, other local and seasonal products (fruits, vegetables, fish and seafood) are also highlighted, but the core of this incredible menu is Omi beef. It is served in fried croquettes koroke, in a shepherd's pie-style dish or marinated and raw in nigiri sushi 🍣. All of these cooking styles are naturally extremely delicious. The restaurant also offers a great range of wine and sake 🍶 associating perfectly with the recipes.
In a quiet and lightly dim atmosphere, the staff seat the clients at a table embedded with a hot plate where the meat is cooked right before their eyes. Matsukiya is a good address in Otsu and it is a shame not to indulge in this delicious beef of ancient origins.

This article was written after tour sponsored and organized by
Otsu
City Tourism Association. Kanpai has been invited and guided but keeps a total freedom of editorial content.