Matsuyama
Shikoku Island's thermal capital
Add to my favorite places
Matsuyama is the capital of Ehime prefecture, in the north-west of Shikoku Island. The city is home to one of the last twelve Japanese castles preserved from Edo period, as well as to the very popular Dogo Onsen, an old thermal bath facility from the 19th century, whose architecture is wonderful.
🚧 Renovation in Progress
Renovation works in Dogo Onsen starting in 2019 to 2026 (baths are closed one after another)
Matsuyama City is an important landmark to discover when visiting the archipelago's smallest of the four main islands. The city's economic and cultural attractiveness goes far beyond Shikoku's borders. Amateurs of Japanese literature enjoy visiting the setting place for Natsume Soseki's famous novel Botchan.
An original castle
Matsuyama Castle stands above the city, and was miraculously kept intact since 1868, despite the numerous battles and wars Japan had to face. From the fortified building standing on top of Katsuyama hill (hirayama-jiro japanese castle 🏯 type), a wonderful view of the city and of Seto Inland Sea is offered to contemplation. About 200 cherry trees 🌸 are planted around the castle allowing for an awesome view during blooming season, between late March and early April. A ropeway is available for an easier access.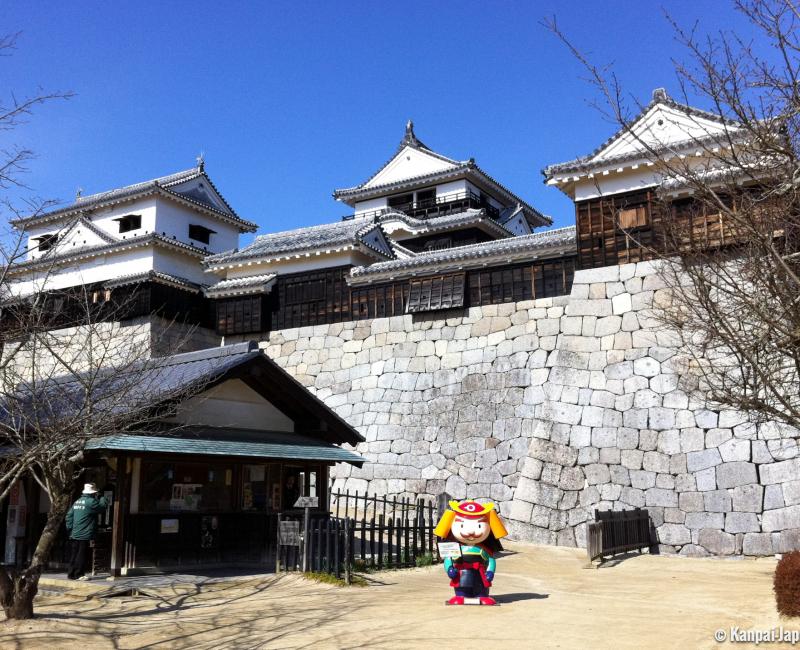 Dogo Onsen Area
After a stroll from the medieval fortifications to Ninomaru garden in downtown Matsuyama, visitors quite naturally head to the north-east to find one of the oldest and famous baths of Japan, Dogo Onsen ♨️ that even the imperial family occasionally visits.
The main attraction of this small thermal district is without a doubt its main building Honkan. Built in 1894 during Meiji Era (1868-1912), Honkan is a labyrinth of staircases, corridors and rooms, in the purest traditional style of wood and tatamis. The building is especially popular with foreign tourists, as it hugely inspired Hayao Miyazaki when he created the animated movie Spirited Away, released in 2001.
Several bath courses are proposed in Dogo Onsen Honkan and we recommend choosing the most comprehensive, although spending the night there is not necessary. Here fantasy and reality don't allow space for disappointment: bath amateurs will come back soothed after a dip out of our time in baths of promising names (Tama no Yu: the "soul's bath," Kami no Yu: the "Gods' bath").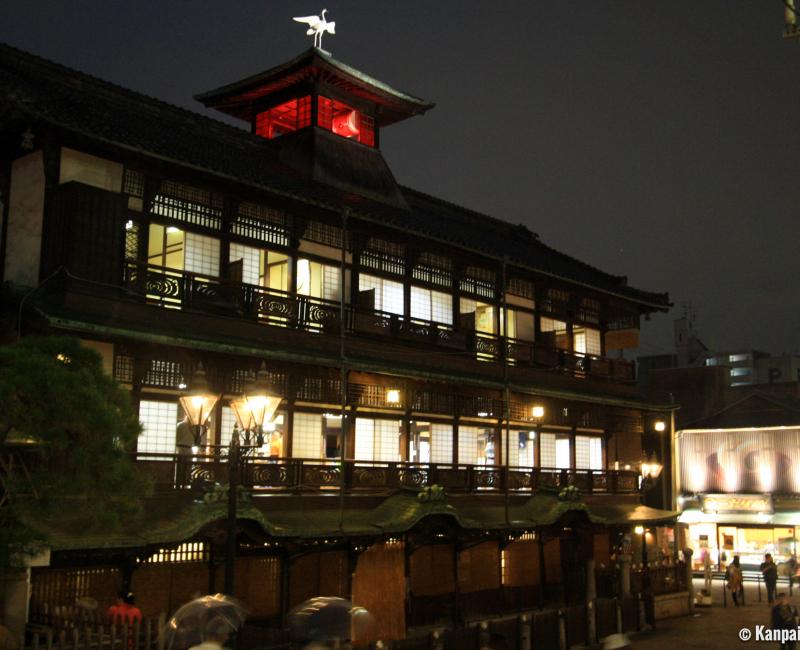 Ishite-ji temple
Located near Dogo Onsen, still in the north-west of Matsuyama's downtown, Ishite-ji temple receives more visitors as it is the 51th temple out of 88 on the famous Shikoku pilgrimage trail. According to the legend, Emon Saburo, a former rich merchant, ran desperately through Shikoku's trails to find priest Kobo Daishi. When he finally did, Kobo Daishi listened to his last words and put a stone in his hand. Emon was later reborn as a child holding a stone in his hand, which he offered to the temple, hence its name of Ishite-ji, meaning "stone-hand temple."
Several buildings of the temple grounds, such as Niomon Gate, are enlisted in the National Treasures or Important Cultural Assets of Japan. The visit continues underground in a lovely tunnel, punctuated by stone statues and leading to the inner temple, characterized by its original gilded dome.
The castle, Dogo Onsen and Ishite-ji are not-to-be-missed places, but Matsuyama also enjoys a quiet atmosphere protected from mass tourism, and is an excellent stop in spring. Traveling in the city is made easy thank to the tramway, parts of its facilities dating back to Meiji Era. Moreover, as Matsuyama is close to Imabari, it can be an easy visit after traveling on the Shimanami Kaido.