Atago Jinja
The shrine on Tokyo's highest hill
Add to my favorite places
Atago Jinja is a small Shinto shrine standing on a hill, 26 meters above sea level, in Minato ward in southern Tokyo. Built in 1603 and reconstructed in 1958, it is characterized by its high stone steps connecting numerous pavilions hidden in a luxuriant natural setting.
There are several Atago shrines dispersed throughout Japan: Fukuoka, Kameoka in Kyoto, and Minato in Tokyo. The latter is the one introduced here.
Atago Jinja was built in 1603 on the order of famous Shogun Ieyasu Tokugawa, at the top of Atago Hill. At the time, it offered a clear view of Edo and visitors could see as far as Mount Fuji 🗻. Presently, the view is obstructed by numerous buildings. It remains, however, the highest natural hill in the 23 wards of Tokyo.
Atago Jinja was used as an observation point to watch for fire 🔥—be it accident or arson—as it was an extremely feared and frequent disaster. The fire spirit, Homusubi no Mikoto (also known as Kagutsuchi), is naturally the main spirit worshipped in the shrine.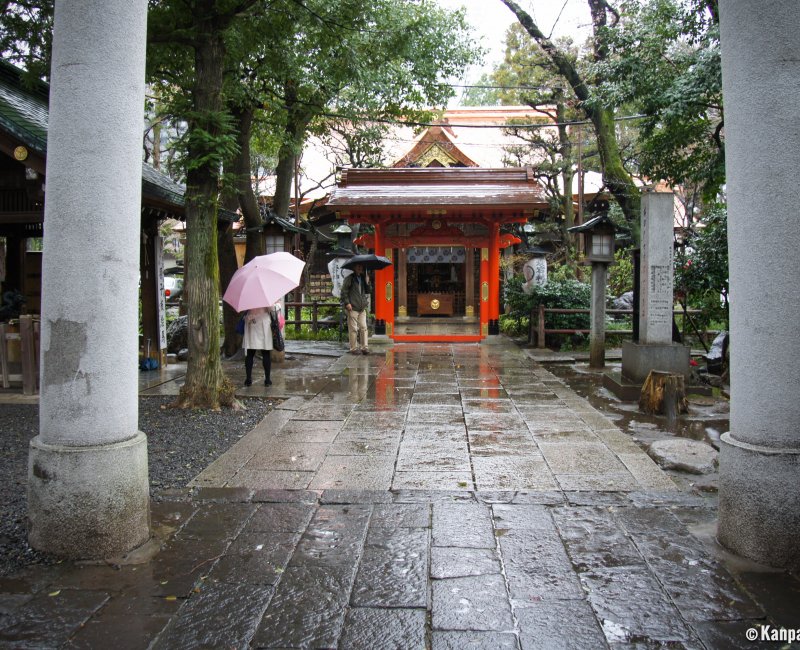 According to the legend, the shogun demanded his retainers fetch a plum tree branch from the top of Atago Hill. However, no one dared to fulfill his request, as it involved climbing 86 steps of a steep stairway on horseback, a very difficult and dangerous task. The shogun was on the verge of bursting with anger when a young and ambitious samurai commenced climbing the stairs. He retrieved the plum tree branch and successfully handed it to the shogun, who was delighted.
Since then, the stairway has been named Shussei no Ishiden, literally "the stone steps to success." Currently, the shrine and its stairway are popular among the employees of the surrounding business district, who come to pray for professional success, in a similar fashion as in Hie Jinja in Akasaka.
If you climb the stairway, don't forget to use the outer edges of the steps, as the center is dedicated to the path of gods. People with reduced mobility can use the lift a few meters from the stairway. After getting through the small torii ⛩️, a lovely Shinto stroll unfolds, with a pond filled with koi carps.
Atago Jinja was rebuilt in 1958, but the place still retains its original charm.