Hibiya Park
The Western Style Garden in the Heart of Tokyo
Add to my favorite places
Hibiya Park is a European style public garden located in the continuation of the moats of Tokyo Imperial Palace, in central Chiyoda ward. A stone-throw away from Yurakucho and Ginza districts, Hibiya Park offers the neighboring skyscrapers' office ladies and salarymen a short break beneath the trees. It is also a venue for open-air animations such as fairs and concerts.
Just on the other side of Kokyo Imperial Palace's moats, Hibiya Park contrast with its liveliness and its not so traditional aspect. And for a good reason, it is the first Western-style garden of Japan, opened to the public since 1903. Of a rather vast surface and surrounded by tall buildings, it is divided into several green spaces, including historical monuments and cultural and sports facilities, such as:
Two flowers gardens;
Two main ponds and a great fountain, the symbol of the park;
A large lawn to picnic and let the children play;
Several tennis courts;
A health footpath;
Pavilions to use as open-air event venues and,
A library.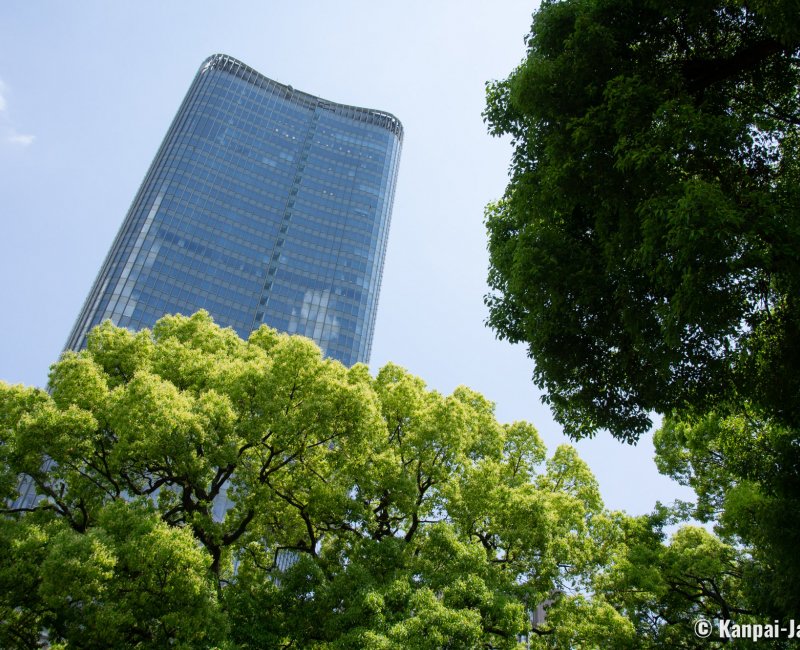 Outdoor leisure
In a very green environment and sheltered by the large trees' shade, employees of the financial and government districts nearby combine a nature break and a sport session. At night, Hibiya Park is also animated with frequent cultural and festive events such as:
The park's alleys are therefore enabling relaxation and conviviality, with food and drinks stalls depending on the park's events calendar.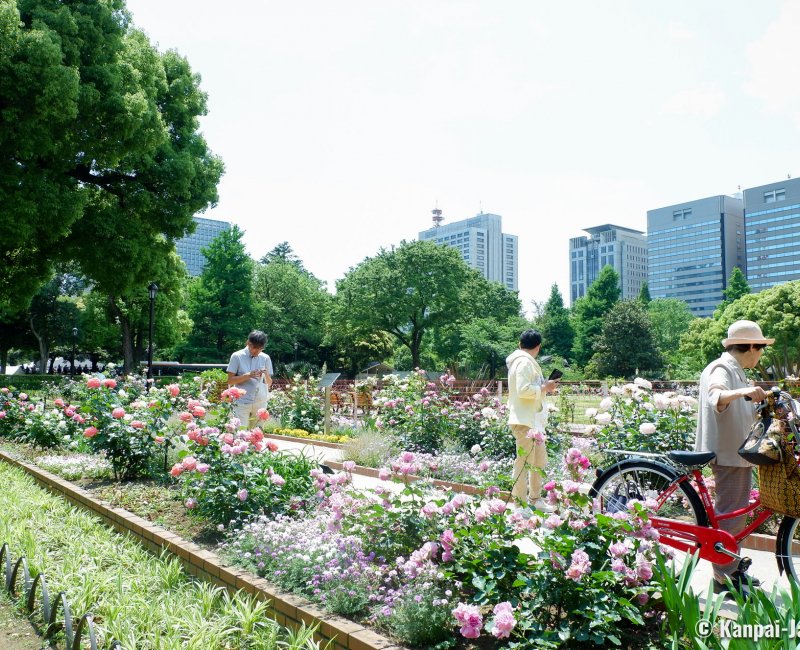 Flowers all year round in the park
Moreover, while it does not seem as strictly maintained as a classical Japanese garden, Hibiya Park also offers the most popular flower blooming of Japan, namely:
Cherry trees, azaleas, and a rose garden in spring;
Hydrangeas and lilies in summer;
Red maple trees and golden ginkgo in autumn.
For an overview of Hibiya Park and the moats of the Imperial Palace, we recommend the terrace of the Parkview Garden in Tokyo Midtown Hibiya shopping mall just across the public garden. The view is pleasant at nightfall with the nightly illuminations of the city. On a side note, a statue of Godzilla was placed near the entrance of the shopping facility.