Tokyo Beer Gardens
🍻 Outdoor Beer Bars in the Capital
Add to my favorite places
The beer gardens are ephemeral beer bars on great buildings' rooftops or in parks under the shade of trees, in the heart of large cities like Tokyo. Gathering at beer gardens in the evening with friends or colleagues is one of the favorite activities of the Japanese. There, they enjoy a laid-back moment with a good fresh beer and grilled meat.
The beer 🍺 gardens (from the German "Biergarten") appeared in Munich in the 19th century. They were most of the time temporary summer bars in connection to breweries, laid out in large outdoor areas where anyone could come with their own food, as long as they bought the beer. The concept later traveled to Japan where it became one of the Japanese city-dwellers' top activities in summer, along with the traditional hanabi fireworks 🎆 and matsuri.
When sunshine disappears and temperatures cool down to a more bearable level, the beer gardens welcome their evening guests. Most of them have booked their table, eager for refreshment and relaxing while drinking and eating, in a laid-back summertime early bird dinner.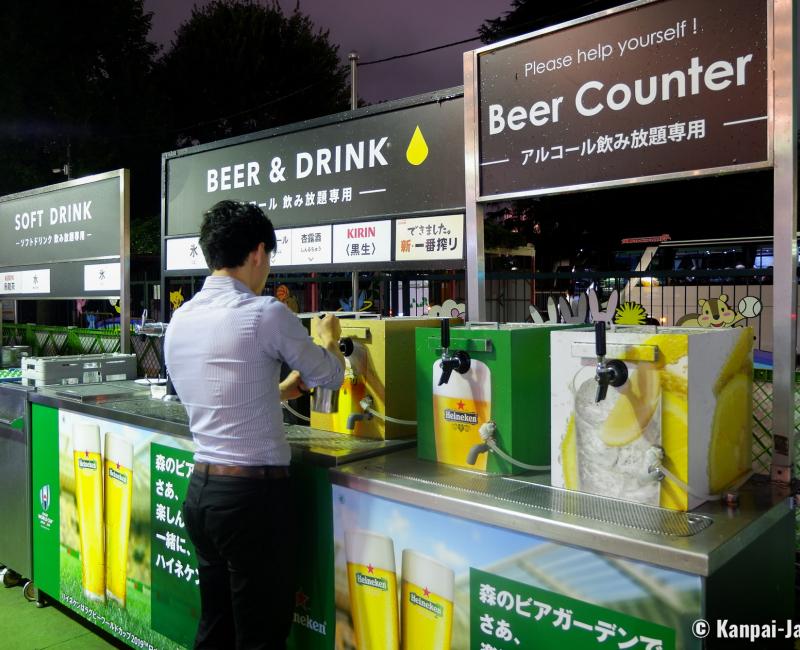 Varied menus with beer and all-you-can-eat meat
The large table rows are divided in sections and are always close to a self-service draft-beer tap. One can choose among a large variety of Japanese and international draft-beers. Or one can also create one's own Sawa cocktail (from the English "sour"): a very popular sparkling alcoholic drink made of soda, shochu liquors and fruits or citruses. Some bars even line up wine and sangria. Everything is generally available on an all-you-can-drink basis on a limited time (usually about 2 hours), in the nomihodai (飲み放題) concept that Japanese people love when they are going out.
Excessive drinking put your health at risk. Alcoholic beverages should be consumed in moderation.
As for the dishes, meat lovers will rejoice. The main types of meat are pork sausages to grill, small beef rib steaks and a little bit of chicken or lamb. The quality of the meat and the cooking methods available vary according to the place and are sometimes priced by the plate. In the same manner as for the drinks, the all-you-can-eat tabehodai (食べ放題) formula is also available.
Usually, a menu is already placed on the tables and order is made to the waiters, who will bring the selected raw meat. A cooking device, usually a kind of plancha or a small barbecue is placed on the table, and everybody can cook the ingredients they like. Sweet potatoes, fries, onions, greens, cabbage, and edamame soybeans are also added to the meal.
A laid-back and friendly ambiance
Japanese customers usually come in groups: of friends, with other club members, or with colleagues, for an after-work time. As beer gardens are seasonal events, temporary yet happening every year, the population loves them. Enthusiasm is palpable in the general friendly atmosphere: people are smiling, and thanks to the alcohol, talk loudly and laugh. It is by the way quite easy to talk to a stranger when going to refill the beer at the beer counter.
Some take the opportunity to dress in yukata 👘, the traditional light cotton summer outfit, ideal for relaxing and almost feeling on vacation.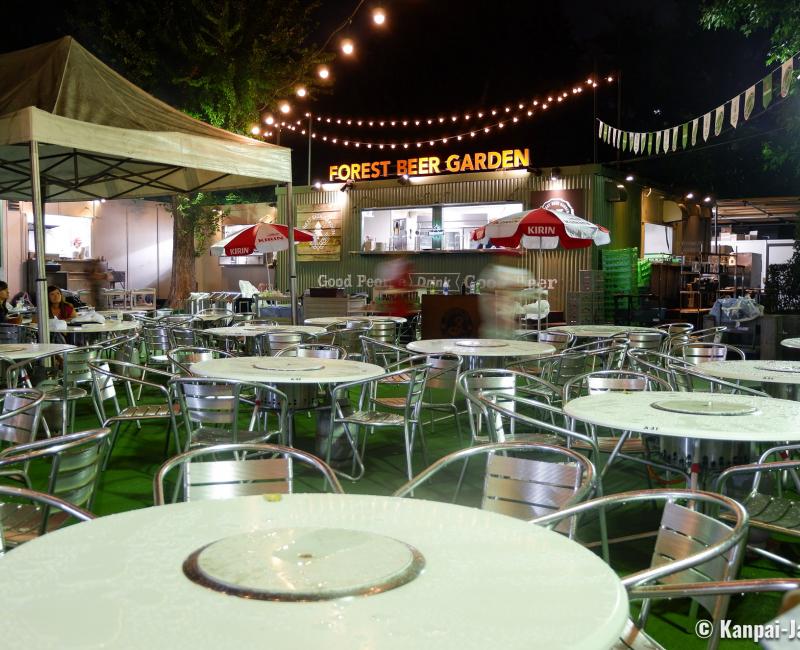 A short list of Tokyo's beer gardens
Beer gardens in Tokyo usually settle from May to September on the rooftops of department stores, such as Isetan, Seibu, Parco or Lumine. For example:
They are also laid out in large green spaces, such as the Forest Beer Garden (Mori no Beer Garden) located near Shinanomachi station, on the compound of Meiji Jingu Gaien, and settling each summer on a large playground used by children on the rest of the year.
Lastly, some themed beer gardens display a specific decoration and menu, such as:
Matcha Beer Garden (抹茶ビアガーデン) in Ochanomizu, whose concept revolves around the Japanese traditional green tea.
Barbacoa Beer Garden (品川バルバッコアビアガーデン) in Shinagawa, offers a journey in South America with among other things its excellent Brazilian meat to grill.
Themes and beer gardens tend to be renewed over time and all are not necessarily repeated every year. We highly recommend summer travelers in Japan to spend an evening in one of the capital's beer garden.