Aoyama Cemetery
Remembrance in the Heart of Tokyo
Add to my favorite places
Aoyama Cemetery is a public graveyard managed by Tokyo Metropolitan Government and located in Minato ward, in the center of the capital. Established in 1872, then opened to the public in 1979, it is the first public cemetery in Japan to host both Japanese and foreign deceased. Its cherry trees alleys make it very popular in spring at the blooming season for Hanami celebration.
A stone's throw away from bustling Roppongi in the south and Harajuku in the west, Aoyama Cemetery offers a large 26-hectares' space of silence for curious visitors who are free to stroll in its alleys. The funerary aspects quickly leave way to the appreciation of the capital's modern history.
A graveyard gathering Japanese and foreign deceased
The Cemetery is divided in several areas, and the reading of the names on tombs calls forth Japanese and foreign people from the past who built Japan as we know it. As a matter of fact, most of the graves were built during Meiji Era (1868-1912), the period of great modernization of the country. Aoyama Cemetery shelters the largest gaijin bochi (foreigners' graveyard) of Japan, with international "residents": French, English, German, American, etc.
In the same fashion as in Père-Lachaise in Paris, many famous Japanese rest here, for example:
writers Naoya Shiga and Kido Okamoto;
general Maresuke Nogi;
statesmen Toshimichi Okubo and Shigeru Yoshida, and even;
the very popular dog Hachiko, near its owner Hidesaburo Ueno.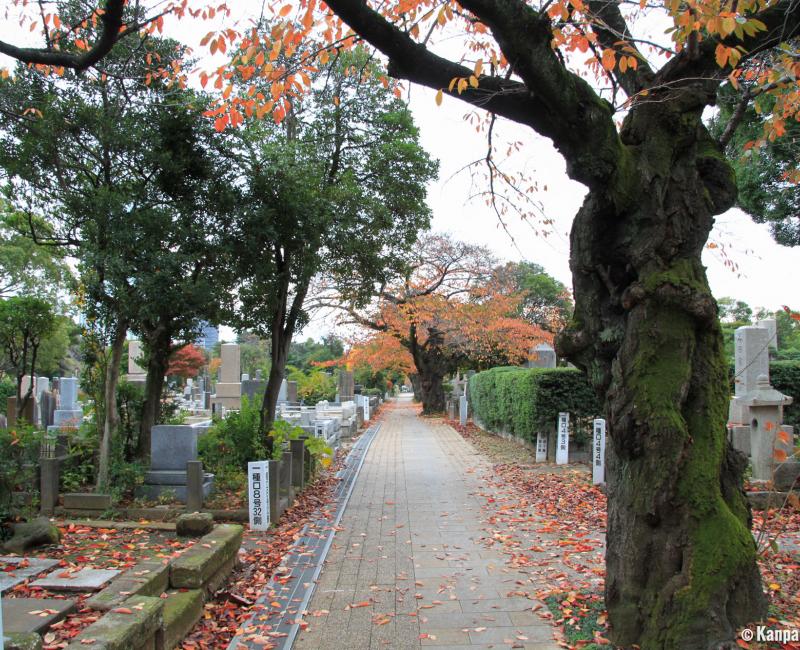 A popular spot for cherry blossom viewing in spring
An oasis of green and calm all year long, the Cemetery becomes livelier in spring, and even, for a couple of weeks, a place where people live and meet. It is indeed the time of the year when Japanese people spread blue tarpaulin or blankets to have a picnic under the blooming sakura 🌸. Respect for the deceased is not forgotten, but they are happily celebrated while eating bento 🍱 and drinking beer 🍺 in good company. In Hanami season, any sakura spot is good, even the most unexcepted.
The cemetery also offers a charming visit in autumn 🍁 when the leaves of cherry trees turn orange.
One of the major cemeteries in Tokyo
Aoyama is surrounded by business buildings as well as high-end residential areas such as Akasaka. Unconventional visits amateurs may appreciate to discover three other public cemeteries in Tokyo:
Yanaka in the north-west;
Zoshigaya in the north-east, and;
Tama, the largest and farthest, in Tokyo's western suburb.