National Art Center Tokyo
The Modern Aesthetics of Curved Lines
Add to my favorite places
The National Art Center, Tokyo or NACT is a museum dedicated to temporary exhibitions located in Roppongi district, in the southern part of Tokyo's center. Created by Japanese architect Kisho Kurokawa and inaugurated in 2007, the building itself is an artwork. It shelters a library, a French brasserie as well as two cafés to welcome art and architecture amateurs.
Many of us discovered the National Art Center thanks to the animated movie released in 2016 Your Name, by Makoto Shinkai. In the first part of the movie, the main character drinks a coffee with one of his colleagues in a place of an extraordinary design, even for those used to Tokyo's various bold architectural experiences. The scene was short, but made with a photo-realistic touch, the trademark of CoMix Wave Films studio, and that tickled our Japan traveler's heart.
Therefore, the discovery of the building is an incredible excitement, especially the beautiful undulations on the facade of this unique architectural structure.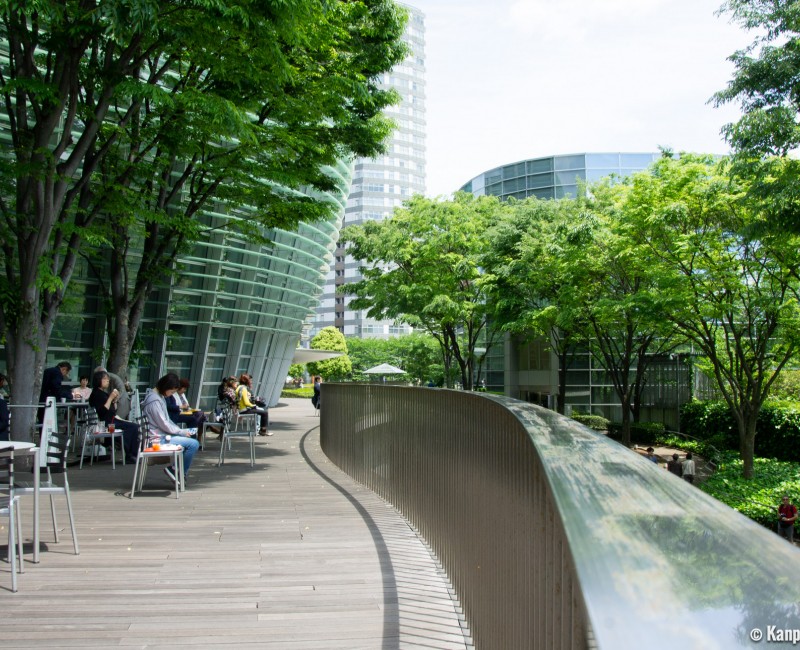 Access to the NACT is free. The immense space is divided in three levels, and each floor display a café or restaurant occupying indoor belvedere-like circular niches. These places are quite popular with middle-aged ladies who come to chat with their friends and enjoy the unique atmosphere of the place. At the second floor, a Paul Bocuse restaurant represents French gastronomy and can be enjoyed by the wealthiest gourmets. At the same level, Your Name afficionado can try to take the picture that will best mimic their favorite movie's setting.
Arts amateurs (the NACT was designed for them in the first place!) can enjoy temporary art exhibitions that are renewed every two to three months. The variety of displays is such that it is best to check what are the current expositions on NACT's official website before paying it an actual visit.
The south exit from Café Coquille opens on an outdoor wooden terrace, a pleasant spot to have a drink while enjoying the quietness of the surrounding vegetation. Heading towards east and the NACT's main entrance, visitors can admire the teahouse Kou-An, previously displayed in Shogunzuka in Kyoto, and the temporary (from 2019, April 17 to 2022, May 30) attraction that will make for an additional appeal to architecture lovers.