Captain Tsubasa Pilgrimage In Tokyo
⚽ 9 Statues Located Between Yotsugi And Tateishi Stations
Add to my favorite places
Captain Tsubasa Pilgrimage in Tokyo includes 9 bronze statues of the manga characters, scattered between Yotsugi and Tateishi train stations in Katsushika ward, in the north-east of the capital. Publication of Yoichi Takahashi's manga has been ongoing since the 1980s and, along with its anime adaptation broadcast throughout the world, it helped soccer's rise to popularity in Japan.
The famous soccer manga Captain Tsubasa's author, Yoichi Takahashi, is from Katsushika in the north-east of Tokyo, and more precisely from the area encompassing Yotsugi and Tateishi.
Captain Tsubasa manga, whose publication started in the 1980s and was subsequently adapted in anime and video games, has been a success both culturally and commercially, among several generations and countries, especially where soccer is popular. In early 2023, Takahashi announced he began writing the final arc of his manga called Rising Sun. Other soccer-themed mangas have since found their audience, such as Blue Lock, published since 2018.
Whether a soccer fan or not, one can't help but praise its hero Ozora Tsubasa's tenacity to run after the ball throughout the soccer field to score a powerful goal, in hope of bringing back the World Cup in the archipelago.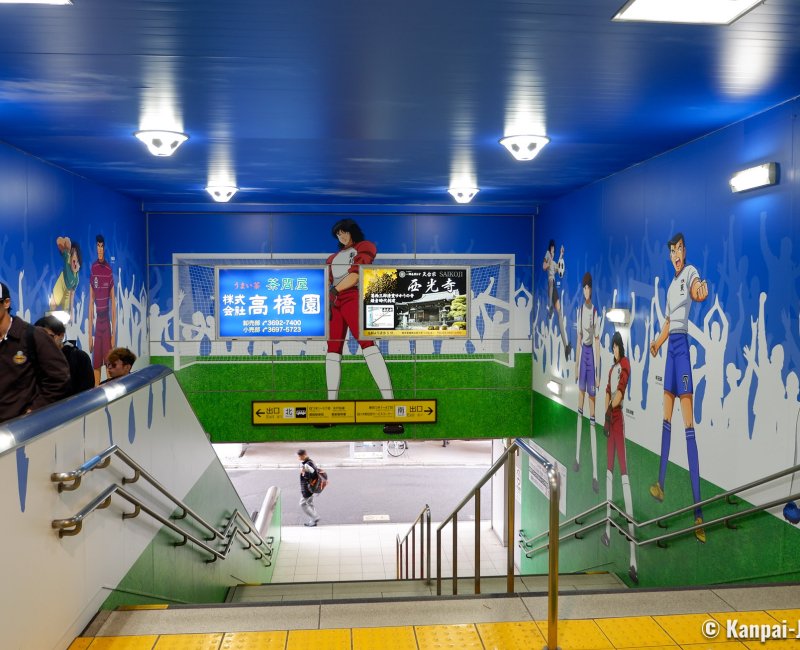 In 2013, Katsushika Municipality has inaugurated 9 bronze statues of the main characters of Captain Tsubasa, under the supervision of Yoichi Takahashi. The latter is also president of the local football club, renamed Nankatsu SC like the manga's soccer team, and that is try to work its way to the J-League, the Japanese 1rst division. The ward's administration is also considering the construction of a stadium called Captain Tsubasa Stadium as well as a dedicated museum to improve its attractiveness.
The statues are placed on a stone base, but are of a relatively small sizes: only 3 of them – including 2 of the main character, are built on a real-life scale. One of them was designed so that one can take the position of the 2nd player to perform the famous Golden Twin Shot combination (front picture). Of dark colors and placed in somewhat discreet locations, in a park or near a sidewalk, they blend in the urban landscape and they are easy to pass by without noticing them. A paper map of the area, available at the station, will help to know the statues' exact location and a little bit of attention will help spot them.
Fans will find the following characters:
Ozora Tsubasa (Oliver Atom);
Ryo Ishizaki (Bruce Harper);
Kojiro Hyuga (Steve Hyuga / Mark Lenders);
Roberto Hongo (Roberto Sedinho);
Sanae Nakazawa (Patty Gadsby);
Taro Misaki (Tom Misaki / Tom Becker);
Genzo Wakabayashi (Benji Price).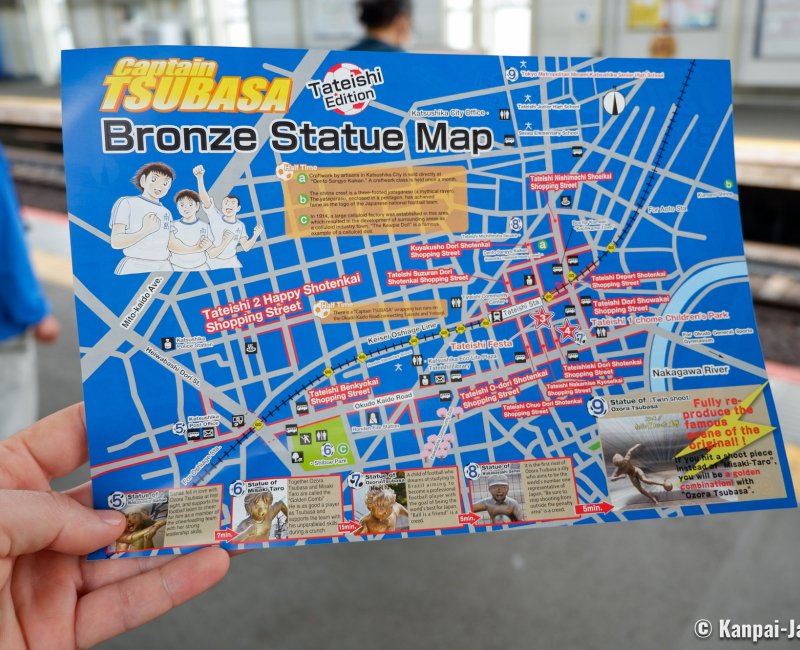 A stroll in a quiet residential Tokyo
The seichi junrei pilgrimage to connect all the statues is a walk between the stations of Yotsugi and Tateishi on the Keisei line, reachable in less than 15 minutes by train 🚅 from Asakusa. It takes no more than 1h30 to walk the whole tour, going slowly.
We recommend starting by Yotsugi station, that is entirely themed on the manga, beautifully decorated, and nicknamed in English "Captain Tsubasa" station. In addition to the silhouettes of the characters drawn on the walls, a few objects are on display, such as a shirt and a soccer ball signed by Takahashi for Andrés Iniesta, the Spanish international player who played in the Japanese club Vissel Kobe from 2018 to 2023. In Yotsugi, you'll find 2 free paper maps showing the location of the 9 statues scattered around the 2 stations (as for Tateishi's side, there were no maps at the time of our visit).
It is a pleasure to walk around Katsushika's streets and to enjoy its every day life: people doing grocery shopping at the small local shops, neighbors chatting at a crossing, the area's grannies gathering or children playing in the park after school. Far from Tokyo center's tourist crowd center, this plebeian residential area offers a leisurely stroll.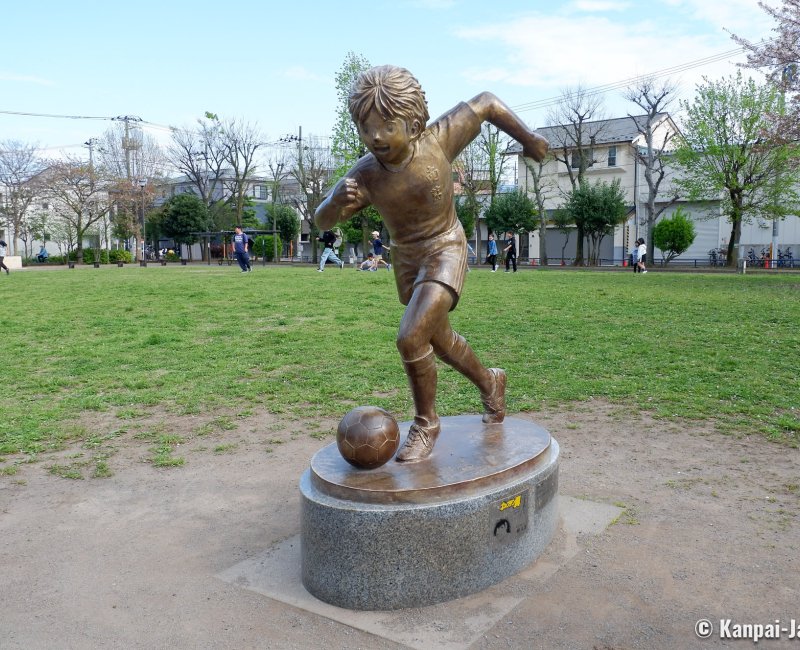 When walking to Tateishi station from the south, you'll find several old-fashioned shopping arcades giving a quiet, unpretentious and authentic atmosphere. This pleasant Shitamachi vibe can be felt in:
Tateishi Nakamise-dori (立石仲見世通り), with all kinds of shops, and typical bars and restaurants;
Tateishi Festa Arcade Stage (立石フェスアーケードステージ), "in its original condition", therefore a bit shabby but lively; and,
Chuo-dori, which is a little bit more conventional.
There is also a quaint yokocho, filled with regulars of the izakaya bars that are overlapping each others, and that also gets lively at nightfall. Then, it is time to leave this timeless place and to take the train back to the bustling of Tokyo.