Jindai-ji
Chofu's old hidden temple
Add to my favorite places
Jindai-ji is a Buddhist temple located in Chofu, about 20 kilometers west of Tokyo. Built in 733, it is the second oldest Buddhist temple of the Japanese capital after Senso-ji. The place offers a relaxing walk punctuated by gourmet degustation of local delicacies: senbei rice crackers and jindaiji soba buckwheat noodles.
Former Jindai village was incorporated to Chofu city in April 1955. On the contrary of its glowing and overcrowded counterpart in Asakusa, Jindai-ji is characterized by features that became extremely rare in the area.
With a relatively remote location in the west of Tokyo, it allows for a very relaxing discovery of residential districts, in a quiet zone. The fact that Chofu is (still?) largely unknown outside Japan makes the real advantage of the city, as tourists are scarce.
The temple itself is quite far from the surrounding train 🚅 stations, and it is possible to go there with different means of transportation. If you have some time ahead, feel free to walk to Jindai-ji from Chofu, as it will be an occasion to discover the amusing Fudaten-jinja shrine on your way.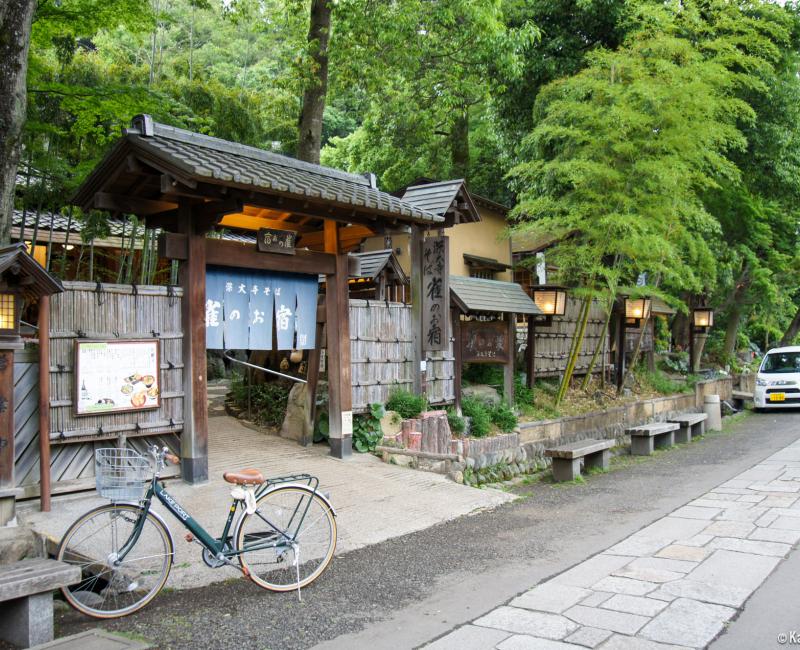 More than a temple
Arriving in Jindai-ji neighbourhood feels like going back to Edo period with a lovely quaint atmosphere that some even compare to Kyoto's. Numerous picturesque paved and graveled streets crisscross the place, streams of water flow between traditional architecture buildings that make the village a frequent setting for Japanese movies and dramas.
A quantity of small shops has gathered near the temple, especially restaurants serving the local delicacy: jindaiji soba (buckwheat noodles). Yusui is probably the most popular restaurant but do not fear trying the other eateries: they are delicious as well and you can avoid a somewhat unnecessary queuing.
Nearby is Sanmon, the main gate indicating the entrance to the real Jindai-ji. Behind the great bell dating back to Muromachi period (1336-1573), in the heart of the forest among a lavish nature, stand the temple and its pavilions:
The wonderful main building Honden, entirely built in wood for the last time in 1919;
Slightly downhill to the east, Ganzan Daishi, sheltering the image of famous priest Ryogen; and,
To the west, the small Shakka-do, with a Kokuho Buddha statue which is the most famous in Japan. It was designed National Treasure of Japan (Kokuho) in 2007 and can only been seen on the 8 of each month, at 9 a. m.!
Praying in Jindai-ji aims to foster good relationships, especially in love and for happy marriage.
A more confidential aspect of Jindai-ji is its pet cemetery, one of the largest in Tokyo. Owners of deceased domestic animals can rent a shelf where they deposit an urn, a Buddhist plaque, a picture of their animal, flowers and a small bowl of pet food. Some other pet tombs even have little stone graves in the temple precincts.
On the way back, drop by souvenir shops, or the small Shinto spirits museum with its funny exterior decoration. If you have more time, don't forget to visit the great Jindai Botanical Garden, just above the temple.