Yomiuriland
The Large Amusement Park in Tokyo's Suburb 
Add to my favorite places
Yomiuriland is an amusement park located in the western part of Kawasaki, at the border with Inagi in Tokyo prefecture. The place naturally features fun and thrilling rides and is renowned for its seasonal decorations, with a thousand of blooming cherry trees in spring and wonderful winter illuminations.
Opened since 1964, Yomiuriland is a leisure and theme-park, with forty-three rides catering for all ages and special attractions varying throughout the seasons. There is, for example, an ice rink in winter and a pool complex in summer. A specific decoration is also displayed on each season, such as sakura 🌸 flowers at the beginning of spring, or wonderful night illuminations, usually between November and February. Due to its location in Tokyo's residential suburb, the park is particularly attractive to students, teenagers, and families with children.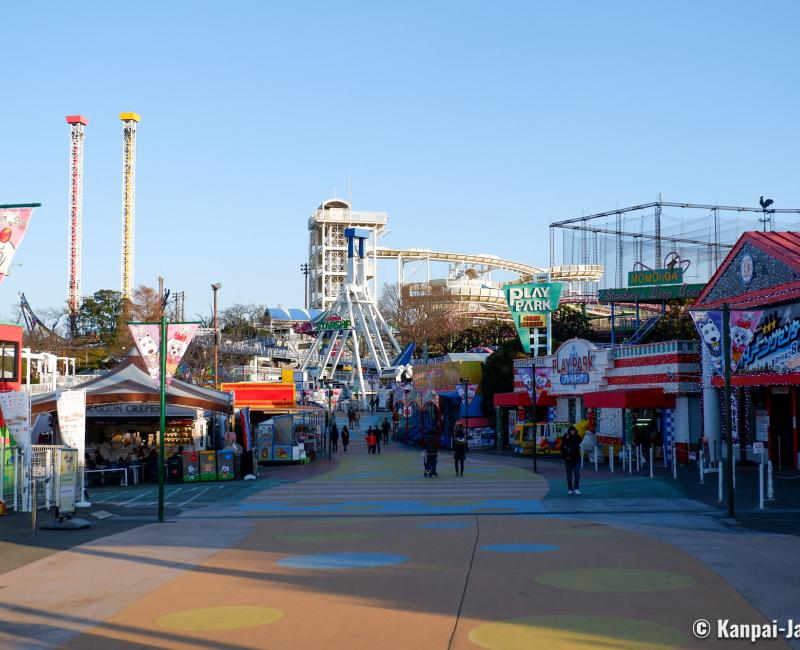 Day time activities and attractions
During the low touristic season (apart from summer or Japanese holiday periods) on weekdays, Yomiuriland's alleys are quiet and not overcrowded with visitors. It is the best moment to try as many attractions as possible, without spending much time queuing. Some visitors might get the wrong idea with Yomiuriland, thinking it is a modest and a little bit too quiet amusement park, but on a closer look, the place is well tended, the staff is not shorthanded and there is an interesting range of thrilling rides, such as:
Bandit, a roller coaster that reaches a 68 mph (110 km/h) speed;
Hashibiro-GO, a kind of giant top launched on a ramp that gives taking off feeling as if in a rocket;
Looping Starship, a pendulum ride crafted as an open-air spacecraft that swings until it makes a full spin;
Bungee Jump, a classical bungee jump from a height of 22 meters;
And a haunted house, themed on ninja and zombie, but that might not be as thrilling as expected.
Children are not forgotten, and they can ride the adults' favorite attractions but, in a format suitable to their age. There is also an area dedicated to creation: Good Job Attractions or Goodjoba, where it is even possible to put together a real-life size car 🚙. The Car factory is sponsored by Nissan, the Japanese car manufacturer, and the other factories are also sponsored by famous brands.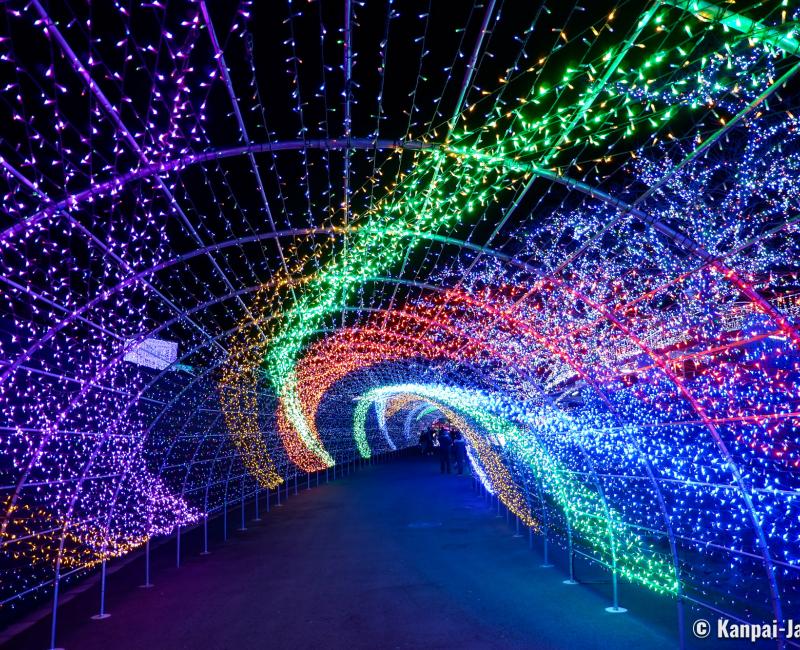 Light and Entertainment at night
On the daytime, the park is a perfect destination for families. However, from the end of the day, Yomiuriland's aspect changes, especially in winter. As the days become shorter and temperatures lower, the park begins a second life.
Around 4-5 p.m., the setting sun gives way to the winter light-up named Jewellumination. Each zone in the park is decorated and highlighted with various colors, an artwork of artist and light designer Motoko Ishii. Among the most beautifully lit up areas are:
The Ferris wheel with a global view on the park, the ideal observation position for the variety of LEDs;
Flag Street, the park's main alley whose beautiful illumination can rival with Disney parks' fabulous decorations;
A gentle slope path lined with trees sparkling in blue and violet to the sound of the music, creating a lovely visual and sound ambiance.
A long tunnel with changing light patterns and colors;
A space dedicated to autumn 

🍁

, where trees are donned with red foliage for the night, and a giant luminous flower is both the exit and the entrance;
A hill made of neon lights, viewable from a wide rainbow slide on which one can ride on a buoy.
All these illumination contribute to a one-night magical escape in the park. The outing will please children as well as couples looking for romanticism. All along the illumination period, various light shows including dancers are also performed.
Yomiuriland is a great park all year long. Its attractions are certainly not as impressive as Fuji 🗻-Q Highland's, but they are less expensive and quickly accessible from Tokyo. Yomiuriland winter illuminations live up to their reputation and are worth the visit.