Namco Akihabara
🕹️ The 1rst Bandai Arcade in Tokyo
Add to my favorite places
Namco Akihabara is a Bandai arcade located at the exit of Akihabara station, in Tokyo's electronic district. Opened in March 2023, this new 6-floors Game Center replaces the GiGO Akihabara Building 4 (formerly Sega), that closed down in September 2022.
Namco Akihabara arcade was inaugurated on 2023, March 1 and is the 1rst official Game Center in Tokyo of Bandai Namco, one of the most famous Japanese video games company. Gamers are already well acquainted with the location as the new establishment opened in place of the iconic Akihabara Building 4, that used to be operated by Sega, which closed all its arcade games in Japan during the Covid 🦠 crisis between 2020 and 2022.
The catch-line "Fun for All into the Future" is proudly displayed on the white and red facade of the Namco Akihabara center, which is spreading over 6 floors:
B1F is an underground Game Center entirely dedicated to the arcade game series Gundam Vs., and its latest installment released in spring 2023 Mobile Suit Gundam Extreme Vs. 2 XBoost.
1F is the building's ground floor. The main entrance of the shop opens on the Ichiban Kuji area that hosts the popular crane games (UFO Catcher in Japanese). Players can try catching plush toys, figurines and video game boxes. Merch from the most popular licenses of the moment is naturally plenty, especially character goods from Pokémon, Spy x Family, One Piece and Kirby. Ichiban Kuji and its claw machines also occupy the floor 2F.
3F is the level dedicated to arcade musical games, including the famous drum game Taiko no Tatsujin as well as Maimai and Chunithm, some Sega games very popular especially among the younger gamers.
4F is home to gashapon alleys, to enlarge your collection of capsule toys.
5F, the upper floor, is a space dedicated to collectible trading cards, with tables for seasoned players to indulge in their game.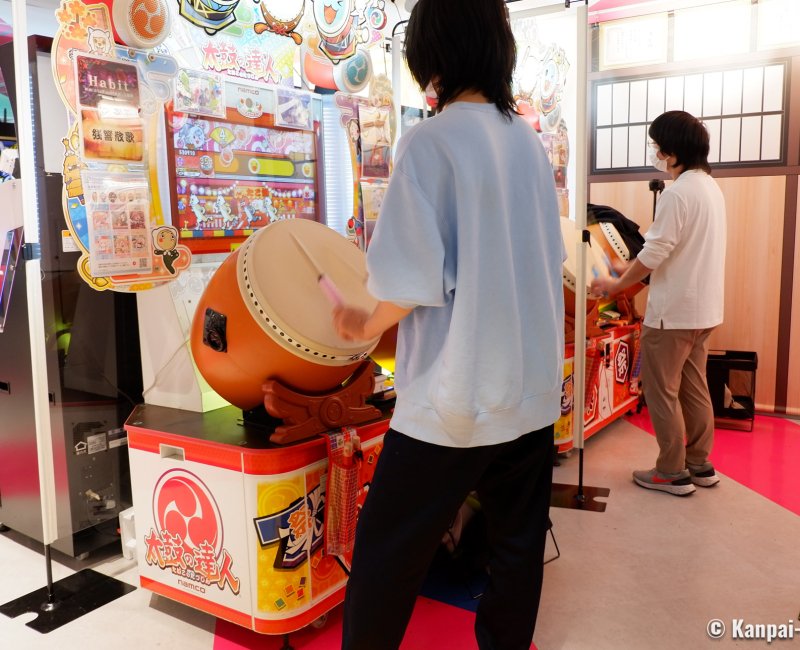 A famous brand's classical Game Center
Namco Akihabara is not drastically different from any other Japanese arcade and the floor distribution offers no surprise to regular game center users. The latter seem by the way to be complaining about the claw machines that have been set to the "high difficulty" mode, therefore reducing the occasions to win a prize even for the most seasoned players.
The place is obviously very loud, due to the games' musics, the staff's greetings and the operating noise of the machines. Moreover, Namco Akihabara is built at the angle of its land slot, which makes its inner space rather small and hard to navigate when several players are on the same game. However, the use of the bright and clear colors and the height under the ceiling help make the facility's interior look bigger.
Note that since April 2023, Bandai has opened in Tokyo another place dedicated to its games: in the new entertainment complex Tokyo Kabukicho Tower, the Namco Tokyo bar also displays a few arcade games.