Kotsu Kaikan Coline
The Unmatched View on Shinkansen Trains in Tokyo
Add to my favorite places
Coline is a wooden patio at the 3rd floor of Kotsu Kaikan shopping mall, near Yurakucho station in the heart of Tokyo. Free and of an easy access, this outdoor terrace is famous among photographers and train aficionados as a "Shinkansen spot," a place for viewing Japan Railways' bullet trains.
Coline is in fact "only" a terrace, part of the Kotsu Kaikan department store in Yurakucho. The old-fashioned building is characterized by its 1960s look, with waxed tiles imitating marble and corny shops roamed by middle-aged customers. It is not to be confused with Tokyo Kaikan, a great hotel 🏨 and restaurant in the vicinity, that was renovated between 2015 to 2019.
What makes the interest of the place is undoubtedly and exclusively the outdoor terrace, whose access is free, opening on its western side at the second floor (3F) of the building. The pleasant suspended garden covers about a couple hundred square meters superficies, with wood duckboards and provides benches for the neighboring offices' salarymen and office-ladies to sit on while smoking a cigarette or enjoying their lunch break. There is even a small cafe with a few tables on the northern side.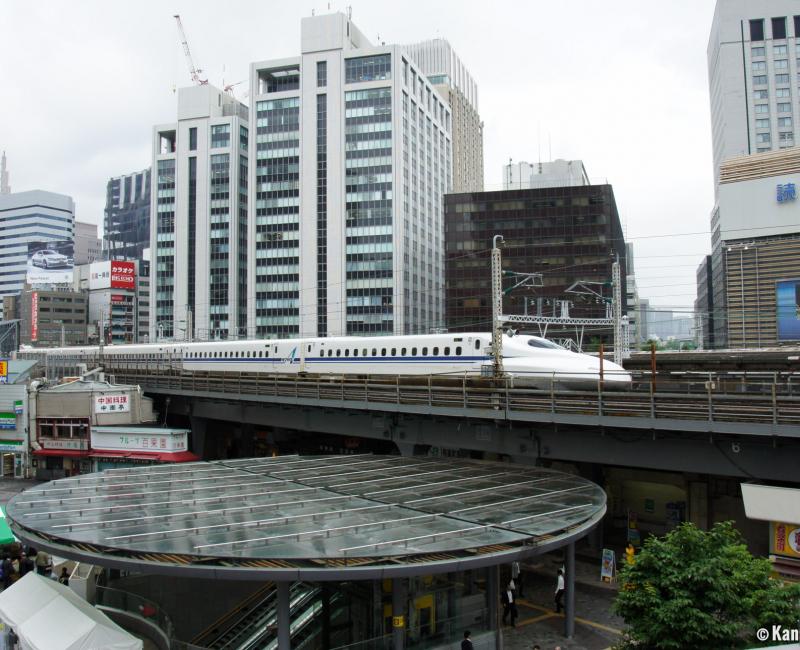 While a quite usual public space for Tokyo, Coline is also a well-known spot for trains amateurs, and it would be surprising not to meet one when visiting. As a matter of fact, the terrace is only a few meters away from the outstanding Shinkansen, the Japanese high-speed train, the railway machine that the densha otaku community, the Japanese train 🚅 lovers, find the most enthralling.
This observation platform is close to Yurakucho station about a couple of hundred meters away, and along the tracks bound for Shinagawa further south. It offers a close sight on the various Shinkansen models in an almost incessant train ballet. The bullet trains drive at a limited speed as they depart or arrive at the end of the Tokaido road, and it is never long before one can admire one of these technological feats, without being annoyed by the machine's scorching noise. It is therefore a great place to stop by for a break.