Tokyo Station
A Train Station Like No Other
Add to my favorite places
Tokyo Station is located in Chiyoda Ward in the heart of the capital. With 3,000 to 4,000 trains commuting everyday, and being the terminus for most of Shinkansen bullet trains, this major train station is the busiest in Japan. The surrounding, renovated Marunouchi buildings as well as the huge underground shopping areas that reach all the way to the opposite Yaesu exit, contribute to the station's touristic attractiveness.
And its attendance is certainly not its only record:
It may be the country's train 

🚅

station with the highest generated revenue;
It hosts 14 platforms, including the busiest one in the world (the Tokaido Shinkansen);
Its facade spreads up to 300 meters long, and its total area is equivalent to 3,6 times Tokyo Dome's surface.
Given the incredible number of 416,000 passengers commuting from or to Tokyo Station every day in 2013 (a lower number than that of Shinjuku Station), it is rare for travelers in Japan to not cross this major transportation hub at least once.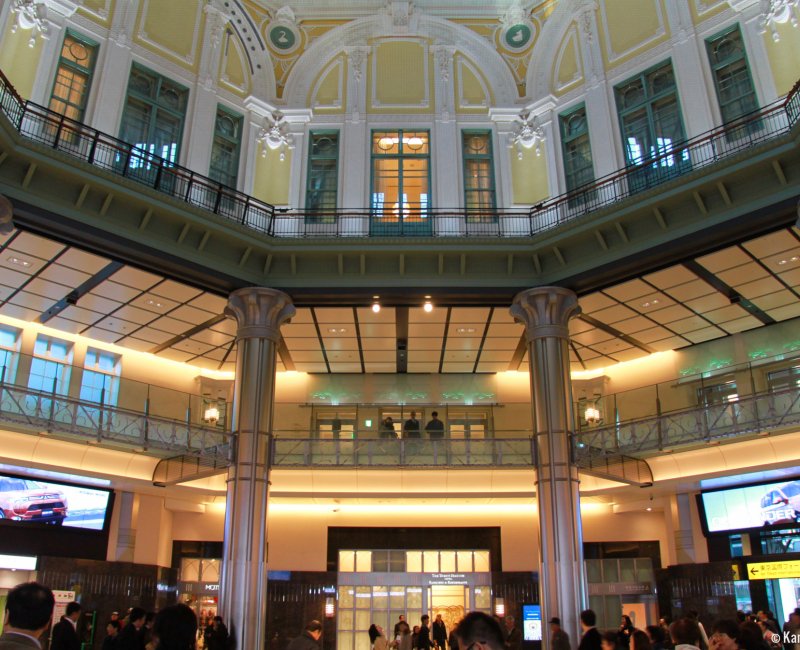 Architecture and renovation
Marunouchi Guchi, the west side exit
Built between the Meiji and Taisho eras, the west side of Tokyo Station is a European-style architectural legend (designed by Kingo Tatsuno) that mobilized 740,000 workers, more than eight millions of its famous red bricks and took six years of construction. Under the name of "Central Station" on its opening day in 1914, it comprised only four lines and 4,600 passengers crossed it every day.
A symbolic building with its typical facade, its inside dome and ornaments were damaged twice: by the Great Kanto Earthquake in 1923 and the Second World War bombings. It also witnessed the murders of two Japanese prime ministers during its history.
Despite the loss of one floor during its renovation in 1947, another restoration, which was decided in the early 21st century, allowed it to regain its former glory. Renovation on the Marunouchi side and upgrade to earthquake-resistant standard were completed in October 2012 after five years of works, for a total cots of ¥75 billions (~498.3 million dollars).
Yaesu Guchi, the east side exit
On the opposite side, Yaesu "in the east" also underwent rehabilitation, with different buildings and passages under construction, as well as the installation of huge surrounding glass canopies. In March 2023, Tokyo Midtown Yaesu is officially inaugurated and encompasses a large shopping mall and the station's bus terminal.
Note that in early September 2015, Mitsubishi Estate announced the construction of the tallest building in Japan, a 390 meters high-rise (which is 90 meters more than Abeno Harukas in Osaka) with 63 floors above ground and 4 underground. The project is named "Torch Tower" and should include a luxury hotel 🏨, offices, shops and an observatory at the top. However, its completion is expected in 2027.
Underground, six nearby stations are accessible through a huge maze of underground passages, including one longer than two kilometers. A project to group bus lines, connected to these galleries, is also under construction in order to easier reach them.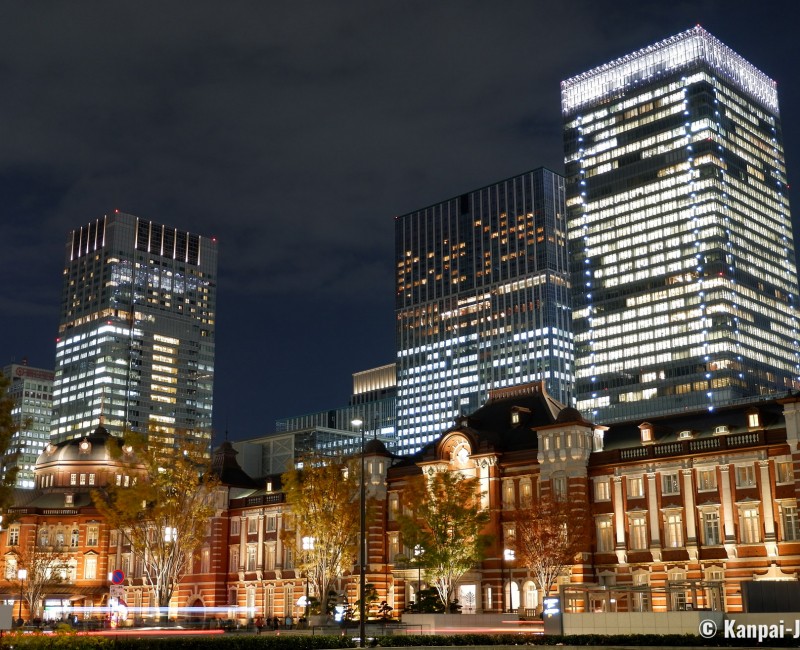 Much more than a station
This subterranean labyrinth is also the scene of diverse shopping galleries with various themes, constituting the complex called "Tokyo Station City." Among these numerous never-ending passages of stores, two areas particularly fascinate passing tourists:
"Tokyo Character Street," an alley dedicated to pop culture amateurs with official stores: e.g. Pokémon Store, Hello Kitty Shop, Lego, Ultraman, Snoopy, NHK/Nippon Terebi and a Donguri Ghibli shop, etc.
"Tokyo Ramen 

🍜

Street" is dedicated to Japanese cuisine; it features many restaurants, takeaway food stalls and even a store devoted to seasonal Kit Kat.
The station's surface also includes an art gallery (since 1988) and diverse services, e.g. a vast area of coin lockers and the Tokyo Station Hotel, a luxury establishment that celebrated its centenary in 2015, with night prices starting from ¥40,000 (~US$265.80) for one room only.
At night, illuminations adorn the main station's esplanade, where an endless ballet of taxis transport passengers on their way to depart from the station or who have just arrived from their commutes.
Fun facts
To celebrate its centenary, a number of festivities have been set up around New Year 2015, with special and limited editions of various products (including a Suica card that made a splash) or a Yamanote line train fully decorated in the colors of the station.
For the record: a (smaller) replica of Tokyo Station exists in Fuyaka, Saitama Prefecture. The original Fuyaka Station was erected in 1883, but the current building only dates back to 1996. To get there, the direct train from Tokyo takes about one hour and a half.