Marunouchi House
Free View on Tokyo Station and the Imperial Palace
Add to my favorite places
Marunouchi House is located at the 7th floor of Shin-Marunouchi Building, in front of Tokyo Station's western side. It is divided into an indoor part sheltering about ten bars and restaurants, and an outdoor roof-top used as an observation deck on the business district. The view on Tokyo Station's red bricks building is also enjoyable.
Tokyo's central station, at least on Marunouchi's side, was beautifully renovated in view of the 2021 Olympic Games 🏅. Its central plaza is now connected to the Imperial Palace and the parade of taxis takes places between the beautiful buildings, such as the famous Kitte. Facing the plaza, Shin-Marunouchi Building, was completed in April 2007 and is one of the highest of the area with 38 floors. "Shin Maru Biru" (as it is nicknamed) is connected to Tokyo station by underground passageways, but its most interesting feature is its seventh floor, named "(marunouchi) House".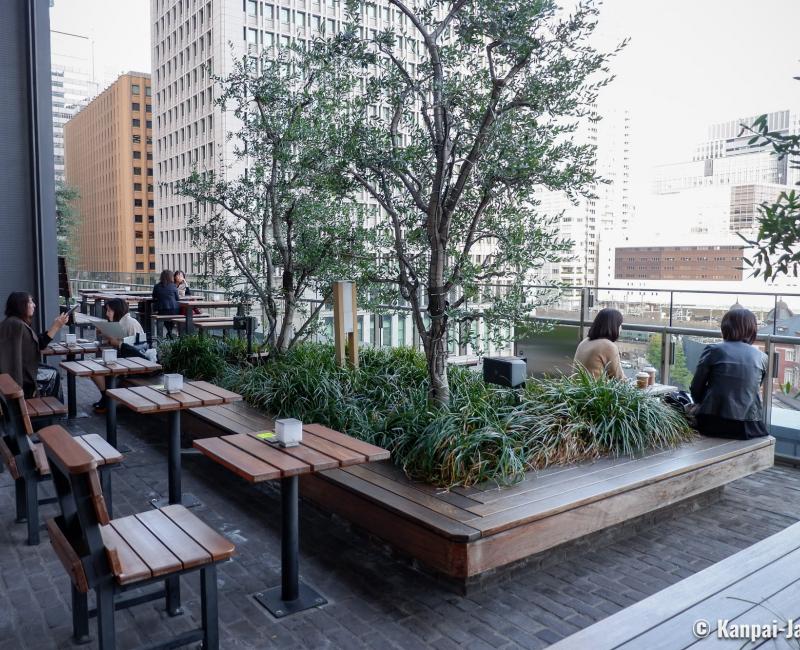 Restaurants and open-air terrace on the same floor
The nine restaurants and bars food-court serves a cosmopolitan cuisine: Japanese, Italian or Chinese. A western style cafe is nearing a wine bar in a setting mixing wood and industrial-style decoration. The floor is open until 4 a.m. six days a week and musical performances (DJ sets) and cultural events (art exhibitions) are staged on Friday and Saturday evenings.
But what makes the place so particular in undoubtedly its outdoor terrace, where it is possible to sit at one of the table with a dish or a drink and enjoy a 270° urban vantage point. Marunouchi House's major interest is indeed the exceptional view encompassing Tokyo Station towards east, up to the Imperial Palace Gardens in the west. The terrace is relatively large, not too crowded, and its very pleasant setting offers an unexpected vista on one of the contrasting landscapes that constitute the charm of the capital.
There are not so many rooftops in Tokyo, and this one is ideally located and unknown from tourist, which is a small miracle by itself. It would be a shame not to visit and enjoy it!