Tokyo Imperial Palace
The Emperor's Residence and Gardens
Add to my favorite places
It is quite a rare treat for visitors of Japan to be able to visit Tokyo's Imperial Palace as it can only be explored thoroughly under certain conditions.
Tour of the grounds available throughout the year
For the man on the street, the standard tour around the Imperial Palace includes the two adjoining parks:
The East Gardens (東御苑 Higashi-gyoen) which cover a surface area of 21 hectares and can be accessed from the Kitanomaru Park;
The Outer Grounds (皇居外苑 Kokyo-gaien) a bit lower down, whose entrance gate is located just outside the Marunouchi district, only a few dozen meters from Tokyo station.
The Imperial Palace grounds are located in the heart of the city and therefore surrounded by skyscrapers. They are protected by moats and more or less well-preserved walls. This is indeed all that remains of the famous Edo Castle 🏯, which was the residence of the shoguns (lords) in the Tokugawa period.
At the beginning of the Edo era, Emperor Meiji ordered that the capital be transferred from Kyoto to Tokyo where the Imperial Family set up their quarters from then on. The estate subsequently suffered the vicissitudes of History: it was destroyed by fire a few years later in 1873, rebuilt in 1888, razed to the ground during WW2 and finally rebuilt in 1968.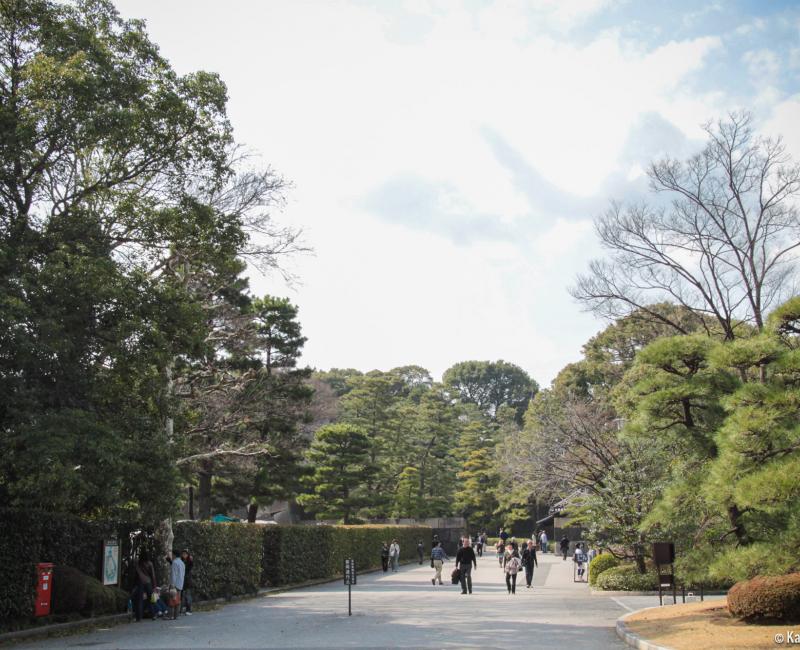 Guided tour of the inner grounds
Visitors are not allowed independent access beyond the Palace gateway, marked by the Nijubashi bridge, but it is possible to book a guided tour, exclusively organized by the staff of the Imperial Family's agency.
To do so, visit the official website and fill in the online form: you will be asked to select one of two daily time slots (10 a.m. or 1.30 p.m.). You may book your tour from 30 to 4 days before schedule.
The visit is about 1h15 minutes long and is entirely conducted in Japanese (audio-guides in English are nevertheless available) and sticks to the outdoor parts of the estate: you will not be allowed to enter any of the buildings.
Watch the Imperial Family's salute
Visiting the inner grounds may moreover hold a major surprise, a treat scheduled only twice a year:
On December 23rd, the day of Emperor Akihito's birthday which is also Labor day;
On January 2nd, the day when the Emperor offers his New Year's greetings.
On both occasions, you had better muster all your patience as people (mainly Japanese) come in great numbers. They form a compact waiting line that stretches out endlessly and inches slowly forward throughout the day until they catch a glimpse of the Imperial Family offering greetings from the vantage point of a balcony protected by bullet-proof glass.
This is actually the closest you will ever get to the private residence of the Emperor and his family.