Suigian
The Chic and Original Restaurant-Theater
Add to my favorite places
Suigian is a restaurant located in Nihonbashi district in the center of Tokyo, and opened in March 2018. Every day at lunch or at dinner time, a Japanese traditional artistic feat is performed by professional actors on the stage of its beautiful dining room.
Suigian's owner Hidetomo Kimura introduces his restaurant as a unique venue at the crossroad of the restaurant, the tearoom and the performance hall, and Suigian indeed is quite outstanding in the plentiful catering offer of the Japanese capital. More than a gastronomic menu, international or Japanese patrons come to this place to live an experience out of time.
The venue succeeds in accommodating traditional theater performances and sushi 🍣 degustation, in a refined and relaxed atmosphere. Hidden in the underground of Fukutoku shrine, the venue itself is quite comfortable, with dimmed lights and comfortable chairs, and an elegant decoration in warm hues. Rather small and intimate, it is ideal for a dinner-show in the evening. In the center, the stage mesmerizes the spectator with its numerous lights. Nearby, waitresses at the Japanese bar wear kimono 👘, adding refinement to the classy tone of the address. One of the walls is used to display about eighty Noh theater masks 😷.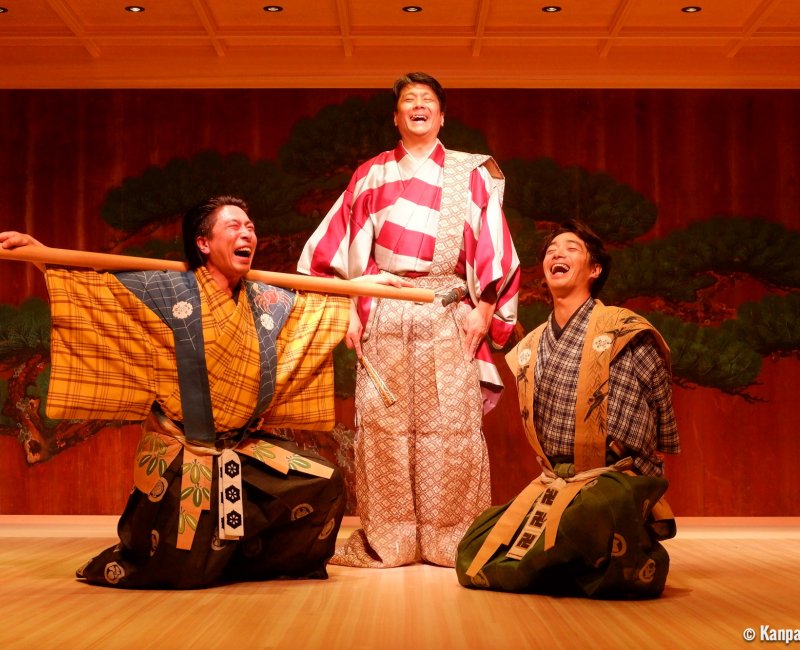 Widening access to Noh and traditional theater
As a place for cultural discovery and sharing, Suigian gives access to Japanese performing arts. There is no loss of quality as plays are performed by acknowledged professional actors, shows are introduced in English and played in a shorter version to be understood by the largest public. It is a nice introduction for curious neophytes.
Various dramas styles are played:
Noh theater traditional performances are frequently staged, as well as Kyogen comical plays;
Music performances, as well as shows by Geisha and their apprentices maiko.
Only one performance type is offered each day, but the restaurant is opened every day and shows often vary. For example, the skit of a samurai and his two servants is often performed: the samurai tries to prevent the other two from secretly drinking his sake 🍶 while he is away. Thanks to the English-language explanations, the comical situation goes through, and the core of the story can be understood.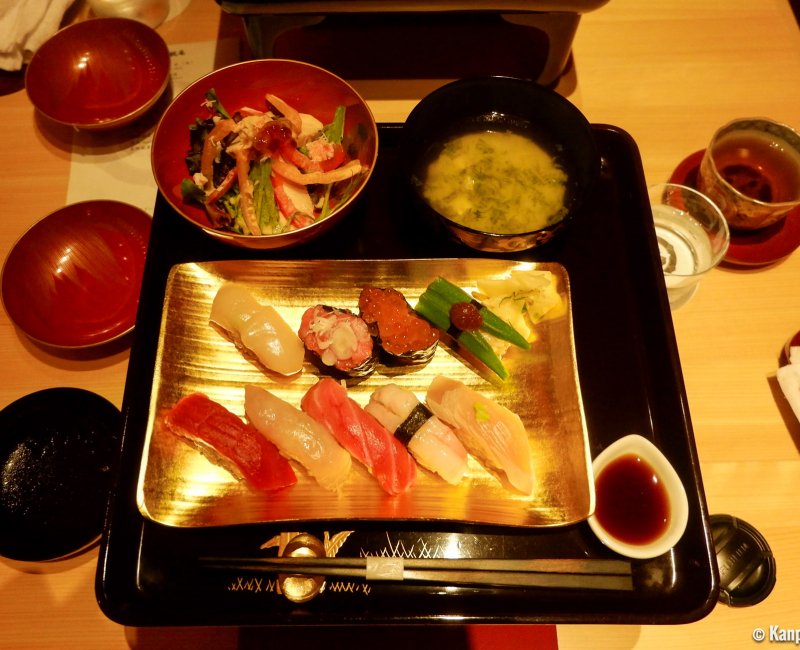 Discovering old Edo's Japanese cuisine
After the show, an Edo period (1603 – 1868) inspired menu is served with a beautiful sushi assortment (江戸前寿司 edomae-zushi). The rice is of a darker color than usual as it was cooked using an old times' process, and the raw fish deliciously melts in the mouth. For dessert, a matcha green tea with confectioneries also add a delicious finishing touch to the meal.
Suigian's classy setting is perfectly in the line of Nihonbashi district and a pleasant moment is offered immersed in the Japanese classical aesthetics, where art and food unite for a perfect balance. With well-rounded explanation, the ceremonial unfolds in a convivial manner and anyone can participate and interact with the staff.
This article was written after a tour organized by Mitsui Fudosan. Kanpai has been invited and guided but keeps a total freedom of editorial content..