Nihombashi Cruise
Historical Boat Ride on Tokyo's Rivers
Add to my favorite places
Nihombashi Cruise is a boat ride on the Sumida River, starting from its pier at Nihonbashi bridge located in the center of Tokyo. The tour offers a new type of exploration of the Japanese capital through its waterways, large and small.
Boats furrowing the Sumida River are not limited to the shuttles connecting Asakusa to Odaiba and include some that navigate the capital's rivers on the traces of a long-lost past when Edo used to be a Japanese Venice. You will find one of this history boats quietly moored to its pier under the famous Nihombashi Bridge, in the central Chuo ward. Of a small size, it can accommodate up to fifty passengers and can therefore sneak in almost everywhere.
The cruise starts on the Nihonbashi River, in other words Tokyo's waterways. Today, channels flow into concrete waterways, but their banks used to shelter many small shops with stalls directly accessible from the water. Then, the boat proceeds to sail away the historical center towards Odaiba and the Bay, giving new perspectives on the ever-changing Tokyo.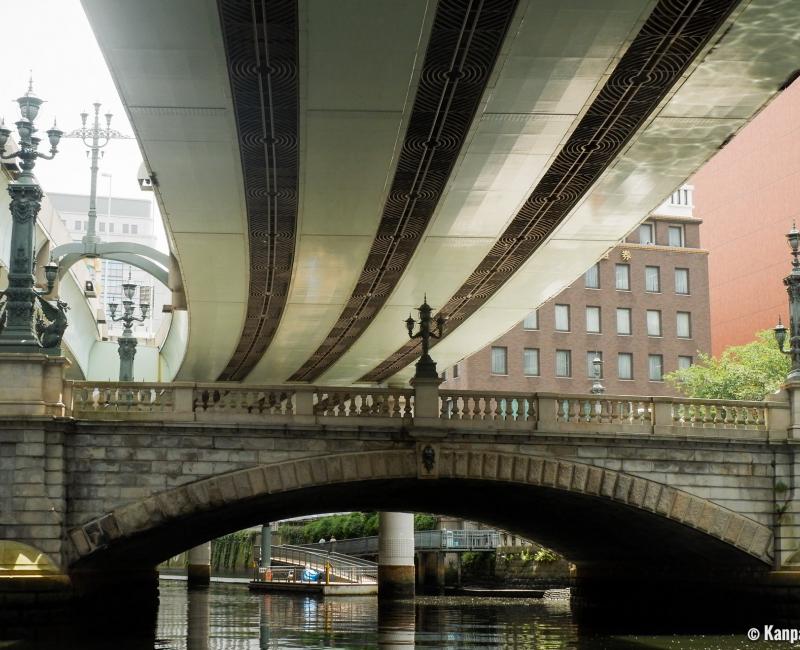 From the water, one is overwhelmed by the numerous bridges and skyscrapers, and most impressed by the iconic Rainbow Bridge. The boat slips along several renowned touristic places, such as Tsukiji Outer Market and the marvelous Hamarikyu garden, of which one can spot the tops of its pine trees. A little bit further lies the bustling Toyosu Island where Tokyo's new wholesale fish market opened in October 2018. The former industrial facilities of the area are slowly replaced by modern buildings dedicated to leisure activities or accommodation such as the Olympic Village built on Harumi Wharf for the 2020 Olympic Games 🏅.
Aboard a ship whose size drastically contrasts with the urban landscape's vertical hugeness, the hair blowing in the wind, one can imagine Tokyo's maritime life, sometimes discreet, almost forsaken, sometimes exuberant and vivifying. By the way, bringing protection from the sun in summer, and from the cold in winter is highly recommended.
Preserved from mass tourism, Nihonbashi Cruise retains the charm of a bucolic stroll that brings out the capital and its developments, especially the offer of an alternative transportation method, a strategic challenge considering the current and expected touristic growth.
This article was written after a tour organized by Mitsui Fudosan. Kanpai has been invited and guided but keeps a total freedom of editorial content.