Yokohama Air Cabin
🚠 The First Urban Ropeway in Japan
Add to my favorite places
Yokohama Air Cabin is an automatic urban ropeway operating in the port, downtown of Yokohama in Japan. Inaugurated in 2021, it provides an aerial connection between Sakuragicho station and Shinko Wharf, the entertainment district of Minato Mirai 21.
Minato Mirai 21's entertaining heart is reachable by air since 2021. Yokohama Air Cabin's 36 ropeway cabins float above the Kisha-michi walkway, the land connection to Shinko Wharf (新港).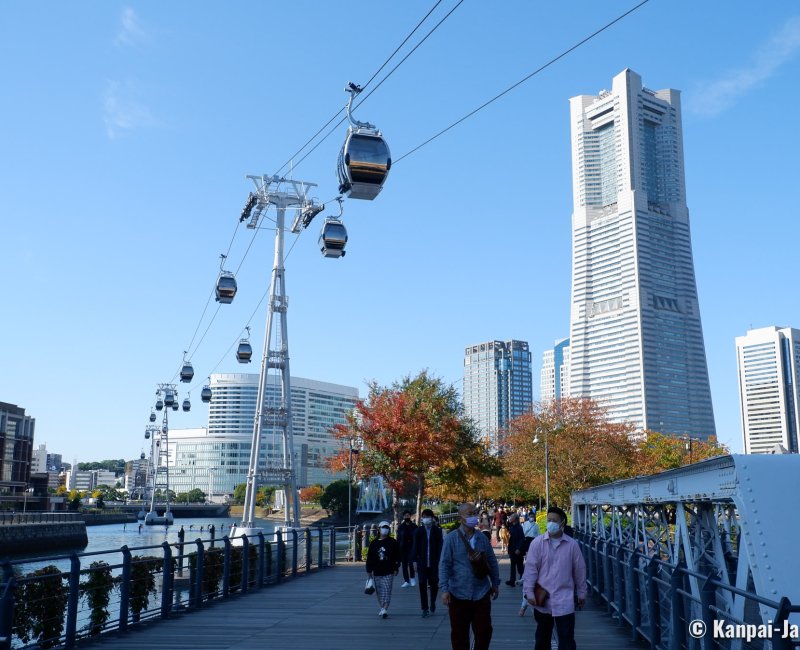 A project initially planned for Tokyo Olympics
In May 2018, Senyo Kogyo, the Japanese entertainment company already operating the Cosmo World attraction park at Minato Mirai 21, suggested Yokohama City to built an urban ropeway to create another access to the area. The project was adopted a few months later with an inauguration intended for Tokyo Olympic Games 🏅, that were to be initially staged in summer 2020.
However, due to materials supply problems and the requirement of a complementary study regarding the location of the pillars, the construction works schedule fell behind and delivery was postponed by one year. Yokohama Air Cabin ropeway was consequently inaugurated in April 2021, amidst the Covid-19 🦠 pandemic and during a state of emergency period. The Olympics, that were also postponed to summer 2021 failed to help promoting the attraction as the games were held without public.
The 1rst stage of operation was laid for 30 years, a duration that should allow tourists to come (back) to Yokohama and try this unconventional transport both in a city and on the seaside.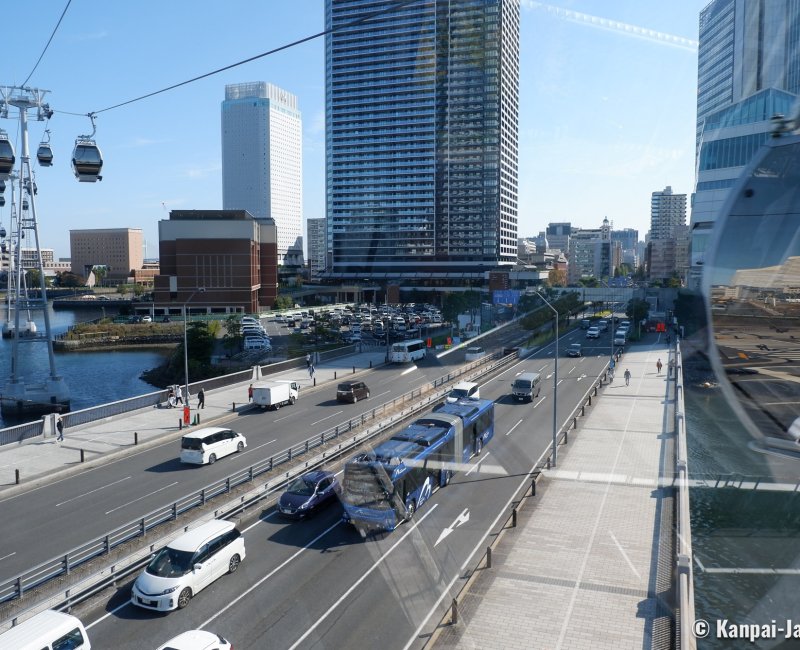 Unusual overview of the port district
The ropeway station is located only a few meters away from Sakuragicho JR station's exit. The platform is at the 2F floor, and on busy days the waiting line is set outdoors at the ground level.
Tickets are available for a one-way or a round-trip and to purchase before accessing the platform. The cabins are air-conditioned, fully glassed and can accommodate up to 8 passengers.
The 630 meters distance is crossed in about 5 minutes. At the highest point, 40 meters above sea level, the ropeway overlooks the downtown's dense car 🚙 traffic and the mouth of the Ooka River, then follows Kisha-michi walkway and old railway tracks. One can enjoy a comfortable panoramic view on Minato Mirai 21, the port district and its skyscrapers.
The journey ends at Unga Park on Shinko Wharf, a stone's throw away from popular attractions such as the Cup Noodles Museum, Cosmo Clock 21's Ferris Wheel and the shopping malls World Porters, Hammerhead and Akarenga Soko.